While Philippe Dauman, Viacom's chief executive, can now add the chairman's title to his resume at the company, there is, of course, one person who will continue to loom large there: Sumner Redstone. 

Redstone resigned as chairman of Viacom on Thursday, less than 24 hours after stepping down from the same post at CBS. But the media baron's grip on both media and entertainment giants will continue to transcend any honorary boardroom titles he receives.
Through his family holding company, National Amusements, the 92-year-old billionaire still controls huge stakes in CBS and Viacom, leaving more than $40 billion of market value in his hands until he dies or a third-party deems him incompetent.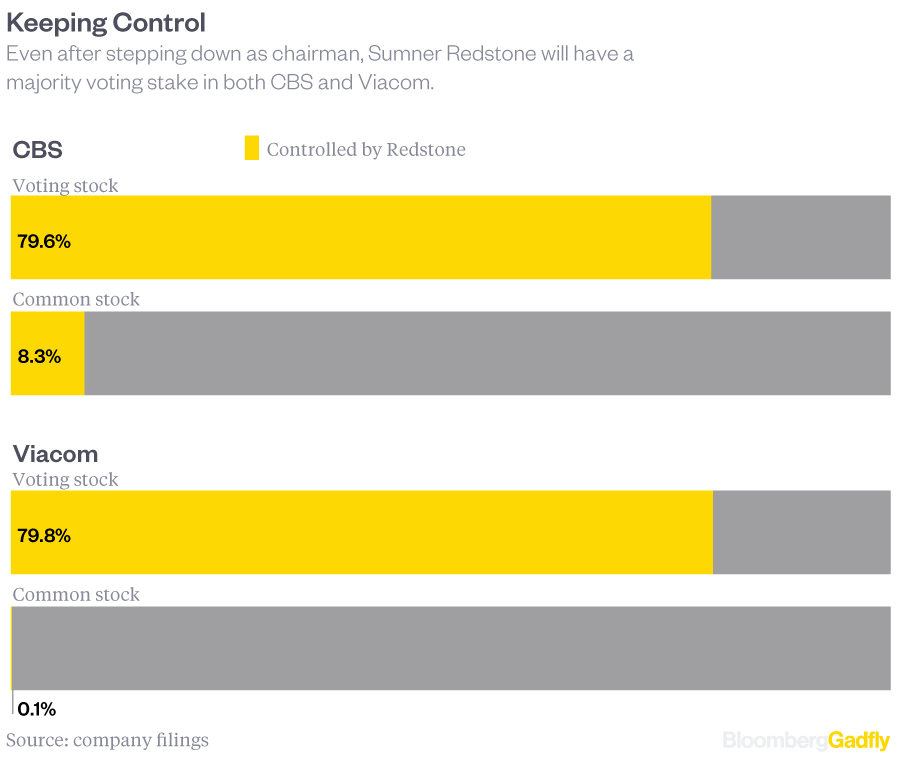 Les Moonves, chief executive of CBS, and Dauman will take over for Redstone in the boardrooms. Dauman's appointment was the more surprising of the two because Redstone's daughter Shari, who is vice chairman of both companies, made clear that she thought the chairman role shouldn't go to someone who is part of the Redstone family trust -- of which she and Dauman are members. At a minimum, Dauman's appointment is a rebuff of Shari Redstone and suggests that more internecine corporate squabbles may lie ahead.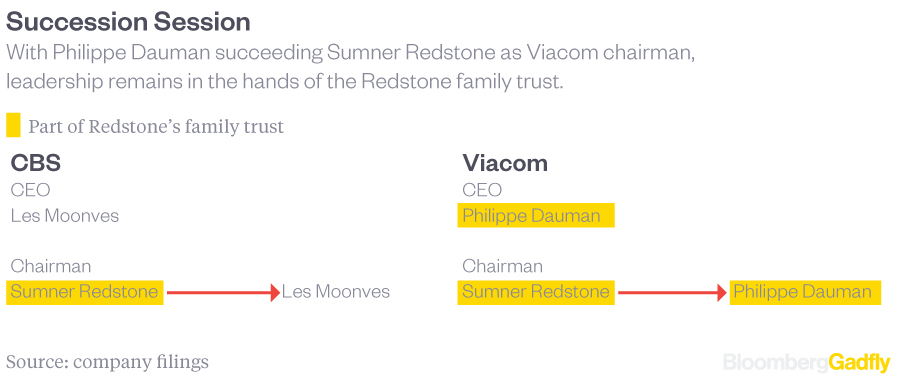 Viacom has under-performed its media peers, recently lured the attention of an activist investor (who called for both Redstone and Dauman to leave) and became the subject of deal chatter -- with such things put into play as recombining with CBS, merging with AMC Networks, or forming a partnership with Alibaba or Amazon for the Paramount Pictures movie studio. However, none of this happens without the Redstone family seal of approval, something that will still depend on Sumner even if he isn't at the corporate helm.

This column does not necessarily reflect the opinion of Bloomberg LP and its owners.
To contact the authors of this story:
Tara Lachapelle in New York at tlachapelle@bloomberg.net
Rani Molla in New York at rmolla2@bloomberg.net
To contact the editor responsible for this story:
Timothy L. O'Brien at tobrien46@bloomberg.net