Big budgets don't guarantee box office success in the movie business, but they certainly help.
"Star Wars: The Force Awakens" opened Thursday amid record ticket sales and force-it-down-your-throat merchandising -- with branding on everything from lipstick to cell phones to Yoda-themed margaritas.
Like most of the top-grossing films in the chart below, "The Force" has a big budget of $200 million. "Gone With the Wind," the highest grossing domestic film of all time adjusted for inflation, had a budget of $3.9 million in 1939 (about $67 million today).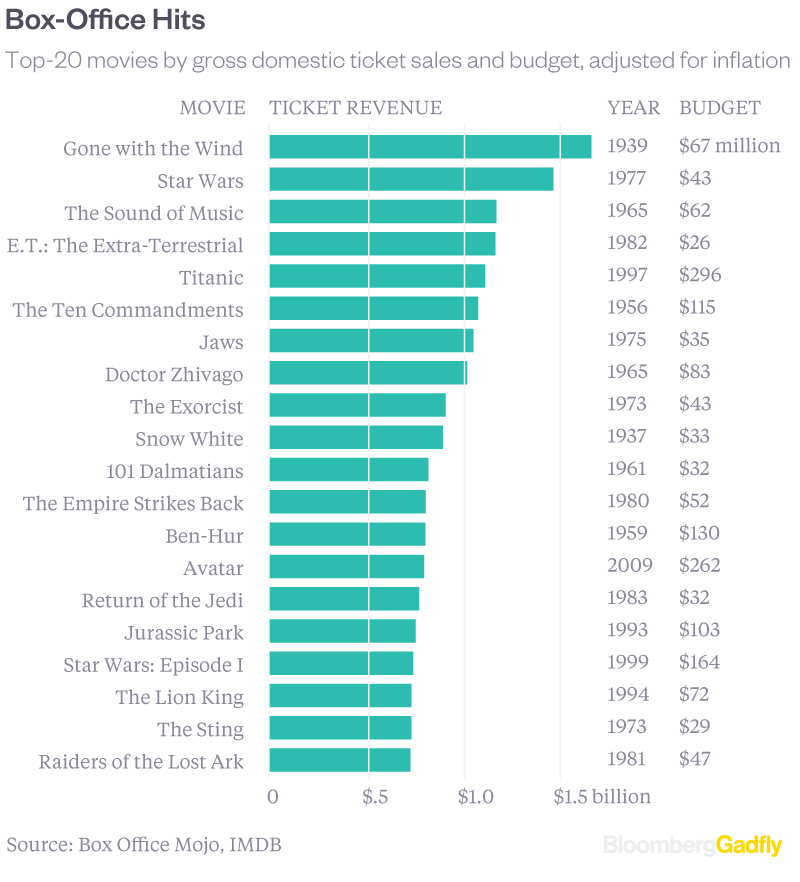 Big budgets also incur big revenue expectations. "The Force" is likely to make a healthy multiple of its budget at the box office alone, before a wide array of product revenue and licensing fees kick in.
But a better return on investment can accompany smaller films with smaller budgets. "Paranormal Activity,"  a low-budget thriller released in 2009, made nearly $200 for every dollar in its production budget, according to data compiled by The Numbers. The site estimates net profit from movie ticket sales and videos and divides that figure by the film's total cost to come up with an ROI.
Only two films have been in the leading ranks of top box office movies while also enjoying high ROIs: the original "Star Wars"and "Jaws," which were both wildly successful movies made on relatively small budgets.
Want to make a film really cheaply? Use your iPhone.
"Tangerine," a buddy comedy about two transgender sex workers, was released this year on a very un-Hollywood-like microbudget of about $100,000 using an iPhone. Its box office haul is already seven times that amount.
"Tangerine" has also received critical acclaim. "The Force" has lots of positive reviews too, but it took a lot more money to get there.
This column does not necessarily reflect the opinion of Bloomberg LP and its owners.
To contact the author of this story:
Rani Molla in New York at rmolla2@bloomberg.net
To contact the editor responsible for this story:
Timothy L. O'Brien at tobrien46@bloomberg.net