What's more American than beer and lawsuits?
The two came together this week when a group of beer drinkers filed suit in Oregon to block Anheuser-Busch InBev's planned $110 billion takeover of SABMiller, a combination they assert ``significantly threatens consumer welfare" by creating a behemoth with monopoly power in the U.S.
The plaintiffs are equal-opportunity imbibers: They say they purchase beer produced by AB InBev and SABMiller, as well as craft brews made in Oregon (a leader in that sub-market) --  and they intend to keep on buying all of the above. But they claim the mega-merger will drive up prices, squelch competition and leave them and other consumers with fewer choices and inferior ale.
The fact is, AB InBev won't actually be adding much to its U.S. market share with the purchase. Even the acquisition-happy Brazilians that run the Budweiser maker realize taking control of more than half of American beer sales wouldn't fly. So they've already agreed to sell SABMiller's stake in the MillerCoors U.S. joint venture to Molson Coors. If anything, Molson Coors will now be a stronger competitor.
The bigger issue here seems to be AB InBev's existing dominance of the U.S. beer market and its ability to keep doing things the plaintiffs say it's already been doing, like crowding out craft brewers. One of  the lawyers representing the drinkers, Joseph Alioto, certainly has some familiarity with the company, having unsuccessfully challenged InBev's purchase of Anheuser-Busch in 2008 and the combined company's takeover of Grupo Modelo in 2013.
But frankly, regardless of whether the latest suit is successful, the drinkers are probably stuck with MegaBrew in America. AB InBev has already been buying up U.S. distributors as well as craft brewers, where the growth is (as this chart from Gadfly colleague Rani Molla illustrates).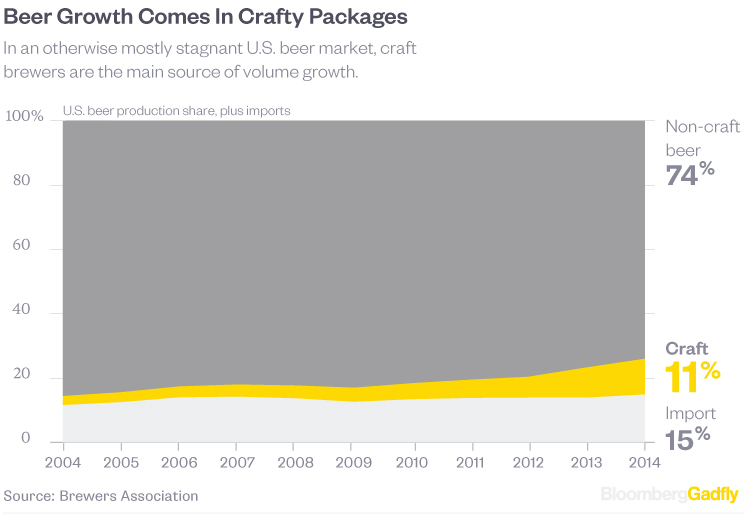 There's no reason to think it will stop doing that, with or without SABMiller.
It hasn't been the only one. Belgium's Duvel Moortgat bought Kansas City's Boulevard Brewing, Spanish beermaker Mahou San Miguel acquired a stake in Michigan's Founders Brewing and Heineken bought a stake in California's Lagunitas. That's the same Lagunitas whose founder told an AB InBev executive, "I would rather pull my eyes out" than sell, according to a Bloomberg Businessweek article in June.
The truth is, there are economic benefits from teaming up with a larger brewer. There's more money available for investments and a broader distribution system to help get craft beer to more drinkers. Big national players possess an advantage over smaller or regional ones -- which is true in most industries. Those advantages may actually allow a big brewer like AB InBev to sell craft brews for less. 
In many cases, there are also tax benefits. Almost 90 percent of the beer produced in the U.S. is made by foreign companies that pay lower levies, Boston Beer Co. founder Jim Koch told a U.S. Senate committee this summer. A dollar of pretax earnings is worth 62 cents to the Samuel Adams beermaker under American ownership, versus 72 cents under foreign ownership, according to Koch. That's also why he told lawmakers, "I can honestly predict that I will likely be the last American owner of Boston Beer Company." 

So craft brewers are gobbled up and will continue to be gobbled up. All of this makes AB InBev's claim that ``the U.S. beer market has never been more competitive" ring a little hollow. It's not the SABMiller deal that's to blame though.  
This column does not necessarily reflect the opinion of Bloomberg LP and its owners.
To contact the author of this story:
Brooke Sutherland in New York at bsutherland7@bloomberg.net
To contact the editor responsible for this story:
Beth Williams at bewilliams@bloomberg.net