Walmart and Target are cranking up the profit-eating online discounts in hopes of battling Amazon for web shoppers on Cyber Monday and throughout the holiday season. The only problem is that Amazon is waging a totally different kind of war. 
Sure, Amazon wants the sales. But the e-commerce powerhouse's real goal is convincing shoppers to sign up for Amazon Prime, its $99 membership program that comes with perks like free two-day shipping and video streaming. 
While other retailers sacrifice profits to snag sales and boost fourth-quarter results, Amazon knows that the benefits of hooking a customer on Prime membership last way past Christmas: The more loyal a customer is, the less Amazon has to worry about competing on price, and the more data it can use to entice those shoppers to spend even more on its site. 
Prime members spend twice as much as non-members each year, according to data from Consumer Intelligence Research Partners, or CIRP. Separate research from Cowen & Co. indicates Prime shoppers go to Amazon more often and devote a higher percentage of their overall shopping dollars to the site.
Prime has been an essential cog of Amazon's growth. The company doesn't discuss the numbers, but CIRP estimates there are 47 million U.S. members, or 46 percent of all Amazon customers. That's up from 17 million members just two years ago.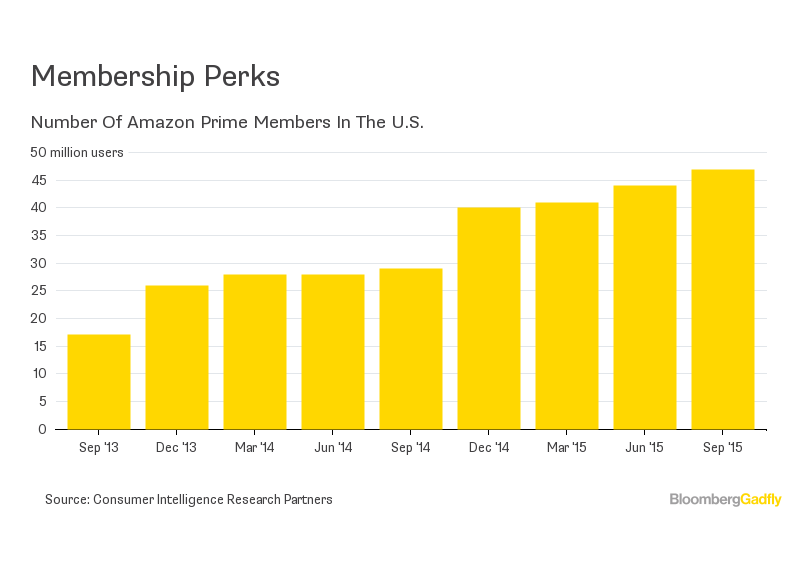 In recent days, ads for Amazon deals have been everywhere -- and most of them are accompanied by a hard sell for Prime. Amazon's home page has boasted about the 30-minute head start Prime members get on limited-time holiday deals like a Call of Duty Xbox game for $29 or a set of dry erase markers for $8.29.
Such stunts have been effective. Last July, Amazon invented a whole shopping holiday geared toward getting people to sign up for Prime. It said it sold more units on "Prime Day" than on Black Friday, including 28,000 Rubbermaid food-storage sets and 14,000 iRobot Roombas. More importantly, it said "hundreds of thousands" of new Prime members signed up on the fake holiday. 
That helped add 3 million net new members during the third quarter of 2015, according to CIRP. The number of Prime members grew by 7 percent in the quarter, compared with 3 percent the year before, with 25 percent of new members joining just to buy something on Prime Day, the research group said.  
The power of Prime has helped Amazon climb to the top of consumers' shopping lists. Nearly half of Americans surveyed by Kantar Retail said they planned to buy holiday gifts at Amazon, up from 41 percent last year. The number of people planning to shop at Walmart, Macy's, and most other traditional retailers declined. Intent doesn't always translate to purchases, but Amazon popping up so often in surveys shows how the company has achieved Kleenex-like status: Amazon *is* online shopping for many people.
And Amazon won't stop spending on Prime anytime soon. The company's CFO recently told analysts it was "investing very heavily in our Prime platform," including its Web-video service and Prime Now, its one-or-two-hour delivery program. It's also testing hot-food delivery and an offering that lets people order laundry detergent or toilet paper at the push of a Web-connected button.
So while other retailers tout their short-term efforts during this busy online shopping week, remember that Amazon is playing the very, very long game. Even if it means delivering puny profits now for the sake of future domination. Prime fits right into that strategy.
This column does not necessarily reflect the opinion of Bloomberg LP and its owners.
To contact the authors of this story:
Shira Ovide in New York at sovide@bloomberg.net
Shelly Banjo in New York at sbanjo@bloomberg.net
To contact the editor responsible for this story:
Mark Gongloff at mgongloff1@bloomberg.net