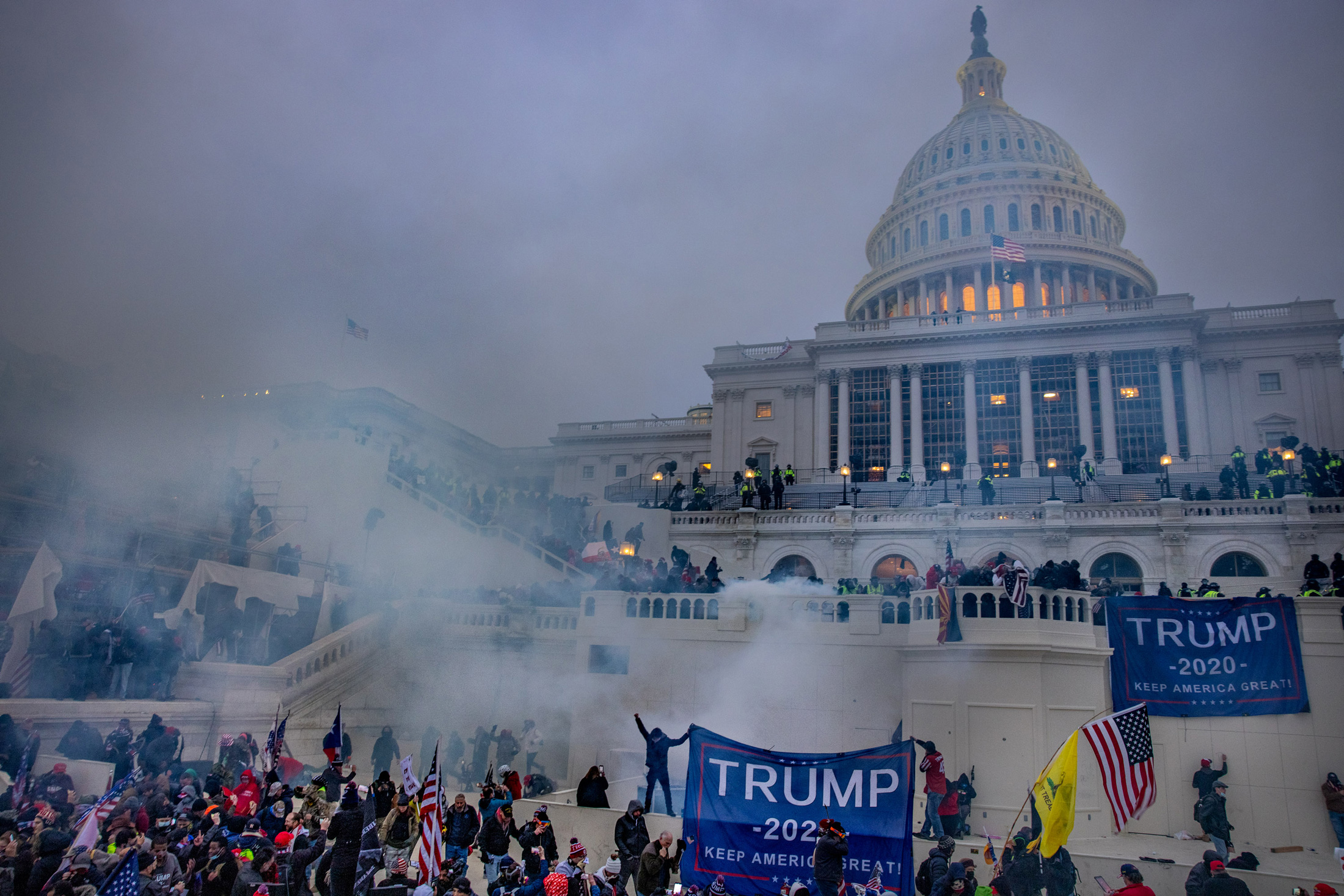 These 14 Republican Candidates Actively Fought to Overturn the 2020 Election
When Donald Trump tried to overturn his loss in 2020, his most die-hard supporters went on cable TV shows to spread conspiracy theories about the election. They sued to have ballots thrown out. They pushed state lawmakers to reject the results. And when all of that failed, they stormed the US Capitol to try to stop the Jan. 6 certification.
Now, more than a dozen of those Trump acolytes are running for key state and federal offices, in some cases pledging to take action against future election results that don't go their way.
More than 250 Trump supporters who backed his false claim that the 2020 election was "rigged" already serve as members of Congress, governors, attorneys general, secretaries of state or have made the November ballot for those positions. But most of them did little more than repeat Trump's assertion that he won, a prerequisite for Trump's endorsement in a Republican primary, a person familiar with the process said.
Several of those have softened their stance or dropped the issue now that they've won the primary contests.
But 14 Republican candidates are all in and have been since 2020, putting money or muscle into efforts to overturn the presidential results. They are running for key positions, including in the battleground states of Arizona, Michigan, Pennsylvania and Wisconsin that will determine the winner of the 2024 presidential race.
Arizona Secretary of State nominee Mark Finchem's campaign declined to comment for this story. None of the other 13 returned calls or messages.
Some are running "Hail Mary" campaigns in heavily Democratic areas, including a challenger to progressive stalwart Alexandria Ocasio-Cortez in New York City; a Senate nominee from Oregon, which hasn't elected a Republican in 20 years; and a gubernatorial candidate in Maryland, a heavily Democratic state whose current Republican governor is solidly anti-Trump.
But some have a real shot at victory. Polls show Republican Adam Laxalt in a close race with Democratic Senator Catherine Cortez-Masto in Nevada. Races for House nominees Jim Bognet in Pennsylvania and J.R. Majewski in Ohio are considered toss-ups, and Derrick Van Orden is rated "leans Republican" by the Cook Political Report. And one recent poll put Finchem ahead by 5 points over Democrat Adrian Fontes.
"Based on the sheer number of them, some of these folks are going to win," said Matthew Weil, director of elections at the Bipartisan Policy Center, a D.C. think tank.
Of the 14 who worked to overthrow the 2020 election, few went as far as Pennsylvania gubernatorial nominee Doug Mastriano, whose campaign against Democratic nominee Josh Shapiro is considered a tossup by RealClearPolitics.
Mastriano, a state senator in 2020, held a legislative hearing to which Trump called in and insisted he'd won re-election. Mastriano oversaw a partisan audit of Pennsylvania's presidential results, lobbied the Justice Department to investigate fraud claims and used campaign money to bus supporters to join him at Trump's rally on the Ellipse that immediately preceded the attack on the US Capitol. Videos that Mastriano has not disputed appear to show him near the East Steps of the Capitol during the insurrection.
Republican gubernatorial candidate Dan Cox in Maryland also used campaign money to organize buses of supporters, tweeting that Vice President Mike Pence was "a traitor" just as rioters were storming the Capitol.
Cox said that he was at Trump's rally, but not at the Capitol and condemned "mob violence."
Finchem was also in Washington during the attack. In a statement, he claimed that he never came within 500 yards of the Capitol, but activists on social media unearthed footage of him just in front of the East Steps of the building as the mob stormed the police barricades.
The US House committee investigating the Jan. 6 attack has subpoenaed Finchem, asking about his statement that he wanted to give Pence an "evidence book and letter" claiming fraud in Arizona and asking him to postpone certification of the state's electors.
Oregon Senate nominee Jo Rae Perkins, who once called herself a "digital soldier" for the QAnon conspiracy theory group, posted on a Facebook livestream on Jan. 6 that she was at the Capitol to "support our country."
"This is the American Revolution," she said, claiming that the rioters were leftists working under a false flag and criticizing Capitol police for shooting one protester.
J.R. Majewski, a House nominee in Ohio who has made multiple appearances on a podcast hosted by a QAnon conspiracy booster, boasted of raising money to help bring Trump supporters to Washington on Jan. 6, and said the primary reason he didn't enter the Capitol was that his companions had physical limitations.
"I wanted nothing more than to go in that building," he said in a video published by the liberal group Media Matters.
Sandy Smith, a House nominee in North Carolina, posted photos of herself on Twitter marching from Trump's rally toward the Capitol.
"In DC fighting for Trump! Just marched from the Monument to the Capitol! #StopTheSteal #FightForTrump," she tweeted.
Tina Forte, running against Ocasio-Cortez in a New York City district that includes parts of the Bronx and Queens, livestreamed and posted videos from Trump's rally at the Ellipse, urging her followers on social media to make their way to the Capitol, and in one video appears to enter a restricted area once she was there.
"People need to leave the Ellipse and get to the Capitol," she said on one video.
Jeff Zink, a House nominee in Arizona, said that he stood on the Capitol steps but did not go inside, falsely claimed that police opened gates and waved people inside the building and blamed the violence that day on far-left militants.
"We are a law-abiding country," he told the Arizona Republic two days after the attack. "We are governed by rule of law and without that, then we have sure anarchy."
Zink's son, Ryan, was arrested and pleaded not guilty after he posted videos on social media that showed him breaching the doors of the Capitol.
Derrick Van Orden, a House nominee in Wisconsin, acknowledged attending Trump's rally and marching toward the Capitol, but he wrote in an op-ed that he left the Capitol when the protest grew violent.
"I was so disturbed that I went back to my hotel room and sat in shock watching the images unfold on television," he wrote.
Max Miller, running for the US House from Ohio, was a Trump White House staff member in 2020 who helped organize Trump's rally.
Another four nominees on the fall ballot were involved in Trump's efforts to have ballots for President Joe Biden thrown out.
Laxalt, a former state attorney general who co-chaired Trump's Nevada campaign, filed a lawsuit demanding that Trump be named the winner or the state's election results be thrown out. The suit was dismissed.
Bognet filed a lawsuit in federal court that sought to throw out late-arriving mail ballots, arguing that the deadline extension due to the coronavirus pandemic was unconstitutional and hurt his failed House campaign that year. The US Supreme Court dismissed the lawsuit.
Michigan Secretary of State nominee Kristina Karamo claimed that she witnessed election fraud while serving as a vote-counting observer, which was cited in a lawsuit before the US Supreme Court. Local elections officials say she misunderstood how a poll worker handled a ballot.
Michigan attorney general nominee Matthew DePerno also sued, claiming voting machines had been rigged, citing problems with unofficial results in Antrim County that were quickly corrected. A report by Republican state lawmakers dismissed DePerno's claims.
State judges threw out the lawsuit as well as an appeal filed by DePerno. And now he faces legal troubles of his own.
State attorney general Dana Nessel, has requested a special prosecutor look into whether DePerno was involved in the effort to gain unauthorized access to a voting machine that was breached in an apparent attempt to prove fraud.
DePerno has promised to investigate Nessel if elected, as well as the secretary of state.
---
Editors:
Wendy Benjaminson
,
Wes Kosova
,
Alex Tribou
and
Yue Qiu
Photo editors:
Eugene Reznik
,
Marisa Gertz
and
Maria Wood
Photo credits:
Getty Images
,
Bloomberg
and
AP Photo