It used to be difficult to get information about the racial makeup of a company's workforce. That's quickly changing, at least for the largest U.S. companies, offering a revealing look at how much progress they need to make to reflect the population at all levels.
As part of an initiative to track the corporate response to the Black Lives Matter movement, Bloomberg has obtained detailed breakdowns of U.S. employee counts by race and gender across job categories for 37 out of 100 of the nation's biggest corporations, up from 25 last fall. An additional 31 companies pledged to provide the information in the near future.
"This is a significant step forward in measuring diversity within companies," said Alison Omens, chief strategy officer at JUST Capital, which has been pressuring companies to release such data. "Disclosure is the first step in advancing racial equity."
The data obtained by Bloomberg paint a picture of companies still struggling to add more Black and Hispanic workers, especially in the upper ranks. Only 4 of the 37 companies had Black people in 10% or more of executive and management roles, even though Black people make up about 13% of the U.S. population. Hispanic representation also trailed national figures at many companies.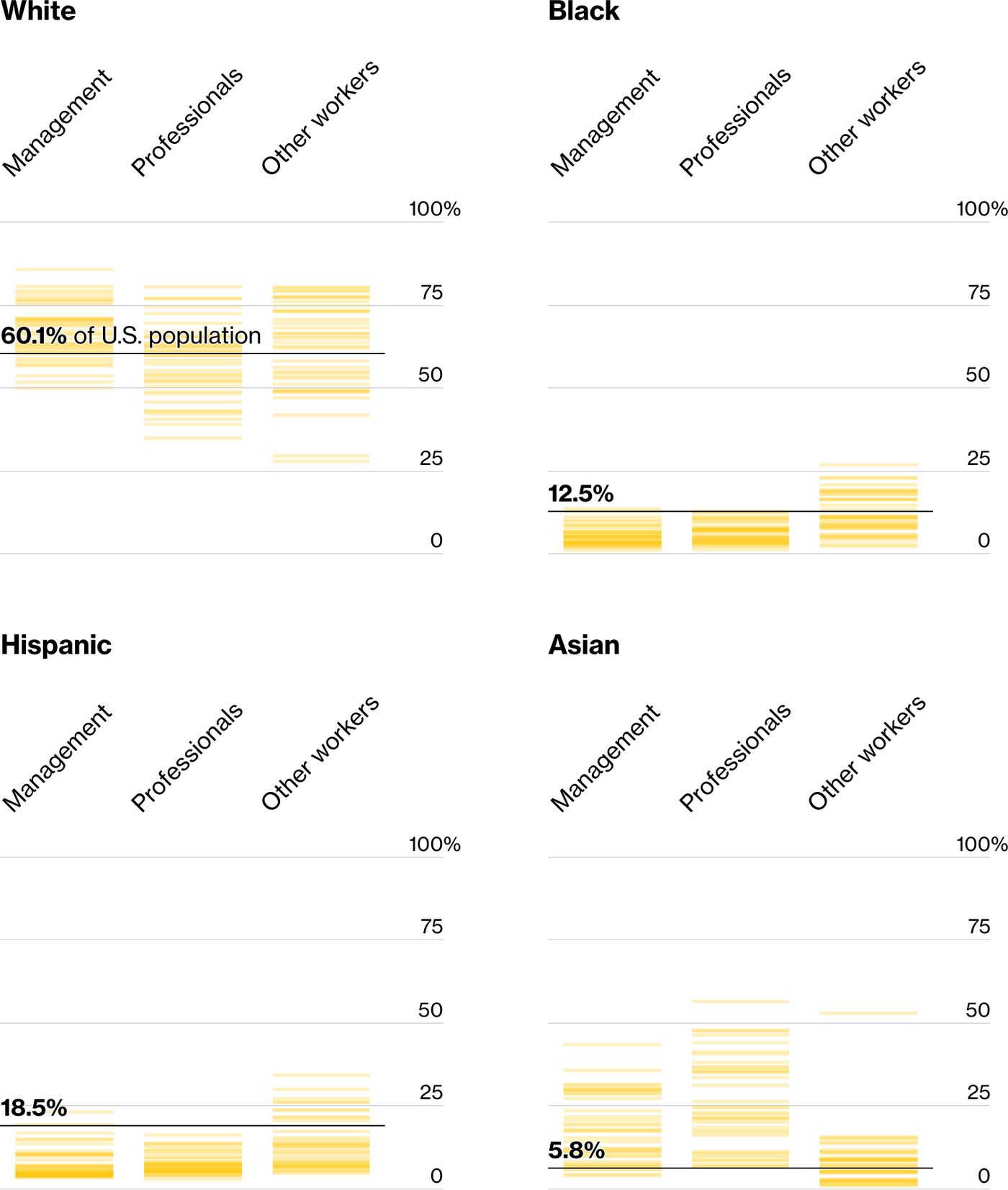 The representation figures were often worse for women of color. Only one company—McDonald's Corp.—exceeded the U.S. population in its percentage of Black and Hispanic female executives and managers. Verizon Communications Inc. was in line for Black women, as was Starbucks Corp. for Hispanic women. Most others were nowhere close.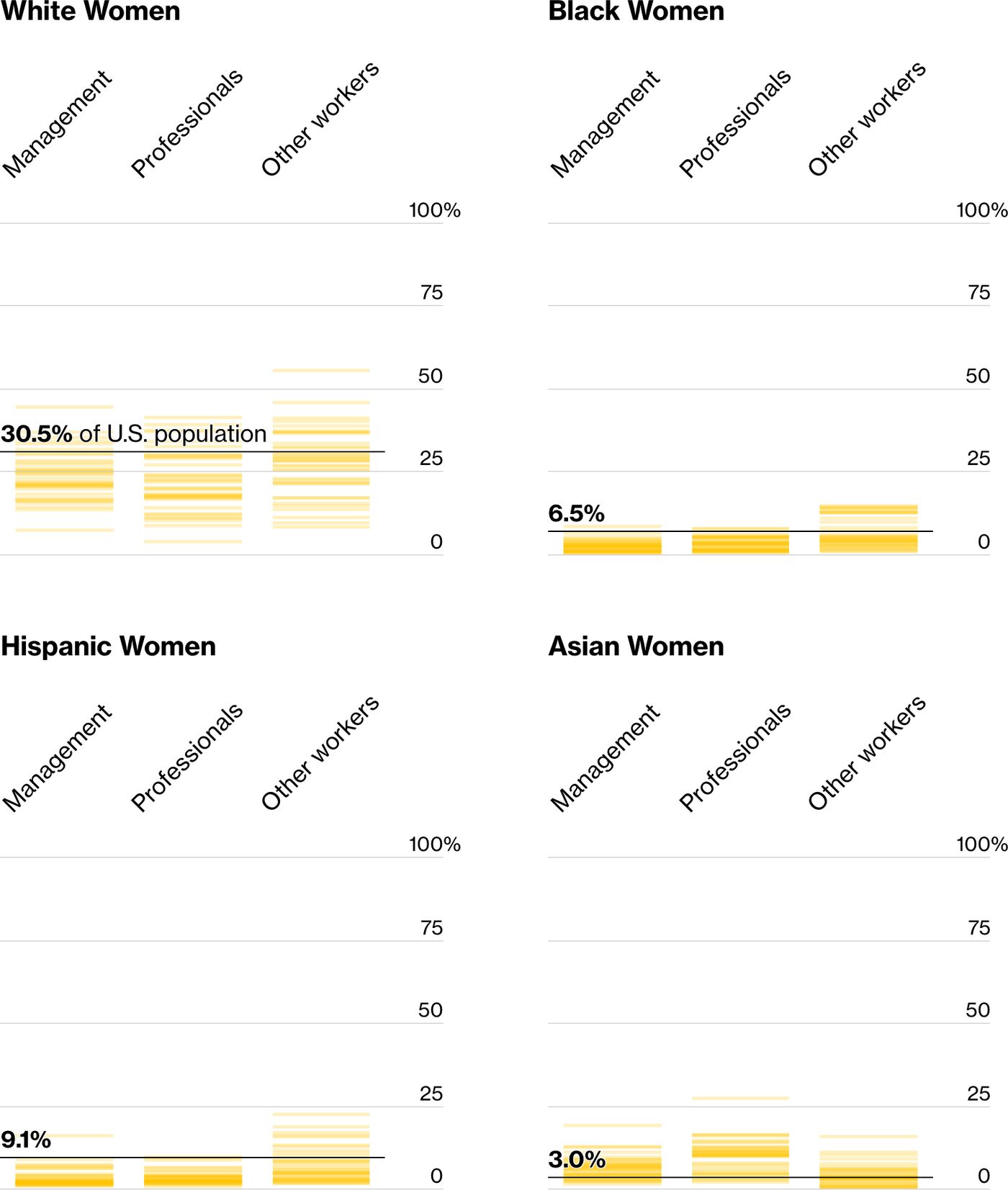 On the plus side, most of the companies that disclosed their race data were ahead of the rest of their industries in minority representation, particularly with Asian employees.
The documents companies provided to Bloomberg are called EEO-1 forms. Employers are required to submit them each year to the U.S. Equal Employment Opportunity Commission, but they're not legally bound to make them available to the public. Advocates for better racial and gender representation have called on companies to release their EEO-1 forms so they can be held accountable in their attempts to diversify their employee base, including their management ranks. While some companies disclose partial information from the EEO-1, the full document provides richer detail and is considered the gold standard of transparency.
The responses from some of the biggest companies in corporate America show they're opening themselves up to scrutiny like never before. And the BLM protests of last summer, spurred by George Floyd's killing in Minneapolis last May, have spurred more companies to take steps to improve their diversity. In the past six months, more of the businesses polled by Bloomberg have added chief diversity officers, set targets for representation of minority groups, established pipeline programs with historically Black colleges and universities, and added Black people and people of color to their boards.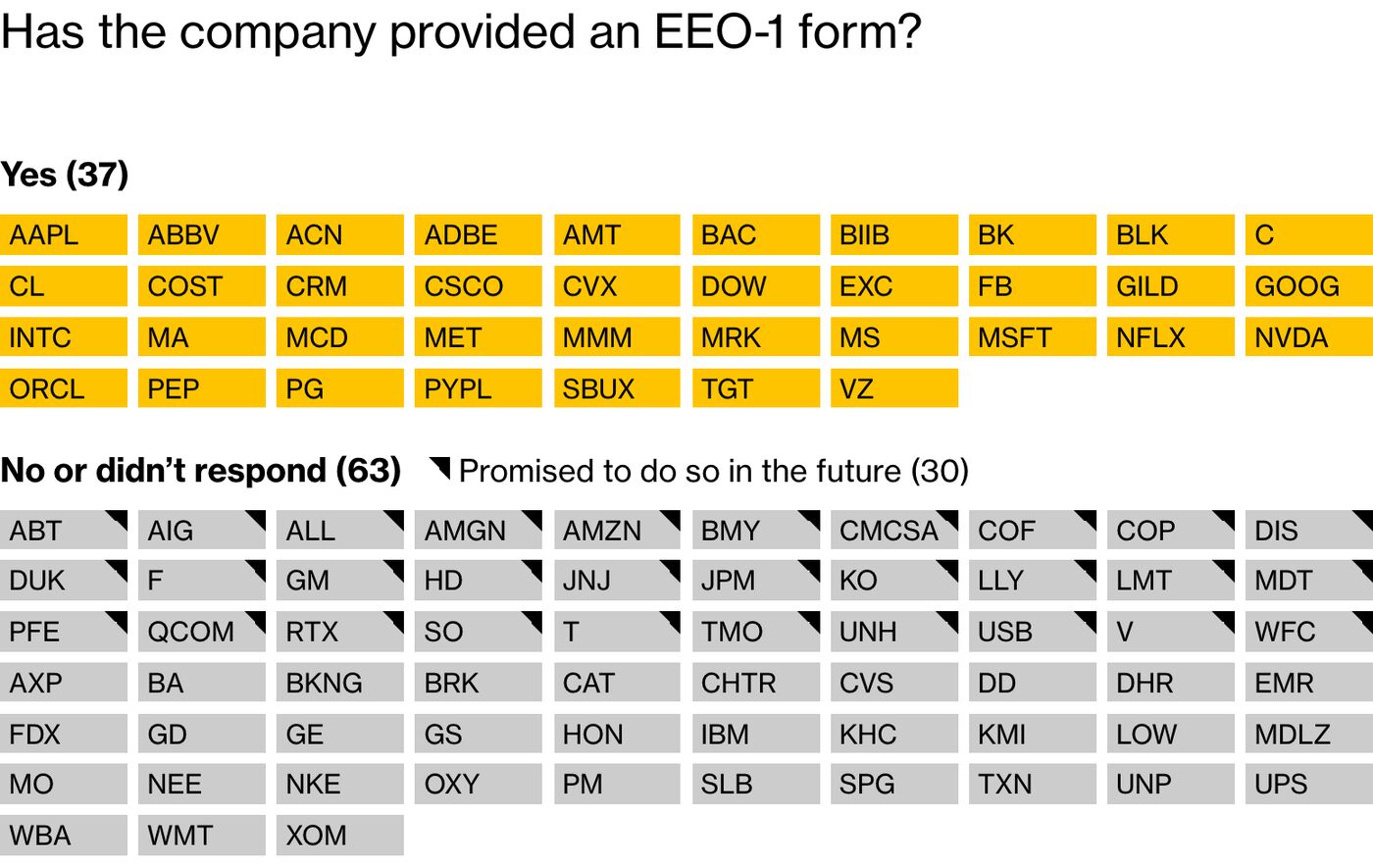 Several companies, including McDonald's, Bristol Myers Squibb Co. and Wells Fargo & Co., have set publicly disclosed targets for Black and minority representation in the coming years. Along with the EEO-1 forms, these goals allow investors, employees and customers to keep track of their progress in ways they've never been able to before.
Citigroup Inc., for instance, said it would increase the number of Black people in certain senior roles to at least 8% by the end of this year from 6% in 2018. Other companies have set longer-term targets. Coca-Cola Co. aims to have its workforce mirror U.S. census data for race by 2030, a goal known as "population parity" that has thus far proven elusive for corporate America.
Standouts include Target Corp., which outperforms its retail peers for the share of Black and Hispanic workers in their overall workforce. Those gains are not yet evident in leadership positions. McDonald's bests its competitors for Hispanic workers in the overall workforce, at about a third—and that translates into a higher executive share as well.
Starbucks lags its industry in the percentage of Hispanic workers in leadership roles, but exceeds its peers with Black executives and managers and has the highest percentage of women in the workforce of any of the 33 companies, at 67%. Chipmaker Nvidia Corp. has the most male workforce compared to peers, and is also the only company with a majority Asian workforce.
Biogen Inc. stands out from the pharmaceutical industry—and companies overall—with 36% of its technician workforce identified as Black. PepsiCo Inc. also outperforms peers for Black employees in technical roles.
Take a look at the data for employment categories yourself—all the data below was gleaned from the 37 companies' EEO-1 documents. Below, you can search each company by type of role and race, and see how they compare to the industry average reported by the EEOC, which derives its figures from the EEO-1 forms it gets from every U.S. employer with 100 or more workers.
Bloomberg plans to update these graphics over time as more companies make their once-private data public. As more corporations provide their data, EEO-1s could become as normal as quarterly earnings and annual sustainability reports—another way public companies show their performance.
"There is a difference between disclosure and making progress," said Nicholas Pearce, a professor with Northwestern University's Kellogg School of Management. "However, any meaningful progress first begins with an honest assessment of the current space."
View the results of our previous study published in October 2020
Corrects March 9 data to show Altria plans to release its EEO-1 form in the future.