Shipping Giant MSC Delivers Russian Food While Navigating Sanctions Maze
MSC ships serviced Russia 84 times after March 1 booking halt. Shipping giant says food, medicine and humanitarian aid still flow
A month after Russia's invasion of Ukraine, the Andriana III—a 700-foot container ship operated by Mediterranean Shipping Co.—changed course and began transporting goods to and from Russia's Black Sea port of Novorossiysk.
In early July the vessel, which had not serviced Russia since 2019, completed its eighth trip between the Egyptian port of Alexandria and Novorossiysk since the Feb. 24 invasion, according to a Bloomberg News analysis of publicly available ship-tracking data.
While it's not uncommon for merchant ships to be reassigned, the Andriana III changed routes after Geneva-based MSC said March 1 that it would voluntarily halt bookings for Russian cargo and focus on delivering essential goods. Such cargo includes food, medicine and humanitarian aid, and MSC said it's trying to ensure compliance with international sanctions rules for handling Russian exports or imports.
Russia has been hammered by financial and trade sanctions aimed at starving its economy, and companies from McDonald's Corp. to AB InBev have exited entirely without a government directive. Others like MSC, the world's largest container carrier, are trying to strike a balance between cutting business ties with Russia and allowing some services to keep essential goods flowing, for now.
In response to questions from Bloomberg, closely held MSC confirmed that, as of this week, it continues to accept deliveries of food, medicine and health-care equipment, and humanitarian aid.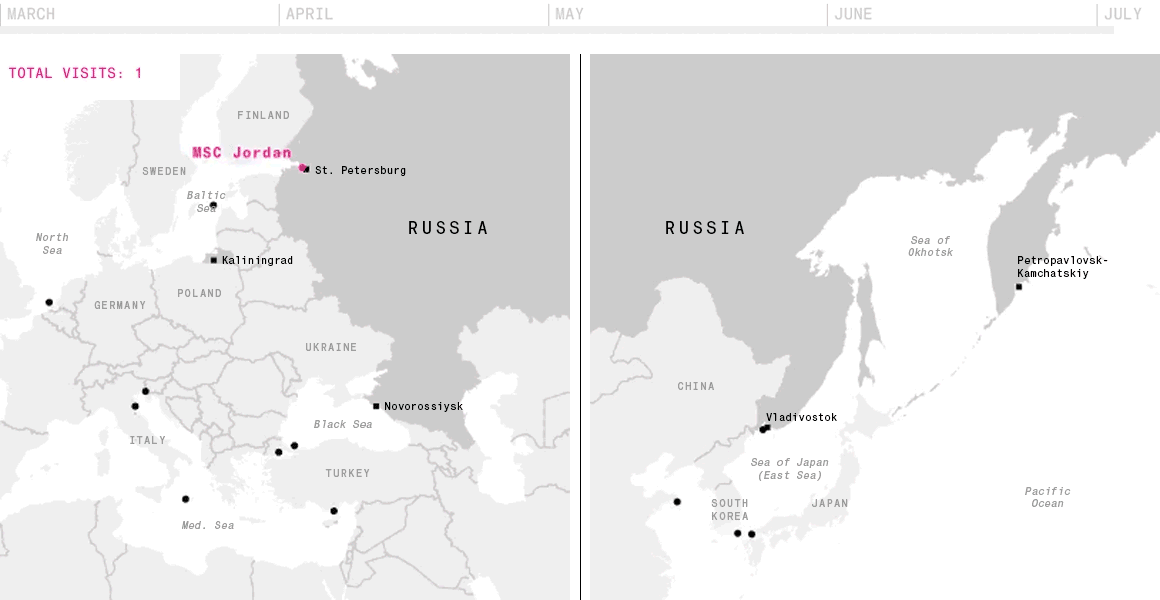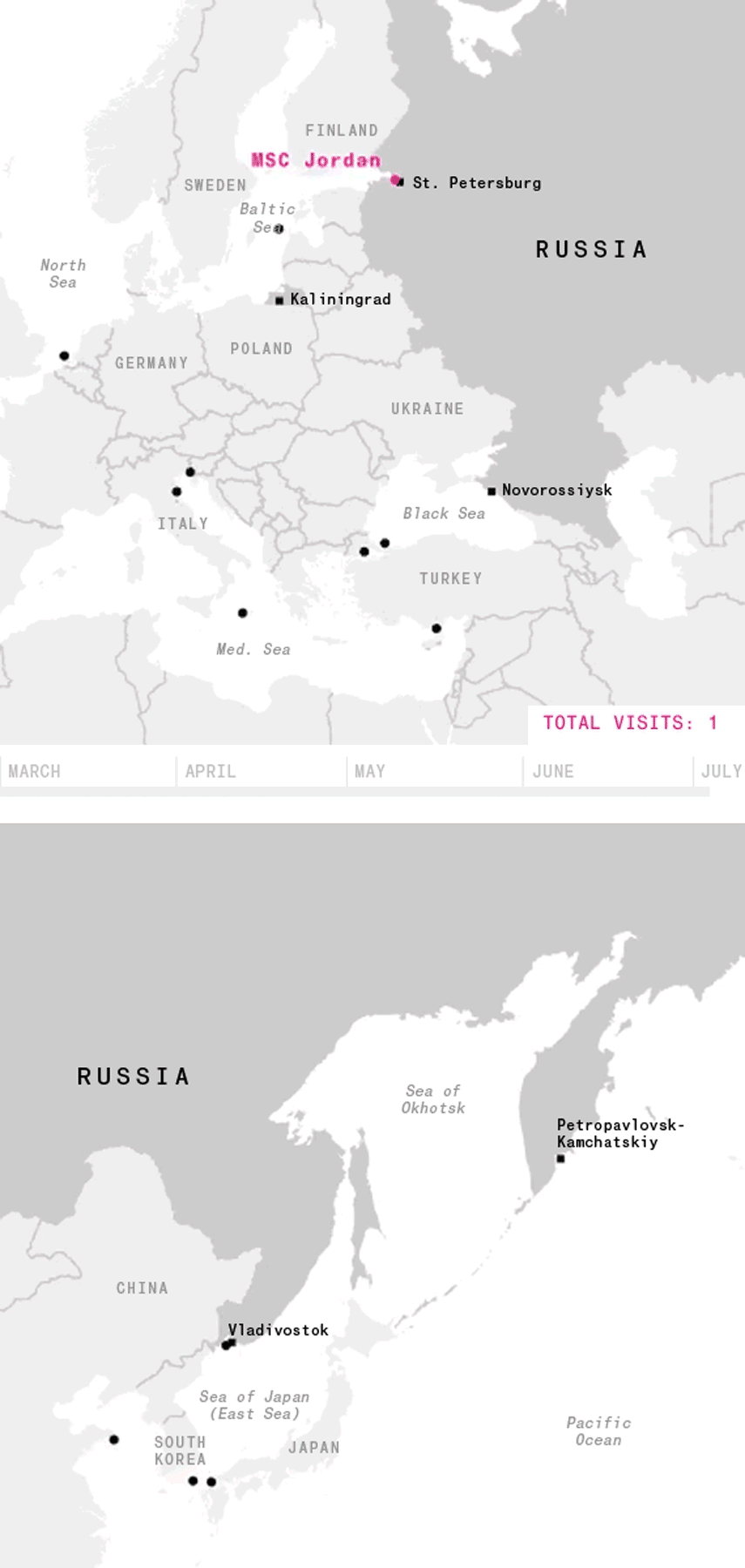 A corporate watchdog who is archiving the wartime responses of more than 1,200 large firms globally said that more economic pressure needs to be applied on Russia rather than exceptions made for certain services.
"If you fold in the reputation risk, but also the financial and operational risks of being there, it's a no-brainer to get out," said Jeffrey Sonnenfeld, a Yale professor and senior associate dean for leadership studies. "There's no good argument for any company to be there."
Sonnenfeld's report card gives MSC a grade of "B" based on a "temporary suspension of all shipments to Russia."
At least 17 MSC container ships have moored at Russian ports a combined 84 times between the March 1 booking stop and July 3, according to calculations based on data collected from IHS Markit and Wood Mackenzie/Genscape. That means those MSC ships doubled their Russian moorings compared with the four months prior to the booking stop and nearly tripled their services to Russian ports versus the same period a year earlier, the data showed.
The visits are occurring in at least five ports: Novorossiysk, St. Petersburg, the Baltic enclave of Kaliningrad, Vladivostok in eastern Russia and Petropavlovsk-Kamchatskiy in the Bering Sea.
An MSC spokesman said the company condemns Russia's invasion of Ukraine, continues to support its workers affected by the insecurity and operates a sanctions program to ensure the cargo is transported legally. The goods carried into Russia include items such as fruit, vegetables, milk powder, canned and dehydrated foods, and exports include grains, cereals, vegetable oil and frozen meat.
The Andriana III was one of four MSC container ships that ferried goods at least 23 times between Russia and Egypt during the four months following the invasion.
There is no public information available to identify in real time the cargo that shipping companies are transporting for their customers and MSC declined to provide cargo manifests for independent verification.
MSC's container volumes have declined considerably since March 1 and most of the current volumes are food, including United Nations aid shipments, the spokesman said.
The US and European Union have not imposed direct sanctions on Russian grain exports for fear that it would aggravate the current food crisis sparked by the war.
Nevertheless, the unprecedented scale of western sanctions has encouraged scores of companies to exit the Russian marketplace voluntarily to show solidarity with Ukraine and disassociate with President Vladimir Putin's regime and his economic stewardship.
Several of the world's major container carriers voluntarily severed ties with Russia after the invasion. MSC's biggest competitor, Copenhagen-based A.P. Moller-Maersk A/S, stopped all its Russian vessel operations in early May and refused to accept new Russian business as it wound down or divested its operations.
At least one container vessel operated by France's CMA CGM SA moored at the Port of St. Petersburg in June, after the company's decision to suspend all new bookings to and from Russia. A spokesman for the CMA CGM said any containers loaded or packed before March 1 were to be transported to Russia before the end of June and from Russia before the end of July.
In the three months since the invasion, containerized freight shipped into Russian ports fell 35% and Russia was projected to handle 45% less cargo in May than a year earlier, according to data provided by VesselsValue.
While shipping companies aren't subject to most government prohibitions on serving Russia, western sanctions target thousands of goods—including luxury products, technology goods and various commodities—which container lines and their customers must ensure don't violate international sanctions.
"This is becoming increasingly complicated for everybody," said Ami Daniel, the CEO of Windward, a maritime intelligence consultancy.
---
') } /*-->*/