NYC's Secret Weapon to Keep Finance Elite Is Park Avenue Revamp
Two new office buildings are New York's high-finance answer to a growing Wall Street South and remote work.
When legendary architect Norman Foster agreed to design a glistening full-block building on New York's Park Avenue in 2012, the city was still bouncing back from the financial crisis—a seemingly existential threat at the time.
Some six years later, as Wall Street returned to delivering record profits, JPMorgan Chase & Co. unveiled plans for a new headquarters on Manhattan's boulevard of capital. There again was Foster + Partners, tasked with creating a 2.5 million-square-foot tower.
Foster, now 87, had no idea at the time, but these two buildings are shaping up to be New York's best rejoinder to post-pandemic fears about the staying power of remote work, a mass exodus to South Florida, and—crucially—that the global capital of high finance has lost its luster.
Citadel, whose move to Miami sent shock waves across Wall Street, already has 100 employees working at 425 Park Ave., which formally opens Wednesday, and expects 1,000 to be settled in by summer next year. At JPMorgan's 270 Park Ave., welding sparks fly as construction continues on a structure that will double the number of workers on that block. In between, lunch lines run 30 people deep at food carts; a new Aston Martin showroom is on the way.
"The timing is very good—it's coincident with all kinds of other developments in the wings," Foster said in an interview. "There is only one Park Avenue, so it has to be special."
Park Avenue's 1-mile stretch in the heart of Manhattan, from Grand Central Terminal to Central Park, has long had one advantage above all: its concentration of wealth.
Along with Citadel's Ken Griffin and JPMorgan's Jamie Dimon, Blackstone Inc. Chief Executive Officer Steve Schwarzman works on the avenue and has a residence there. Izzy Englander's Millennium Management and Eminence Capital are based at 399 Park, blocks away from other hedge funds including ExodusPoint Capital Management and GoldenTree Asset Management.
Investment banks PJT Partners, Moelis & Co. and Raymond James have Park Avenue addresses, too. The actual Wall Street is downtown, but the real epicenter of high finance has long been further north.
Its density of office space and proximity to transit—some commuters from Greenwich and other suburbs can reach their buildings from below street level—make it a bellwether for the future of commercial real estate in New York. Just two blocks over on Third Avenue, scores of towers remain largely empty, caught between being too old to lure tenants who want the newest amenities and too new to be demolished or converted to housing.
Park Avenue, by contrast, has proved resilient. Employees of alternative-asset powerhouse Blackstone were back at their desks as early as September 2020. The return rate at the Seagram Building is 75% Tuesday to Thursday. The spaces BlackRock Inc. and Wells Fargo & Co. are leaving for Hudson Yards will be filled by Morgan Stanley and Blue Owl, among others.
The north-south avenue is the "spine" of the city, said Vishaan Chakrabarti, an architect who's working with Foster on 270 Park. "If Park Avenue thrives, the whole district will thrive, and that is fundamental to the entire city."
Jon Gray has spent his entire career at Blackstone working at 345 Park Ave. The lease there runs through 2028 with options to renew, and Gray, Blackstone's president, acknowledges there will have to be decisions about whether the 53-year-old building can be retrofitted or not.
Either way, the firm has a strong bias toward Midtown, he said in an interview.
"Park Avenue is hard to beat—it's built for business," Gray said. It's convenient both for employees and for clients staying in hotels nearby. Plus, it has traffic running in both directions, making it easier to hail a cab going the right way.
"It seems like a little thing, but it makes a difference," Gray said.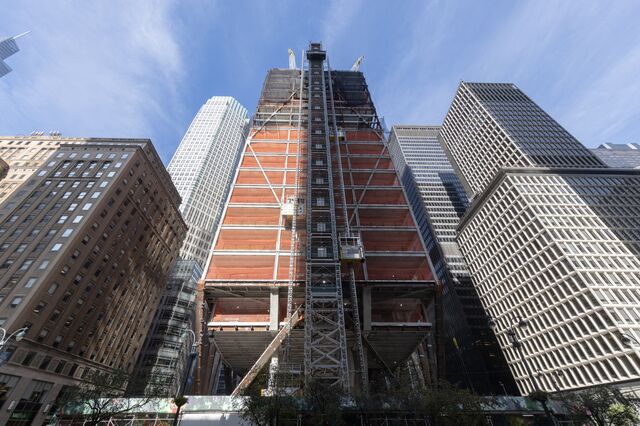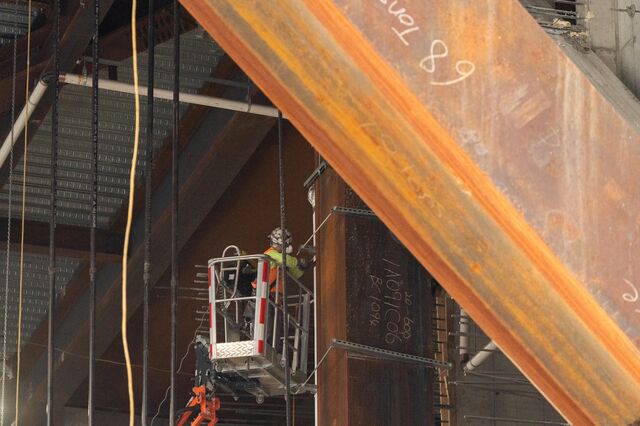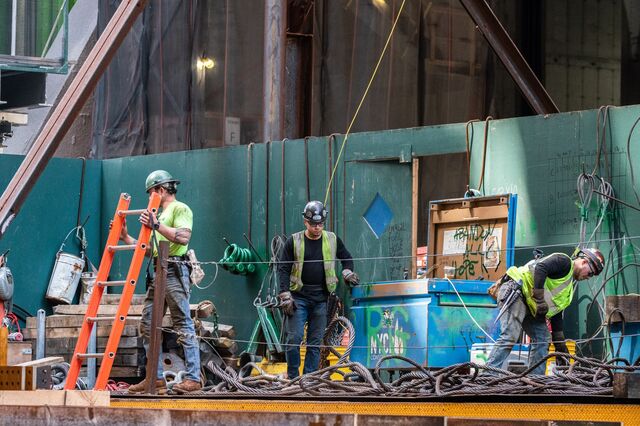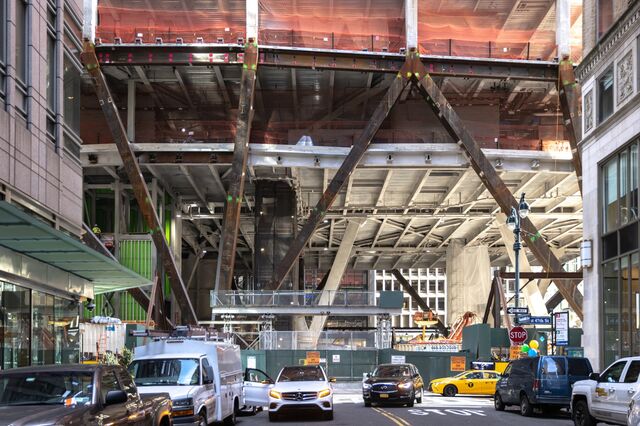 Creating modern offices in the middle of Manhattan isn't without challenges. Work on 425 Park got underway in anticipation of a rezoning of the area but proceeded without it—requiring 25% retention of the existing building and driving up the cost. The $1 billion price tag aside, it's also a high-stakes endeavor to create a building that adds to the area's architectural pedigree, with its modernist glass and landmarked skyscrapers.
"This building was going to be here a lot longer than we would be," said David Levinson, chairman of developer L&L Holding Co., which built 425 Park with Tokyu Land Corp. and BentallGreenOak. "We really felt a strong obligation to do something that really mattered and improved Park Avenue and New York City."
Though plans were drawn up years before the pandemic, 425 Park seems designed for the post-pandemic worker, with a smaller carbon footprint and ways to keep clean air circulating to promote employee health. Levinson cited a Harvard study showing it improves cognitive function.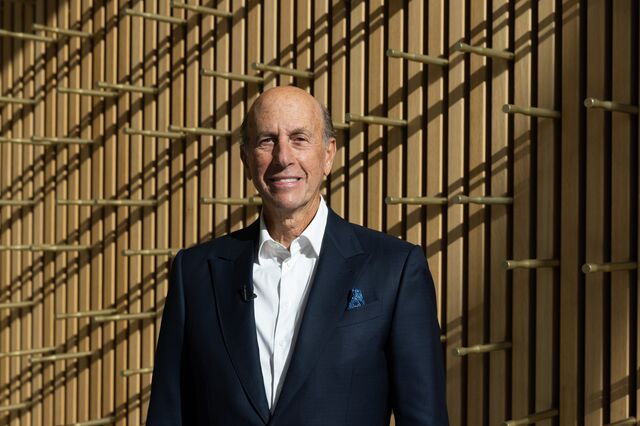 At Citadel, "we want to have exceptional work environments around the world that provide an unparalleled experience for our team members, reflecting the commitment they make to us," Griffin said.
The emphasis on social spaces will enhance a corridor already known for its elite venues, from its power-dining restaurants like Casa Lever to the Racquet & Tennis Club.
At 425 Park, all tenants will have access to the Diagrid Club, offering breakfast and lunch by Jean-Georges Vongerichten and terraces. Lever House's $100 million rehaul introduces a third-floor hospitality center with a bar, work lounge and over 13,000 square feet of outdoor space.
"I believe the sense of exclusivity and the priority given to the 'C-Suite' will change to a more democratic point of view, catering to the employees and their priorities," said Aby Rosen, whose real estate firm, RFR, owns the Seagram Building.
RFR has made some changes to the landmark tower in line with that idea. What was built as the "executive lounge" has morphed into the "Terrace Lounge." The space directly under the broad plaza in front of the building has been turned into a gym with a basketball court, a spin studio, foosball and white ping-pong table, with Kiehl's products in the bathrooms. A hedge fund tenant requested it open early so traders can work out before they have to be at their desks at 7 a.m.
The design for JPMorgan's 270 Park got city approval in 2018, with the bank agreeing to facilitate critical work underground to prepare one of the world's busiest transit networks for a future that involves fewer automobiles.
Plans for the neighborhood also call for eliminating car lanes and expanding the medians—a move designed to put the "park" back in Park Avenue—and create more space for a broader swath of workers, tourists and residents in the area. The tower will be the city's largest all-electric one.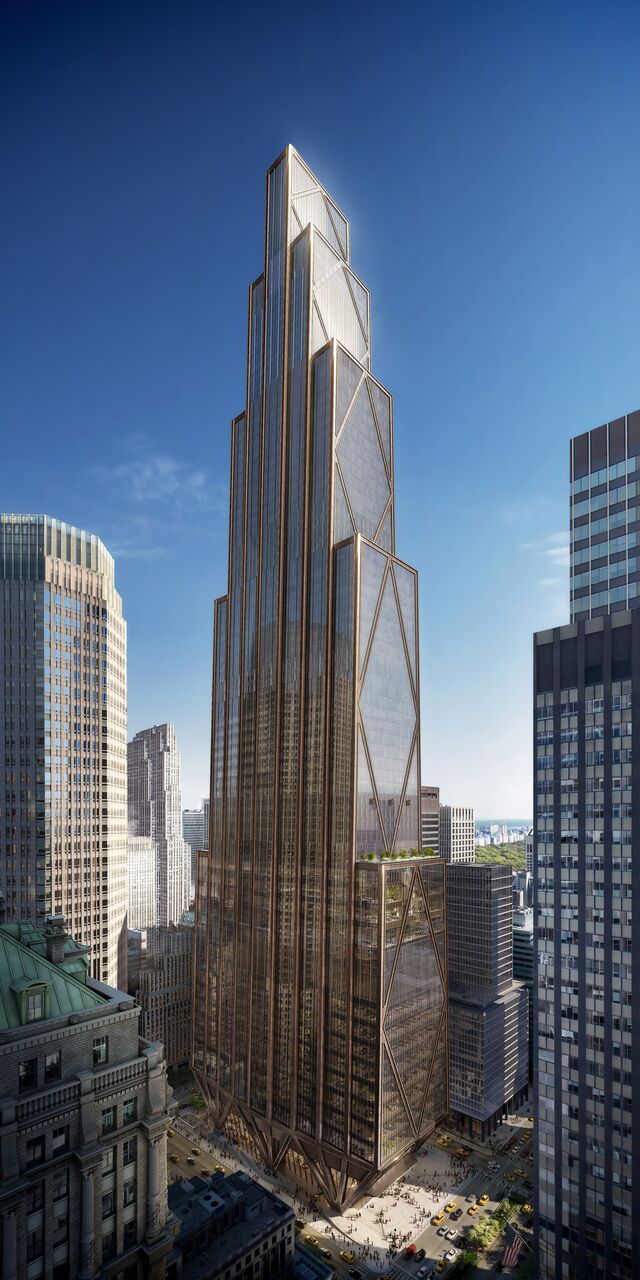 Still, the street has its problems. Demand for the newest office space has sent some firms away, and Park Avenue's boutique buildings won't fit the requirements of some larger companies. It's set to become a perpetual construction site for years to come, with so many new structures planned and the medians to be ripped up to rebuild the train shed underneath. And thieves ran off with merchandise worth hundreds of thousands of dollars just this month from the Cellini jewelry store right across from 425 Park.

Standing on the 26th floor of 425 Park, the focus is on what the city's first new, full-block office building in 50 years will bring to the area.

Its design evokes iconic structures nearby, like the Chrysler Building, while three video panels on top of the building are unlike anything else in the neighborhood. It has floors with no columns, a ventilation system that brings in 95% fresh air, a meditation room and an espresso bar. Its lofty ceilings are double—and sometimes triple—the typical height.

"We're never going to not need offices," Paul Goldberger, author of "Why Architecture Matters," said during a tour. "Of course, you'd rather be on a Zoom meeting at your dining room table. But if the alternative is to be in a space like this—you are much more incentivized to come to the office."

Griffin, who has long championed returning to the office, is paying $300 per square foot for the top two floors of 425 Park Avenue, and Citadel and Citadel Securities leased its other floors at rates of up to $200 per square foot, well above the current average rent of $75.90 in Manhattan. In a way, the firm that revitalized chatter about Wall Street moving south from New York is also providing one of the clearest indications of the city's staying power.

"This building, you know, it was started long before the pandemic," Goldberger said. "But it's a stake in the ground for the ongoing strength of New York."

') } /*-->*/