Thanksgiving in New Orleans Follows Traditions All Its Own
The past year and half may not have actually been easy in the Big Easy, but the sense of community it reinforced—and the food that feeds it—gets to the heart of what the holiday is all about.
New Orleans locals refuse to let anything so much as supply chain snarls or a natural disaster ruin their good time. That's because the city has always done its own thing on Thanksgiving. If residents follow rules, they are ones practiced by families for generations. If ovens don't work as a result of lingering damage from Hurricane Ida, mac and cheese gets cooked at a neighbors. If turkeys are hard to find, they roast a duck, or a chicken (although they probably want it all, in the shape of a turducken.) Dishes reflect family heritage more than national Turkey Day traditions.
"My Thanksgiving isn't going to change," says Titus Perkins, executive kitchen manager for Ralph Brennan's Restaurant Group. His holiday tradition is to cook dinner for the 80-odd people in his vast restaurant family. "Things like a hurricane, they bring families closer together."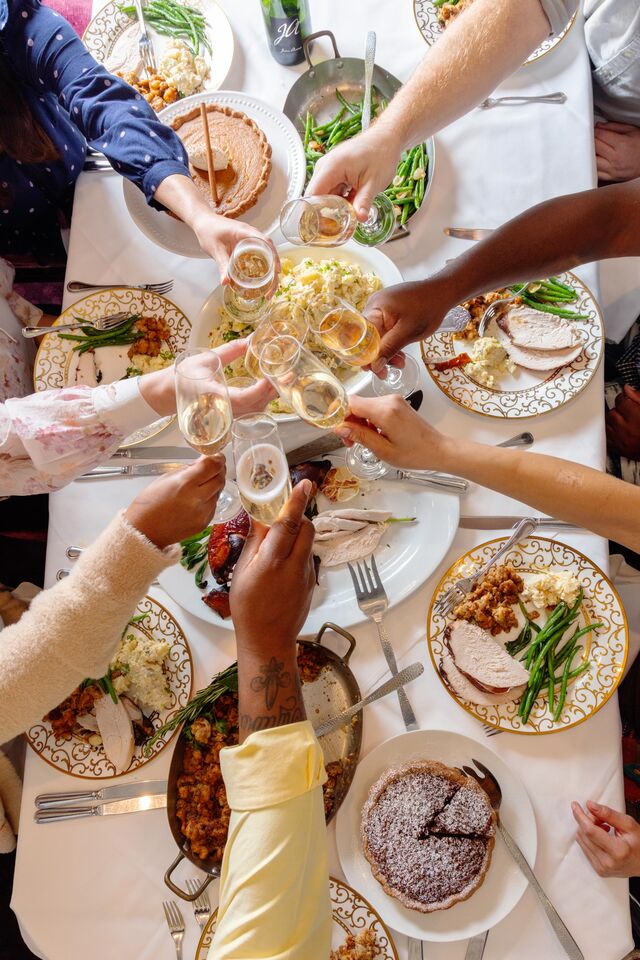 Touré Folkes, founder of local nonprofit Turning Tables, admits that when he first moved to the city, "Thanksgiving is a holiday that I didn't get." Then, he discovered, "New Orleans is about community; it's common to go to different people's houses. It's different than New York, where you go to one person's house."
Folkes starts Thanksgiving with one of the city's time-honored customs, a trip to the Fair Grounds Race Course for opening day. There, dressed-up locals gather, nominally to watch the horses fly around the track. They're really there to socialize, cocktails in hand, before they go dancing around town to various house parties. "It's a day you get a real sense of the New Orleans community at its finest. People get dressed up and eat together, they drink together. It's an all-around vibe," says Folkes.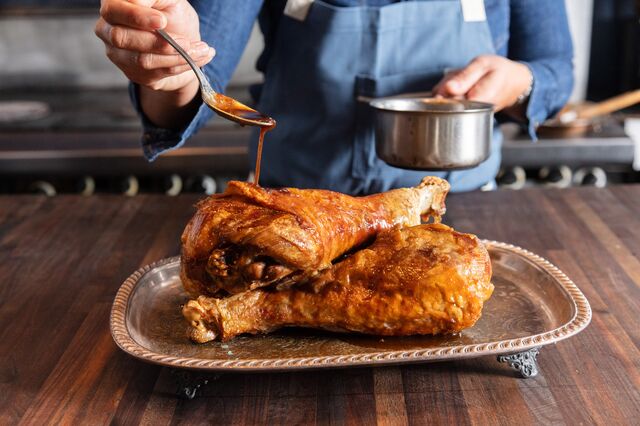 "In New Orleans, we are rule breakers, and that's not going to change," adds chef Melissa Araujo, who runs the inviting Honduran restaurant, Alma. "We beat our own drum"—and deliciously so. 
Read on for how Araujo and Folkes and other New Orleans locals in the restaurant world turn even the most sanctified of American holidays into a celebration with food and traditions all their own.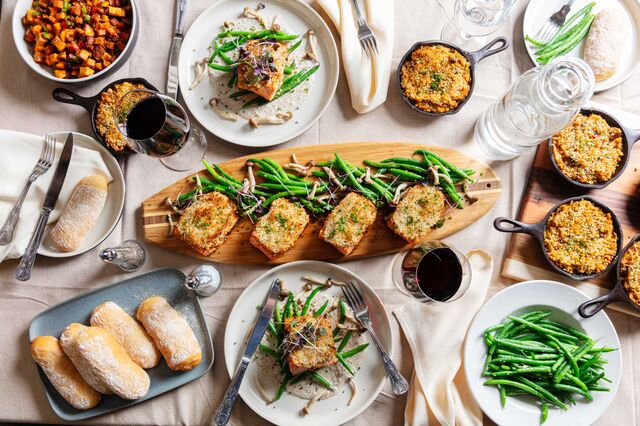 Erik Veney, executive chef at Muriel's Jackson Square
Dishes: Crusted salmon and oyster dressing
"Growing up in New York, Thanksgiving was a family meal around the table—after we watched some football. Down here, people go to the racetrack, then there are a lot of pot luck meals where you bring a dish," says Veney, who moved to New Orleans 25 years ago after graduating from Johnson & Wales in Providence, R.I. He now runs the kitchen at Muriel's, a time-honored dining room that specializes in Creole cooking in the epicenter of the French Quarter.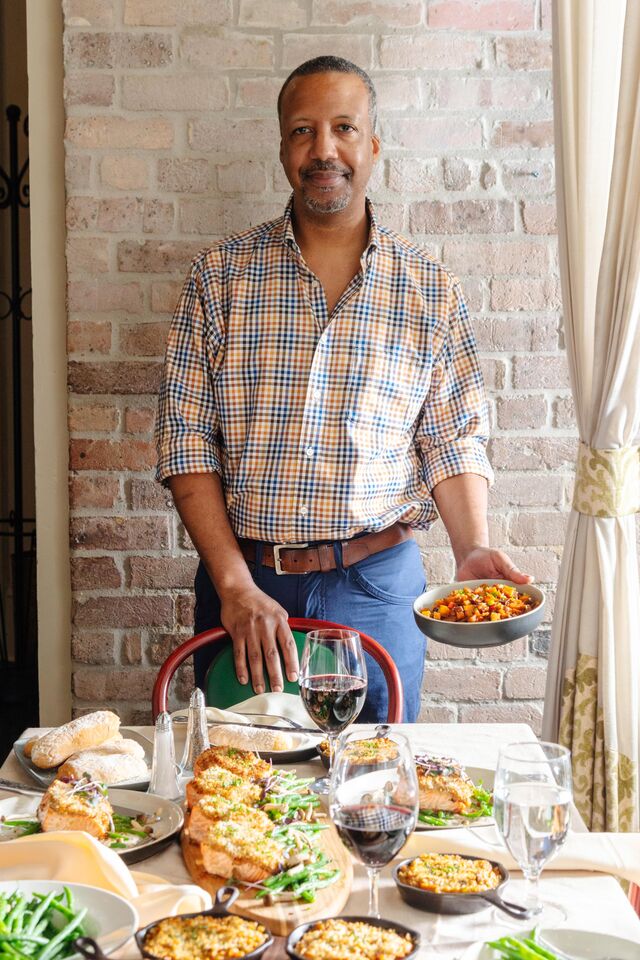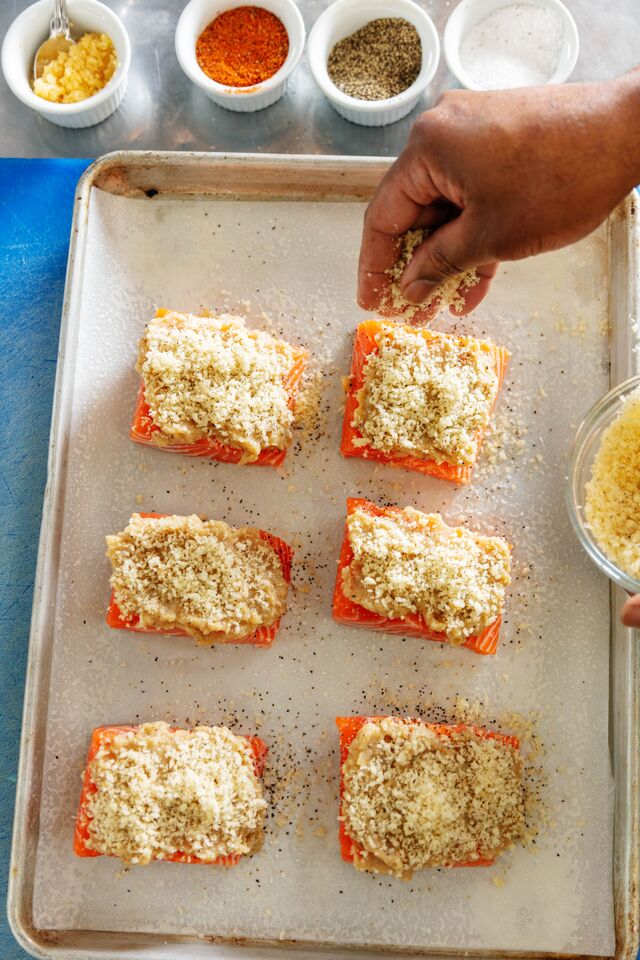 "The tradition of family gathering is big, maybe even more so than up North," he continues. But people have their own dishes, he says. "They aren't tied down to classics. I've been to gumbo Thanksgivings."
"One of the staples of my Thanksgiving dinner now is oyster dressing," he says. "It's a Louisiana thing. I did not grow up with it, but my daughters make a yearly request for it."
Another dish, which he also serves at Muriel's, started as a play on a green bean casserole: "It's an onion-crusted salmon with roasted onion puree and panko bread crumbs (to up the onion flavor), on a wild mushroom cream sauce with sautéed baby green beans. I'm surprised at how well it sells."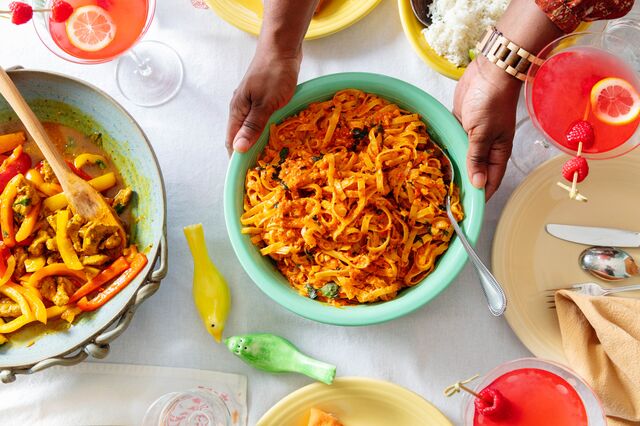 Yolanda Reese, founder of Tinis & Paninis
Dishes: Deconstructed mac and cheese, martinis, Thai curry roast pork, and peach cobbler
On the way to starting her business in late 2018—a pop-up pairing martinis with paninis, and now a line of salad dressings, pestos, and spice blends—Reese worked at the local Hancock Whitney Bank, joined the Army, and was a respiratory therapist. Thanksgiving feast maker came about after her mom "passed the baton." 
"Now me and my sisters cook while she directs us," Reese laughs. "It's a little old-school, a little new school. We always make peach cobbler—my mom's trick is to pour boiling water to make it crispy—although it looks like you're messing it up."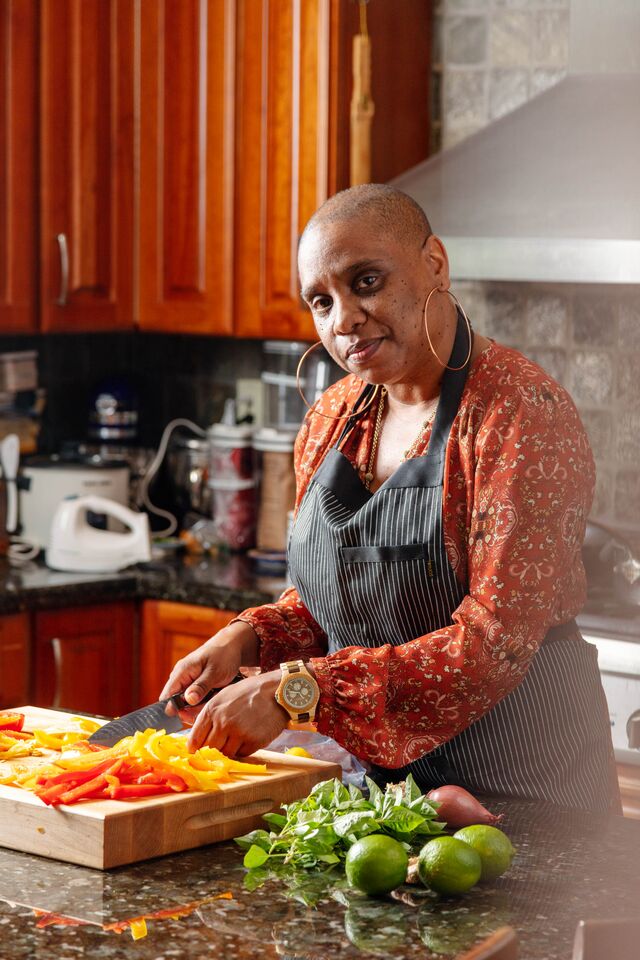 "We do her take on things, and then I do mine," Reese continues, "so there are two mac and cheeses, two roasts, and so on."
In the new school category, along with a Thai curry pork, is a dish Reese concocted when her niece decided to become vegan.
"I made a roasted red pepper sauce, then she needed something to eat with that, so I made it into a deconstructed mac and cheese," says Reese. "She loved it. She's no longer vegan, but my family loves it, so we stuck with it."
Another new tradition: "The day after, when my sisters and I gather to finish cleaning, I make paninis with basil walnut pesto and mozzarella. It's part of our twist on Thanksgiving."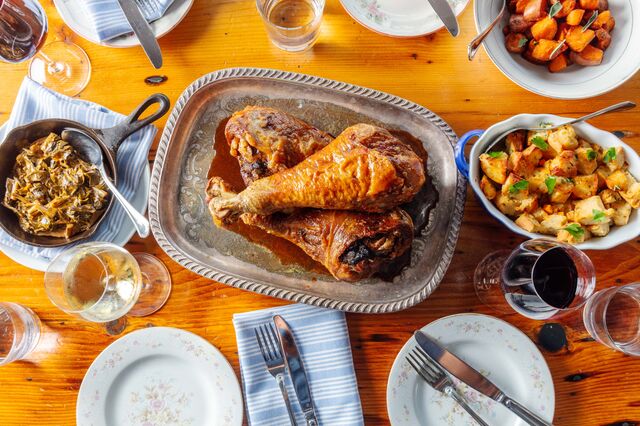 Nina Compton, chef and owner of Compère Lapin
Dishes: Mojo-fried turkey, coconut braised collards, and jerk sweet potatoes 
Born in St. Lucia, Nina Compton didn't grow up celebrating Thanksgiving; Christmas was her big holiday. But she's been experimenting with foods that are staples of many a Big Easy table, including fried turkey and sweet potatoes. She puts her own spin on them, like adding jerk seasoning to the carbs and marinating the centerpiece turkey in a homemade Caribbean citrus mojo.
"The tangy cumin notes add something special to the fried bird, and it feels familiar to me," she says, a little spicy with nice, crispy skin.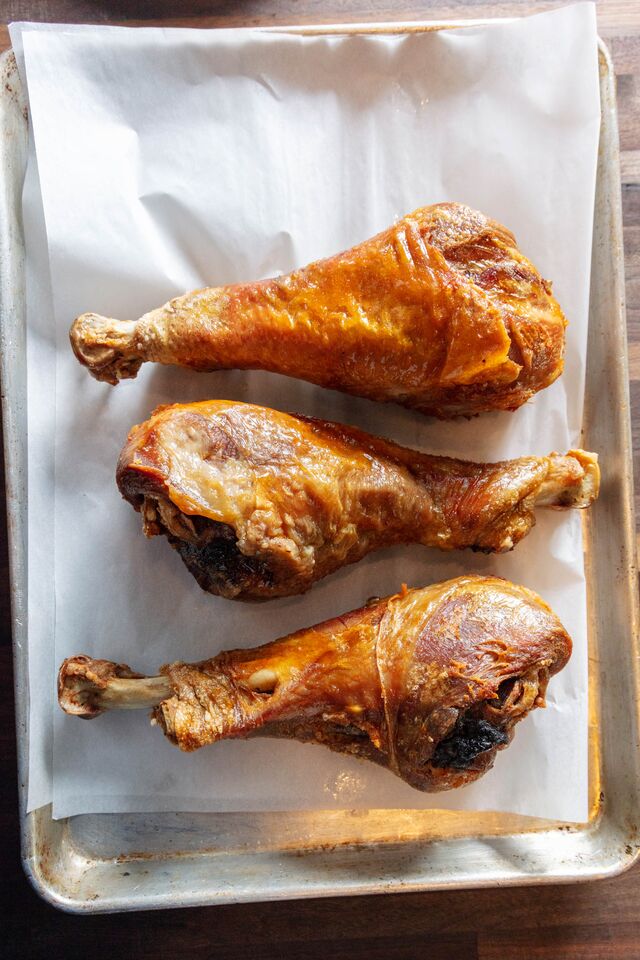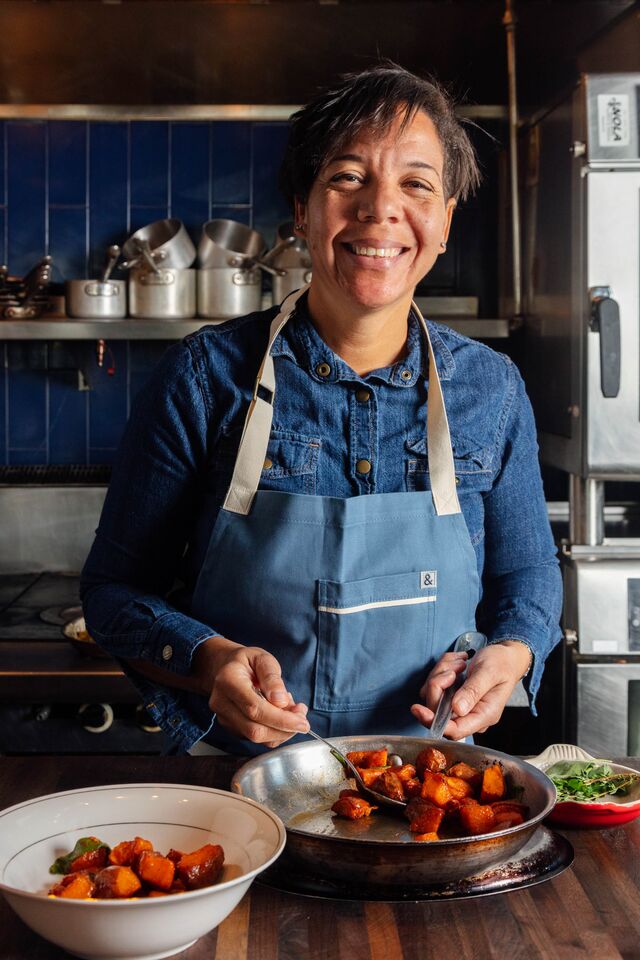 "I like to play with Thanksgiving dishes, make them fun, a little different," continues Compton, who rose to fame on Top Chef and whose Warehouse District restaurant, Compère Lapin, has been a force in the local dining scene since it opened in 2015.
Even seminal New Orleans restaurant Dooky Chase has fallen under the spell of her collard greens, which are slowly cooked down in coconut milk with paprika and cayenne. 
As she tells it, having become close with "Ms. Leah" before she passed, Compton recently did a partnership with the restaurant. "When I gave her grandson Edgar, who is now the chef, the recipe for the collard greens, he said, 'I might steal this recipe,'" she recalls. "I couldn't believe it. These dishes, it's bringing some of that Christmas celebration that we had in St. Lucia, bringing that sensibility here."
Elisha Snead, line cook at The Peacock Room
"Hands down, my favorite Thanksgiving dish is stuffed mirlitons. The taste of seafood with the sweet stuffing is just delicious," declares Snead, who cooks elevated classics at the Hotel Fontenot's Peacock Room. The bright green, pear-shaped vegetable, also known as chayote, is renowned in New Orleans as the vehicle for a carby mix of celery, onions, breadcrumbs, Gulf shrimp, and lump crabmeat.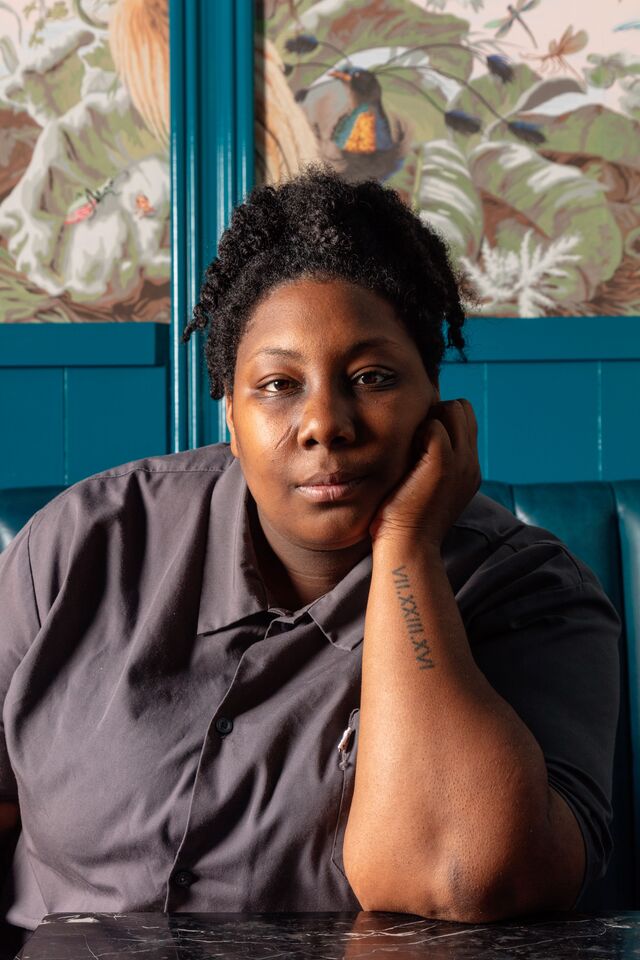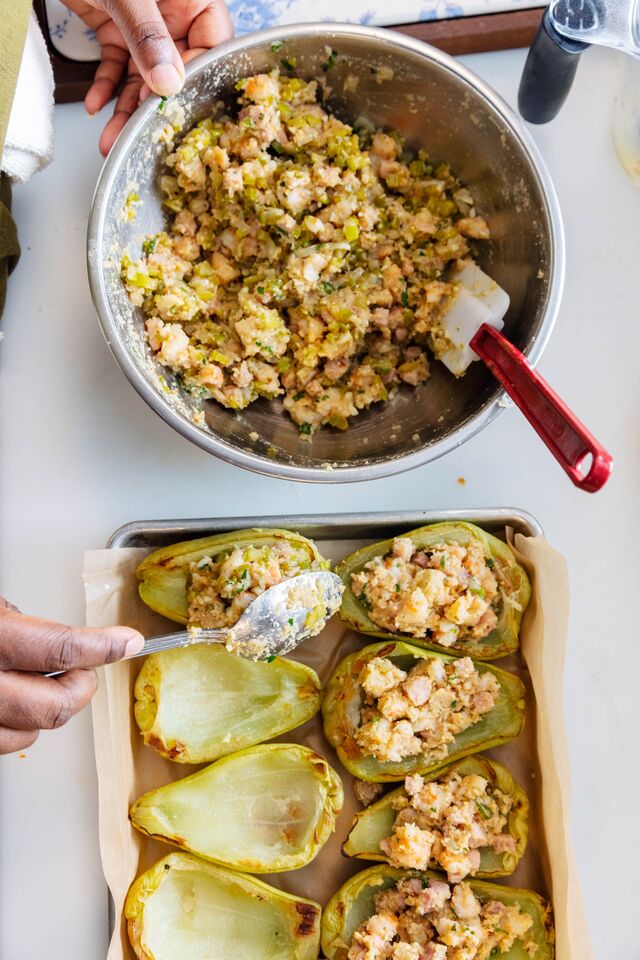 Snead grew up watching her grandmother, Valerie Shelley, cooking the mirlitons as part of a spread that invariably includes seafood gumbo, macaroni and cheese, turkey, and ham. The gathering was usually at least 30 people: "It's the only time my whole family is together at once."
Now, Snead helps cook the meal—and the mirlitons—staying true to the family recipe. "Nobody dares change the stuffed mirliton recipe."
As beloved as the vegetables are in New Orleans, they can be difficult to find outside the city, as Snead discovered when her family had to leave after Hurricane Katrina.
"We went to Orlando. We tried to find them when we were there, but when we asked for them, people there looked at us like we were crazy. My dad came back to New Orleans to get them for our Thanksgiving."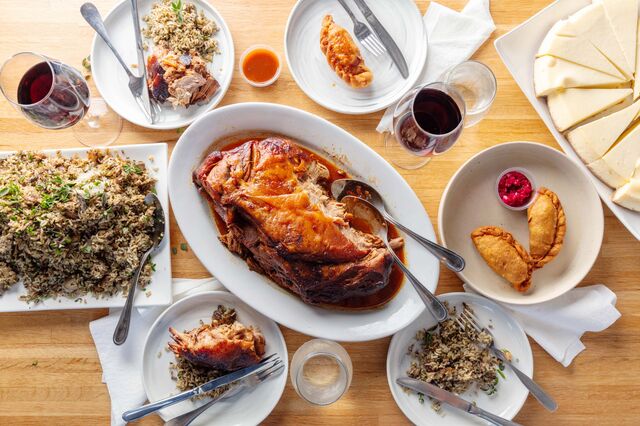 Melissa Araujo, founder and executive chef at Araujo Restaurant Group
Dishes: Pierna asada (Cuban roast pork), New Orleans-style dirty rice, postelitos de carne (Cuban beef pastries), and key lime meringue pie
"Thanksgiving to me isn't turkey, gravy, and mashed potatoes," says Araujo, who moved, at the age of two months, from La Ceiba, Honduras, to New Orleans, where her family goes back five generations. She has been cooking in professional kitchens since high school. "It's a time to celebrate my culture, my family, and everything we are grateful for."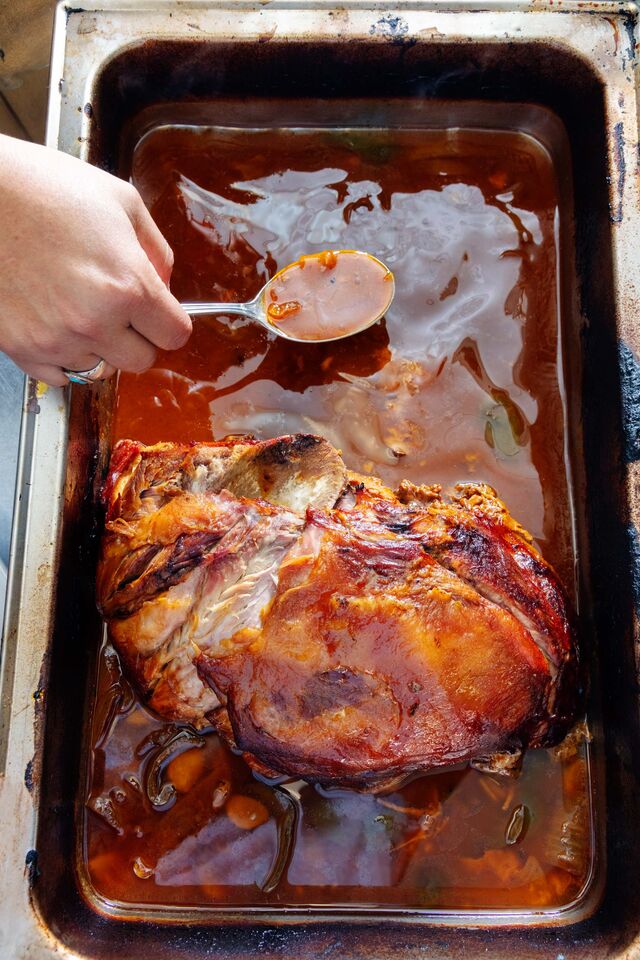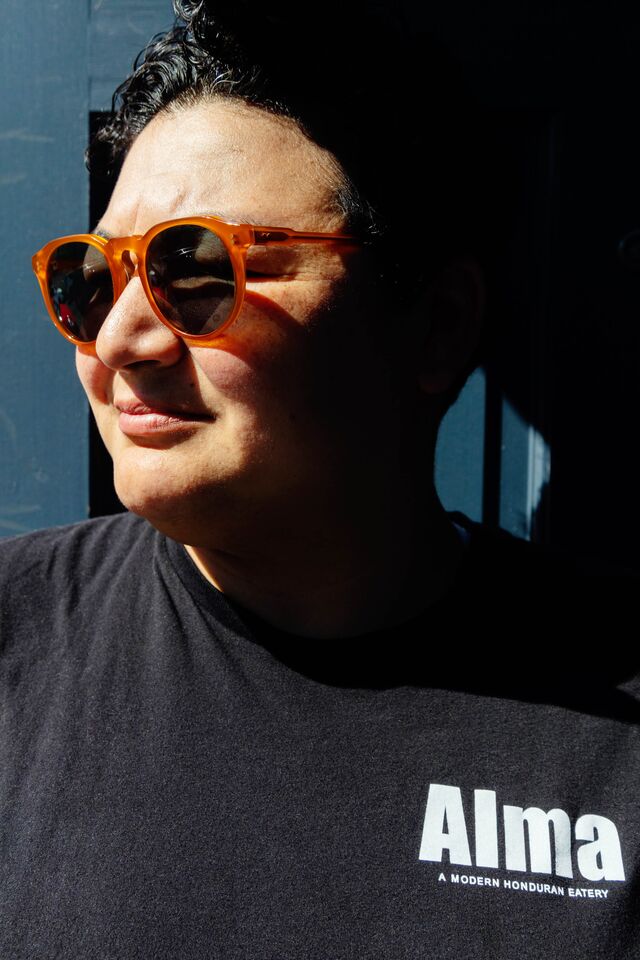 This means that pierna asada, a whole-roasted pork leg that's crisped in the oven, sits alongside her Italian mother's spaghetti Bolognese, and a platter of New Orleans dirty rice with key lime meringue pie for dessert. As she grew up, says Araujo, they might also have had moros y cristianos, a Cuban-style dish of black beans and rice cooked with coconut milk.
"We have turkey, but my Dad never liked it, so he made pork and it has stayed," she says. "It's always more popular."
Although her menu might change a little from year to year—"If there's a new in-law, we combine their respective customs to make room for more"—she always finishes her table with one thing: German-style potato salad.
"Hondurans are passionate about it, and it has to be classic," says the chef. "If you try to change it, they will kill you."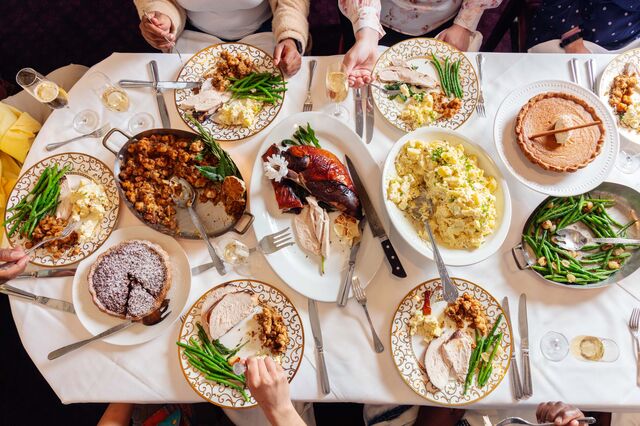 Titus Perkins, executive kitchen manager at Ralph Brennan Restaurant Group
Dish: BBQ shrimp dressing
"When you are in the restaurant business, the people around you become your family," says Perkins, who for 26 years has worked at the venerable New Orleans spot Brennan's, where he started as a dishwasher. Thanksgiving is a busy day at the restaurant, so about 5 years ago, in recognition of his hard-working kitchen team, the now-executive kitchen manager decided to close to the public and cook a meal for the staff a few days ahead of the holiday.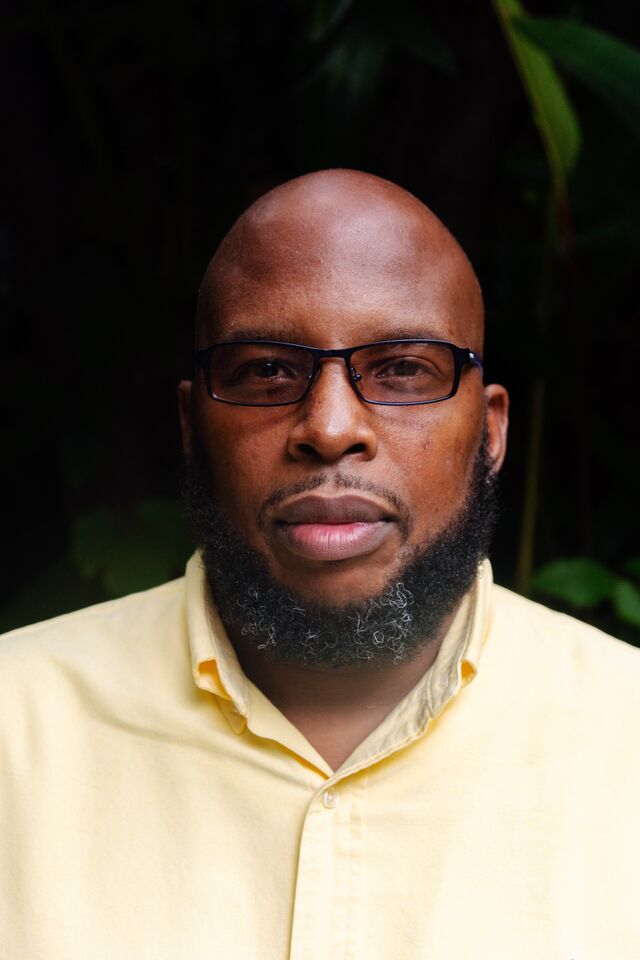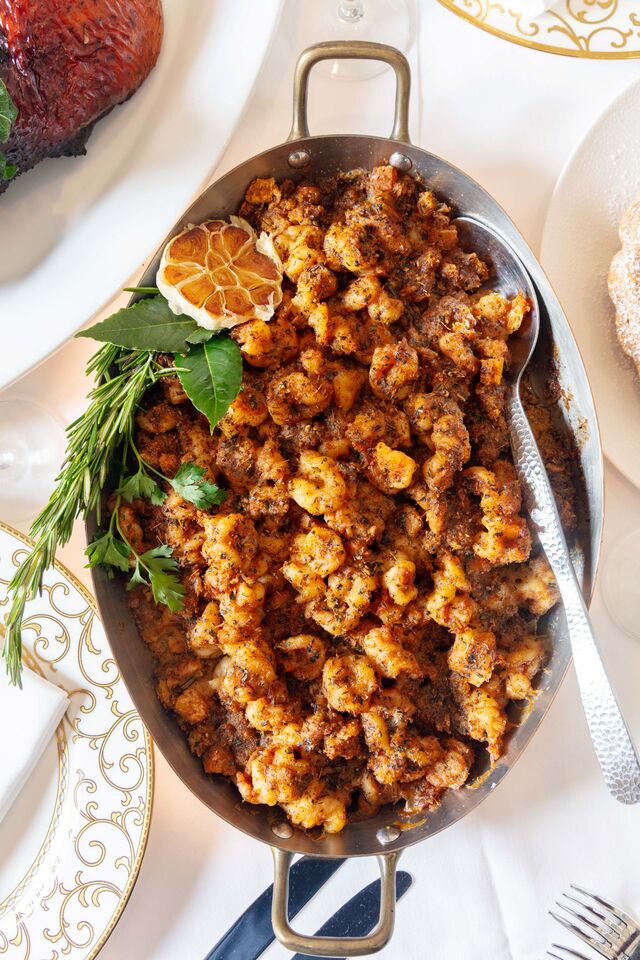 "I started this tradition to let my staff know they're appreciated by me." This year, there'll be about 80 guests, he says. "Every year it grows. The managers take care of the staff; they're the servers, they're clearing the plates. This year, we'll have about 10 turkeys, stuffing, potatoes, and my barbecued shrimp dressing. 
"It's a two-step process," Perkins says of his signature side. "You make a sauce with the shells, and then you barbecue the shrimp. It's old-school New Orleans style, with Abita beer, butter, rosemary, garlic, Creole seasoning."
"It's a pain to make, but really good," he laughs, which is funny since he says the dressing came about from his trying not to cook. "One Thanksgiving, I had to make the dressing, but I was also supposed to make barbecued shrimp as a side dish, so I combined them, trying to save time. Now it's my family thing—for family at home as well as the restaurant."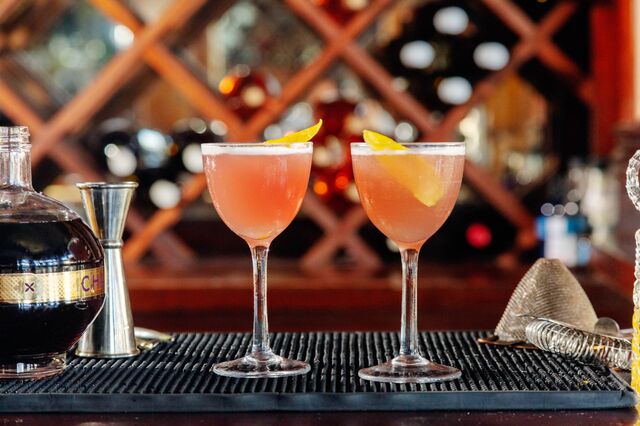 Touré Folkes, founder of Turning Tables
Dishes: French martinis, mac and cheese
"One of my rules as a New Orleans citizen: I don't work Mardi Gras and I don't work Thanksgiving. Those are the days to see the people you love in one place. On Thanksgiving, it's the racetrack," says Folkes. The rest of the year, the New York native is busy running Turning Tables, the nonprofit he founded in 2019, which offers career development classes to create more equity behind the bar.
For  the past few years, Folkes's mother, Glory Lemons, has joined in his Thanksgiving routine. The drink of the day is her favorite cocktail: the brightly colored French martini, which mixes vodka, pineapple juice, and Chambord. "I don't know how my mom came to French martinis, but she loves them on the holidays, so I make them for her," says Folkes.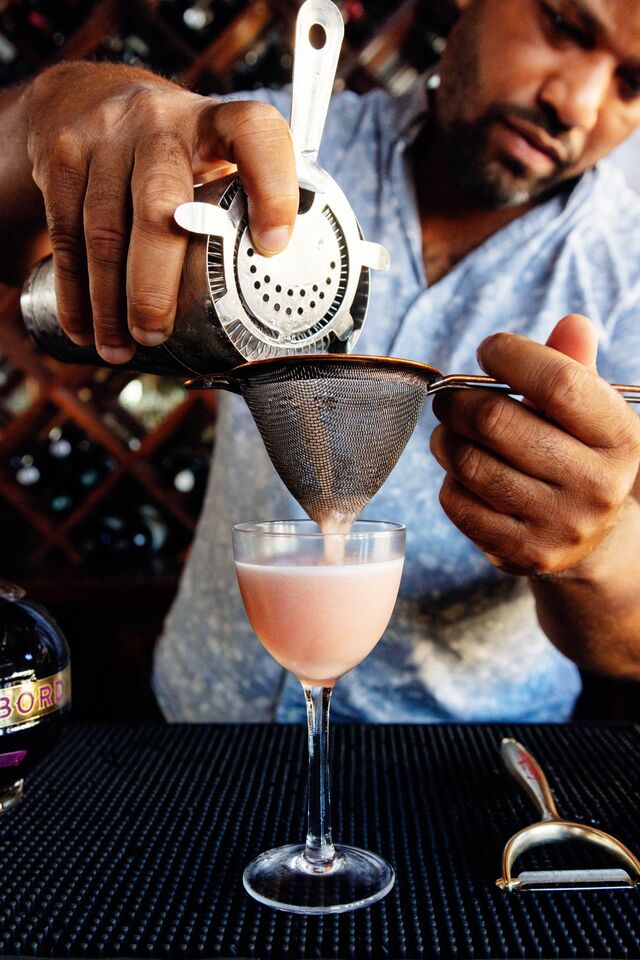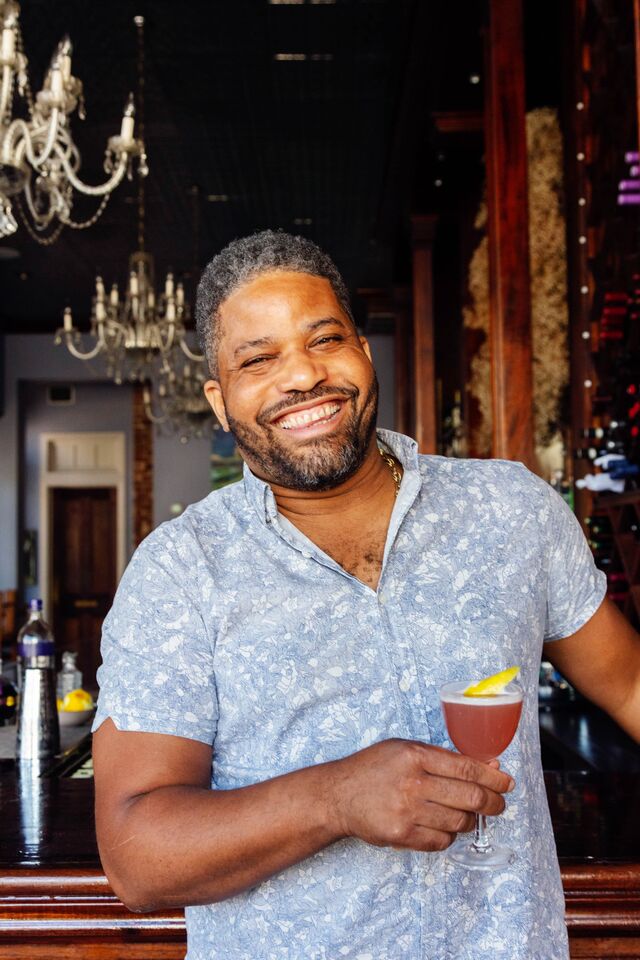 After visiting the racetrack, they travel to friends' pot lucks, armed with platters of his mom's four-cheese mac. "I've 'evolutionized' it, so there might be three different pans of mac and cheese, one with four cheeses, one with meat, [and] I might make mac and cheese nachos," says Folkes. "In New Orleans, people are going to put their own spin on everything."

Folkes sees a strong reason for the Crescent City's proud, singular spirit: "It's a smaller city that has gone through a lot of stuff, a lot of collective trauma. New Orleans has so much culture created by Black people, by slaves who came across the ocean. Many of the first responders to Ida, to Covid, were local hospitality people who had drive and initiative."

In short, New Orleans is resilient, he says, "a community that comes together around food and says, 'Let's do what needs to be done.'"

') } /*-->*/