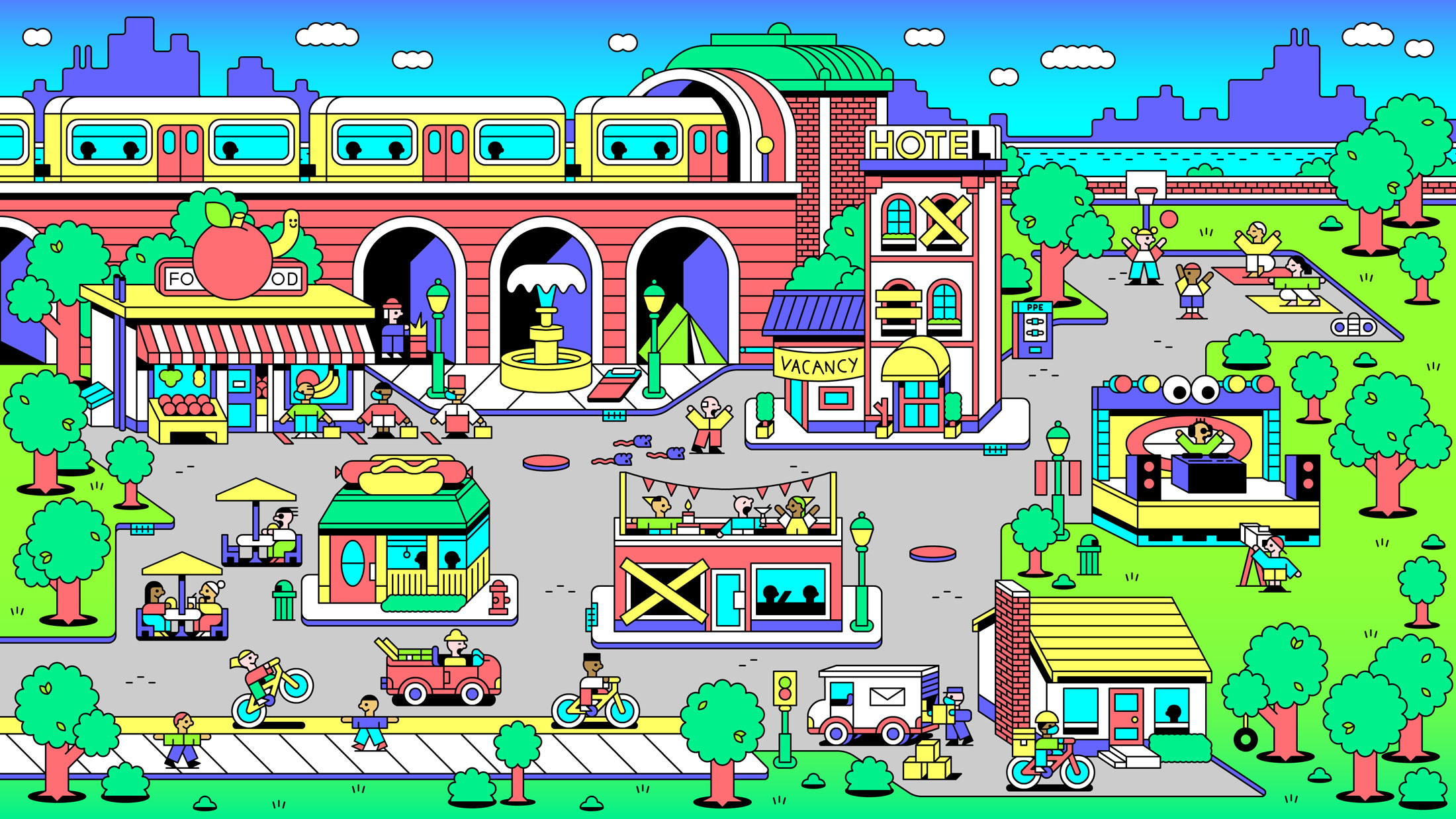 How the Coronavirus Recovery Is Changing Cities
As cities emerge from coronavirus lockdowns, the way people use parks, stores, restaurants, transit, streets and homes is changing in ways both subtle and dramatic.
By Bloomberg CityLab
Animation by Joel Plosz
June 22, 2020
If one thing is certain, it's that our definition of normal has changed. After months in lockdown to prevent the spread of the coronavirus, cities are reopening — some with masks and social distance, others with still growing numbers of infection. It's unclear what cities will look like in a year or more, but in many areas the landscape is already starting to shift.
Bloomberg CityLab has compiled and illustrated some of the most noteworthy changes that are already happening in communities around the world. From temporarily widened sidewalks to larger patios for socially distanced restaurants, these changes will transform the urban streetscapes of at least some communities. And not all of the shifts will be by intentional design.
With everybody spread further apart, the crux of many of these changes is space. Most people will need more of it, posing one of the great design challenges of the period for already built-up, congested cities. There will be a premium placed on repurposing outdoor space so that more gathering activities can take place in the open air. "We will need to transform the link between indoors and outdoors, to reshape streets as the prolongation of indoor areas," says Carlos Moreno, professor of territorial entrepreneurship and innovation at IAE Sorbonne and adviser to the city of Paris.
To be sure, some communities may be defined by little change at all. If a vaccine becomes widely available, we may see much of the before environment return — but some cities are seizing this as an opportunity to invest in much needed infrastructure. And the recent U.S. protests against racism are fueling other policy changes across American cities.
Even in the most resistant places, there are some almost-ubiquitous changes that are built to be low-tech and easily removed: paint stripes on the sidewalk as a social distancing guideline, and hand sanitizer dispensers outside stores. "We won't need to create new infrastructures," says Moreno. It's more about using existing ones more effectively.
(An earlier version of this article misspelled the name of LSE Cities Executive Director Philipp Rode in the Home Office section.)