"Here's the high school. It's so huge, it takes a minute just to drive by," says John Diamond as we pass a giant brick Victorian building surrounded by a lush green lawn. We're on a tour of Evanston, Ill., which borders Chicago, runs along Lake Michigan, and is home to Northwestern University. In some ways, Evanston is an American idyll. People move here and stay, because it's a diverse, relatively affluent, and well-read community. Two-thirds of its residents have library cards. Yet, to the dismay of the progressive citizenry, Evanston educates white students far more successfully than students of color.
Diamond, 47, is the parent of an Evanston seventh-grader, a professor at the University of Wisconsin at Madison, and the co-author of Despite the Best Intentions: How Racial Inequality Thrives in Good Schools. His book is based on a five-year examination of an unidentified Midwestern high school that's diverse and affluent and still treats black and white students differently. Diamond promised never to reveal the school's location. Maybe it isn't in Evanston. But it could be.
Evanston's school system is divided in two. District 65 comprises 18 nursery, elementary, and middle schools that educate 7,900 kids. District 202 exists solely to oversee the high school. In District 65, white students are 3.9 grades ahead of the national average and black students are 0.6 grades below, according to a Stanford study of third- through eighth-graders nationwide posted online this spring. Evanston's own research, released in April, shows a similarly large difference between the percentage of black and white students on track to be college-ready. Money can explain some of that: Almost 80 percent of black students come from low-income households. But in Evanston, an achievement gap exists among higher-income black and white students, too. The inescapable conclusion of the report: "Race has an effect on student outcomes in District 65 separate from income."
Since the 1960s, the national achievement gap has been narrowing, though progress has come slowly and is often complicated by poverty. "The strongest predictors of a racial achievement gap are socioeconomic disparities and segregation. Those make sense," says Sean Reardon, the Stanford professor whose research helped expose Evanston's problems. "This third finding—affluent districts with larger achievement gaps than we would predict—that's really distressing." Because Evanston is compact, with 75,000 people living in 7.8 square miles, and committed to an integrated school system, it provides an ideal microcosm in which to examine how racial biases, unconscious or otherwise, endure.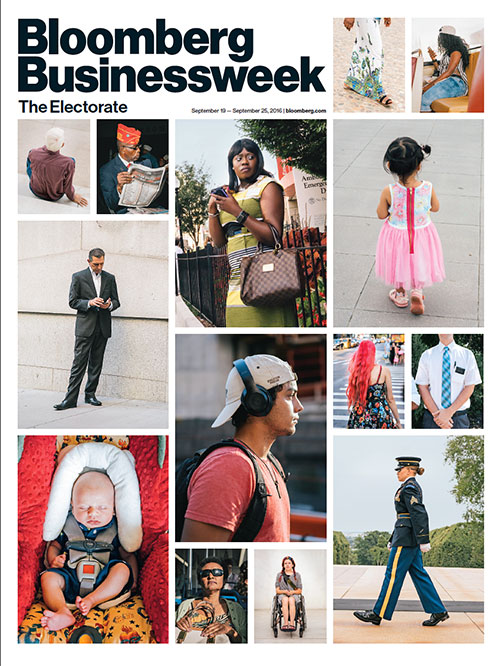 Featured in
Bloomberg Businessweek
, Sept. 19-25, 2016.
Subscribe now
.
Photographer: William Mebane for Bloomberg Businessweek
Evanston Township High School is ranked among the country's most academically challenging. It's also one of the biggest under one roof—1.3 million square feet, the size of an Amazon distribution center—with a 62-acre campus. The school offers more amenities than many country clubs: two swimming pools, 15 tennis courts, a climbing wall and spin room, and fields for baseball, softball, and football. It has two technology centers and two libraries, as well as a TV studio, planetarium, and greenhouse. The school, which has a district superintendent all its own, enrolls about 3,300 students and spent $22,058 on each one in 2015; the state average was less than $13,000 per pupil.
The high school sits in the center of the historically black part of town, known as the Fifth Ward. Across from its entrance is the Church Street Barbershop, family-owned for three generations. Three older men sit outside on folding chairs talking with the owner, Sam Johnson. A cut and shave cost $25. Diamond has been coming here since the mid-1990s.
He concisely, almost academically, parses the city's geography as he drives from the Fifth Ward to the southern edge, which, with its rental apartments and Family Dollar store, perpetually needs economic development. "Blacks have a political base," Diamond says, "but most of the power brokers live along the lakefront in the north, which is predominantly white, or in the southeast, which is mixed." As he heads north, uniformly boxy homes perched close to one another give way to million-dollar estates set back from the road and nestled into the trees. There's a distinction for residents other than housing stock: whether their children can go to school in their own neighborhood.
Desegregation formally arrived in Evanston in 1966. The school board turned the one elementary school in the Fifth Ward into a magnet school to attract white students and bused black students to the predominantly white schools. As the city's population declined and shifted, the board closed the magnet school, which meant there was no elementary school in the black community at all. In 1985, Evanston created a policy that no single racial group could comprise more than 60 percent of a school's population. Although the policy is no longer in effect, the city's schools remain integrated at a time when resegregation is worryingly common. But it's mostly minority elementary school kids who leave their homes every morning on buses. "There's a certain ownership in going to school in your community, in being able to walk to school," Diamond says. "If you're on the bus, it's very different. And when who's on the bus is racially defined, it reinforces differences."
Come ninth grade, every student attends the same high school, arriving by any means and remaining for afternoon activities if they choose. But for some, it's too late to recover from the side effects of feeling like an outsider. Forty-three percent of Evanston's high school students are white, 30 percent are black, and 18 percent are Hispanic. In the 2015 graduating class, 92 percent of whites, 60 percent of Hispanics, and 51 percent of blacks had taken at least one Advanced Placement class.
"If you go to the schools in our district, you see all kinds of people, and it looks like utopia. And if you're a white student, it is utopia. You get to be around kids of diverse backgrounds, listen to different music, have different experiences, and also get the finest of schools," says Diamond, whose son's middle school is in south Evanston. "If you're a black student, you don't feel as respected or welcome, you don't feel like a full citizen." Stereotypical ideas that black students can't achieve or will misbehave persist, he says, mostly beyond the conscious thought of teachers, 72 percent of whom are white. The experience is "much like what happens outside the school."
Diamond came up with a term to describe how wealthier, often white parents reinforce this inequality: opportunity hoarding. Most parents can be a little selfish when worrying about their kids' education. But some parlay their capital into access to the best teachers and the highest-level classes. They're usually the loudest and the most insistent. Resources are piled on "to those who already have the most and leave everyone else with less," he says. Diamond wants school administrators to work harder to protect opportunities for those who have fewer of them.
Cicely Fleming returned to Evanston in 2015 after more than a decade away, and within months she started a group to advocate for racial equity in its schools. Martha Burns has been active in the community for 25 years, first as a room mom, then a PTA president, and more recently a high school board member. She's now part of Fleming's group. On a recent afternoon, Fleming and Burns meet for lunch at the First Slice of Pie Café in a new community center near the high school. The pies look good, but they eat sandwiches as they contemplate Evanston's predicament: a well-meaning community that still doesn't do right by all its kids.
As a child, Fleming lived with her mom and sister in the Fifth Ward. Now she, her husband, and their three kids, in elementary and middle school, live in a culturally and economically diverse neighborhood in south Evanston. At school her kids, who are biracial and were raised in white suburban Florida, noticed that the black students sat separately in the cafeteria. Her son told her that during recess, the black kids usually played basketball and the white kids played soccer. When it was time to go in, the basketball players were yelled at if they took one more shot. But if the soccer kids kicked the ball one more time, no one said anything. Fleming's daughter started keeping track of which classmates were sent to the principal's office. "Kids understand the dynamic," Fleming says.
"What her children are observing, my kids did, too," Burns says. "And my kids are 28 and 30. So things haven't changed. There are very intelligent, very good-intentioned, well-meaning white people in this community. But I'm telling you, you start talking about race and their palms get clammy and sweaty. You start talking about tracking students into honors and Advanced Placement classes, and you get the same response. White people don't see the formulas that work for their children." Says Fleming, who drops in and out of the conversation as she greets friends in the cafe: "You'd think with all the resources, and as liberal as our town proclaims to be, we could get it together. I think the fact that we haven't is a value statement."
In December 2015, Fleming, Burns, and a representative from the NAACP asked the District 65 school board to review black student achievement in more detail than usual. The board agreed, and the data crunchers refined how they measure academic performance. The result was an even larger gap between black and white students than previously reported. One parent said the only part of the 43-page report she was glad to see was the end. The analysis showed that District 65 provided a much better education to white students than black students, no matter their income. "When we see data that are as explicit as they are, that's both painful and challenging, alarming and invigorating to actually go change our practices," says Paul Goren, the district superintendent since 2014. "This is not to blame and shame." Nor, he wants to remind people, should this single out Evanston. Similar communities also undereducate students of color. "But this is a potentially powerful moment in Evanston," he says. "I believe we can make exponential progress fast."
The board has hired a consultant to assess each school's practices, is committing to hiring more teachers of color and making lessons more culturally relevant, and is encouraging staff to attend workshops to help expose unconscious racial bias. Yet Goren says the district, which pays teachers an average $76,000 a year and has an annual budget of $124 million, could be facing a $4.5 million deficit next year. He's worried that Illinois's precarious financial situation will hurt his schools further. There's also the matter of a proposed redistribution of resources from high-tax districts like Evanston to low-tax districts. Evanston's share could be $6 million a year. "The policy wonk in me says that's great," Goren says, but losing that money would be "devastating as we think about moving forward." His ambivalence about sharing the wealth is analogous to the tension felt by white parents who want all kids to thrive, as long as the system still gives an advantage to theirs.
Goren met Diamond at the MacArthur Foundation years ago, and they've been friends ever since. He recently asked Diamond to serve as an unpaid adviser on how to change practices that unintentionally reinforce racial disadvantages. Diamond expects "negotiations to create a more equitable environment and also keep the most powerful parents happy." He begins in October.
Data: National Center for Education Statistics, U.S. Department of Education; Low Income Defined as 185% of federal poverty level; U.S. Census Bureau