Markets
Euro Traders Set Themselves Up for a Letdown
Betting on QE's demise leads market commentary.
by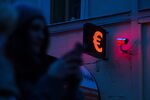 European Central Bank Chief Economist Peter Praet threw long-suffering euro bulls a bone on Wednesday by signaling that the first formal round of talks among policy makers on when to stop buying bonds is imminent. The Bloomberg Euro Index promptly rose more than half a percent. Too bad few economists actually think such talks will lead anywhere when the ECB meets next week. 
Although the ECB has signaled that it would like to start the process of withdrawing from its quantitative easing measures later this year, the slowing economy and turmoil in Italian politics suggest the euro is likely to continue to be under pressure after weakening in May by the most since 2015.
The euro zone economy did well in 2017, expanding 2.5 percent; the outlook for this year is for a more subdued 2.3 percent growth rate, LPL Financial Chief Investment Strategist John Lynch wrote in a research note. The region's economic data has been undershooting estimates to a degree not seen since the crisis days of 2011-2012, according to Citigroup Inc.'s economic surprise indexes. "European bulls might say growth in Europe was depressed during the first quarter due to one-off factors — weather and labor strikes, primarily — and is poised to rebound," Lynch wrote. But "based on the high frequency at which European economic data have been missing expectations over the past several months, we see some downside risk to the 2.3 (percent) consensus GDP growth forecast for 2018."
As the euro jumped on Wednesday, the region's bond market took a tumble. Yields on German 10-year notes rose about 10 basis points to 0.465 percent, while those on French bonds surged by a similar amount, to 0.804 percent. "I'm quite puzzled by all the cheerleading over the end of ECB QE," Robin Brooks, the chief economist at the Institute of International Finance in Washington, said in a tweet on Wednesday. "Even leaving aside mounting uncertainty on the Euro periphery, core HICP inflation will only just meet the ECB forecast of 1.1 percent for this year. And then of course there is the fact that 1.1 percent is low."
STOCK RALLY GETTING IMPRESSIVE
For all the handwringing among economists over the fallout from a potential U.S.-induced global trade war, stock investors are pretty sanguine. Yes, there's the daily ebb and flow of reactions to the latest headlines, but taking a step back reveals a market that is gaining strength. The S&P 500 Index is up 4.98 percent this quarter after falling 1.22 percent in the first three months of the year. In a sign of a healthy market, both large- and small-capitalization stocks are participating in the rebound. Earnings estimates for 2018 continue to increase, rising over the course of this quarter to $161 per share for the S&P 500 from $158, according to DataTrek Research. As such, fewer investors complain about high valuations. At 16.2 times forward-year earnings, the S&P 500's valuation is right in line with its average over the past five years, according to DataTrek. Of course, there is plenty on the horizon that could disrupt stocks, from the mid-term elections to faster inflation and a more hawkish Federal Reserve. But Malcolm Polley, who has three decades of experience in asset management, says the second-longest bull market in history will continue for at least another year, propelled by earnings growth and a fiscal stimulus package that should help offset rising rates. "You've got a market that's in pretty good shape," Polley, who oversees $1.2 billion as president of Stewart Capital Advisors, told Bloomberg News. "Valuations haven't gotten nearly as stretched as they got toward the end of the last century. We're still finding plenty to buy, unlike 1998, when I just couldn't find anything."
BOND HEADWINDS GETTING STRONGER
With stocks so strong, who wants bonds? Apparently, not many investors. Yields on Treasuries — from two-year notes to 30 year bonds — all surged on Wednesday, with those on 10-year notes closing at 2.975 percent, their highest in almost two weeks. Although that's still below the psychologically important 3 percent level, few investors are willing to get all bulled-up on bonds a weak before the Fed is widely expected to raise interest rates for the seventh time since December 2015. Not only that, the fallout from the recent tax legislation in the form of higher government borrowing is poised to intensify. The Treasury Department on Thursday will announce the size of its debt auctions next week. The rates strategist at BMP Capital Markets wrote in a research note Wednesday that the firm expects the U.S. to sell $68 billion of three-, 10- and 30-year securities. The sales will raise a net $44 billion in new cash for the government, the most since February 2013. "This certainly serves as a strong reminder of the continued expansion of the federal government's borrowing needs," the BMO strategist wrote in the research note. "While we have yet to see any sign of significant supply indigestion aside from some slightly above-average dealer takedowns, we will keep a close eye on the reception of 10s and 30s for a gauge of appetite." In all, the government is forecast to double bond sales this year to about $1 trillion to pay for a growing budget deficit.
BRAZIL UNDER ATTACK
Speculators smell blood. Brazil's central bank intervened in the foreign-exchange market to prop up the real after it had fallen 17 percent since late January. Alas, the efforts fell short as the real weakened Tuesday and again Wednesday. Such a move suggests that international traders are testing the central bank to see how far it's willing to go to defend the currency. Brazilian assets have sold off this quarter amid speculation that October elections will usher in a president disinclined to make the painful spending cuts that analysts say are needed to shore up the budget, according to Bloomberg News. "The market remains really worried," Cleber Alessie, a currency trader at H.Commcor in Sao Paulo, told Bloomberg News. It's been a rough time of late for emerging-market economies amid a rebound in the dollar this year. Besides Brazil, central bankers in Argentina, Turkey, India and Indonesia have also taken various actions in recent weeks to bolster confidence in their economies and currencies. But given the size of Brazil's economy, which is about $1.8 trillion, the stakes are high. Mohamed El-Erian, a Bloomberg Opinion contributor and the chief economic adviser at Allianz SE, said in a tweet that Brazil's central bank is in a tricky position. "There's little room for error as its response function is being monitored closely by domestic and foreign #investors," he wrote in the post.
THERE'S NO STOPPING COPPER
The broad commodities market might be in the doldrums, but that doesn't apply to copper. The metal had another big day Thursday, surging as much as 2.16 percent in the biggest intraday gain since mid-February. Copper has now risen for five straight days, a period in which it has climbed 5.56 percent to the highest since mid-2016. As we have previously noted, copper is known as the metal with an economics Ph.D. because it often tracks the world's economic health. But this time, the copper market is more about supply and less about demand. Tensions over wages at the world's biggest copper mine in Chile threaten supplies, with union leaders not ruling out a potential strike. The copper industry's main challenge is meeting growing demand for the metal, according to Harry "Red" Conger, Freeport-McMoRan Inc.'s Americas president and chief operating officer. Demand is climbing "at a time when ore grades are declining across the industry," Conger wrote in an email exchange with Bloomberg News's Susan Barton. Supply "will be met through the deployment of new technologies and improving our production efficiencies," according to Conger, a more than 30-year veteran of the industry who was due to accept the Copper Man of The Year award from the Copper Club at its annual dinner Wednesday.
TEA LEAVES
The Fed on Thursday is scheduled to provide its quarterly update on the fiscal health of U.S. households. The last update on March 8 provided a mixed picture. On the downside, household debt jumped at a 5.2 percent annualized rate in the final three months of 2017, the most since the end of 2007. But households' net worth climbed at a faster rate of 8.6 percent. All indications suggest that household debt continues to rise at a relatively fast pace, but there's a big question market surrounding net worth. That's because while home values continue to jump, the heady gains that households' enjoyed last year from a boom stock market have slowed. The S&P 500 fell 1.22 percent in the first quarter. The report comes a week before the Fed is widely expected to raise interest rates for the seventh time since December 2015.
DON'T MISS
Deutsche Bank's Future Is More Fannie Than Lehman: Aaron Brown
Franklin Downgrade Is a Warning to Bond Titans: Brian Chappatta
The ECB's QE Is Dead. Long Live ECB Stimulus: Marcus Ashworth
Three Looming Crises to Rattle Oil Markets: Michael Dempsey
Beijing Is the Real Junkie in High-Yield Debt Muddle: Shuli Ren
To contact the editor responsible for this story:
Beth Williams at bewilliams@bloomberg.net
Before it's here, it's on the Bloomberg Terminal.
LEARN MORE