Politics & Policy
Make Market Interference Great Again?
Trade wars, errant tweets and coal bailouts do the economy no favors.
by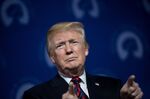 Welcome to Bloomberg Opinion Today, an afternoon roundup of our opinions on business, politics, markets, technology and more. New subscribers can sign up here. 
Today's Agenda
ICYMI
Stocks rallied. The on-again/off-again Trump-Kim (not Kardashian) summit is on again. Kim sent Trump a letter, which Trump called "very nice" and also said he hadn't opened yet.

'Free Markets' Are So 1980
If you still need proof President Donald Trump is not a conservative in the mold of, say, Ronald Reagan, then consider how much he has messed with free markets in the past 24 hours.
First there was his unnecessary, economy-threatening escalation of trade tensions with some of America's biggest trading partners (more on that below). Then there was this morning's norm-flouting, possibly rule-breaking tweet hinting good jobs numbers were on the way, which moved markets.
Maybe the tweet was just "Trump being Trump," barely able to contain his impulse to brag about good news. That doesn't make it right, notes Tim O'Brien. As with so many of the norms lying broken at Trump's feet, the prohibition against leaking jobs data exists for good reason – in this case, so some people can't get an unfair market advantage.
Sandwiched between those stories was a Bloomberg News report that the Trump administration wants the Energy Department to force power-grid operators to buy energy from coal-fired and nuclear power plants – for national security. As Liam Denning points out, this is utterly ridiculous for several reasons, including but not limited to:
National security? Really?

Coal-fired plants drive climate change, a far more salient national-security threat than coal bankruptcies.

Coal and nuclear power are dying of natural causes, the sort of free-market Darwinism today's conservatives occasionally claim to care about. 
Monkeying with power markets, and other markets, is not only not classically conservative, it also tends to be self-defeating economically. For example, why prop up dying industries when you can invest in such future tech as carbon-neutral natural-gas plants, or maybe solar power, at which China is trouncing the U.S.? What would Reagan say?
Getting Education Doubly Wrong
In America, we make our kids choose between getting ready for college and getting ready for a career. This is a false choice, and we're not doing either thing well, warns Mike Bloomberg: "[O]n the one hand, we aren't preparing high-school graduates for success in college, and on the other, we effectively treat non-college-bound students as second-class citizens, giving them no preparation for their next steps in life."
In other editorials:
Begun the Trade Wars Have
So far, America's trading partners have understandably responded to Trump's attacks with anger and threats of retaliation. This is how trade wars escalate, point out Bloomberg's editors. Canada, Mexico and Europe might need to be the grownups here to avoid a mutually harmful war.
As for Trump, he ought to reconsider messing with Mexico, which has proven it knows how to fight a trade war, writes Shannon O'Neil. And Trump's Chinese tariffs, which are still being drafted, seem likely to hurt the very U.S. tech companies they're supposed to help, warn David Hoffman and Erik Lundh.
Oil Shock Watch
I don't know if you've noticed, but gasoline prices have risen lately. This has inspired at least one politically tone-deaf Chuck Schumer speech. But it is also part of an oil-market mosaic slowly forming a picture of an oil-price shock, warns David Fickling. 

Jobs: Strong to Very Strong
May employment numbers were good, with healthy payroll growth and the lowest unemployment rate since April 2000. But 3.8 percent unemployment may be about as low as it gets, writes Mark Whitehouse. Crunching the numbers, he says they suggest "the supply of workers is as tight or tighter than it has been at any point in the past few decades." They're certainly not great news for stock traders, writes Stephen Gandel, as low unemployment may encourage the Fed to raise interest rates more and usually signals the good times are nearly over.
One interesting feature of this jobs recovery – ongoing since February 2010 – is how it has lifted manufacturing more than services, notes Justin Fox.
Chart Attack
It's Netflix's world; Disney just lives in it, writes Tara Lachapelle, with the help of some cool charts:

Lululemon just made itself look more attractive in its search for a new CEO, writes Sarah Halzack.

A shrinking birth rate can pay economic dividends, writes Justin Fox.

Weekend Reading
We should worry Trump will give away the store to North Korea. – Noah Feldman
People have very weird attitudes about what they do and don't want to know about the future. – Cass Sunstein 
Deutsche Bank is still a basket case. – Lionel Laurent
Hedge funds can only blame themselves for looking bad. – Barry Ritholtz
Italy needs a euro exit plan. – Ramesh Ponnuru
At a time when democracy seems to be in retreat around the world, Colombia's election is a feel-good story. – James Stavridis 
Technology is making us smarter and dumber at the same time. – Faye Flam
Comeuppances are speeding up for everybody – but not for Trump. – Noah Feldman
Why buy a car when you can subscribe to one instead? – Nathaniel Bullard (in BNEF's Sparklines newsletter -- sign up here)
Kickers
Scott Duke Kominers wishes you a happy Phi Day – 1/6/18 (at least in Europe), roughly matching the Golden Ratio of 1.618, which shows up everywhere from nautilus shells to architecture and maybe lemonade.
Scientists may have just witnessed the birth of a black hole.
"Ye" won't change your mind about Kanye West, for better or worse.
Note: Please send lemonade, suggestions and kicker ideas to Mark Gongloff at mgongloff1@bloomberg.net.
***
Like Bloomberg Opinion Today? Subscribe to Bloomberg All Access and get much, much more. You'll receive our unmatched global news coverage and two in-depth daily newsletters, The Bloomberg Open and The Bloomberg Close.
To contact the editor responsible for this story:
Timothy L. O'Brien at tobrien46@bloomberg.net
Before it's here, it's on the Bloomberg Terminal.
LEARN MORE