Economics
A Baby Deficit Stalks the Global Economy
Ending childbirth limits won't be enough to counteract broader trends.
by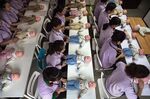 Welcome to Bloomberg Opinion Today, an afternoon roundup of our opinions on business, politics, markets, technology and more. New subscribers can sign up here. 
The Top Five
The day's most vital commentary:
ICYMI
Stocks waffled. The on-again/off-again Trump-Kim summit may be off again. Mark Zuckerberg is sorry again.

The Baby Bust
You people just aren't having enough babies.
China's government, finally, seems to agree; it reportedly plans to end its decades-old policy of limiting births. Partly meant to address overpopulation fears, these curbs had disastrous consequences, including forced abortions, a male-female imbalance and a shrinking labor force.
China's policy deserves a swift death. But that won't usher in a new Chinese baby boom, warns Justin Fox. He points out birth rates were plunging before the policy took effect. And they've fallen in countries that didn't limit births:

Thanks partly to urbanization and economic development, birth rates are falling in much of the world, including the U.S. The risk for China and other countries that squeeze immigration is they'll end up like Japan – an aging population without a workforce to fully support it, Dan Moss warns.
Ironically, China's birth limits, meant to avoid scarcity, helped lead to a scarcity of workers – one of a few bottlenecks that will eventually curb China's economic boom, writes Noah Smith, making the numbers in this chart unlikely:

As for America's birthrate, it still hasn't recovered from the recession. But Conor Sen sees reasons to hope younger Millennials can turn that around. You have your orders.
The Bloomberg View
President Donald Trump last week unveiled a mostly toothless plan to use mild scorn to shame the pharmaceutical industry into lowering prescription drug prices. But his FDA chief, Scott Gottlieb, has taken stronger steps, aimed at making generic drugs more widely available. That could be an effective curb on prices, say Bloomberg's editors. Take note, Congress.
Democracypocalypse Now?
It seems these days the question is not whether American democracy is dying, but how quickly. It's been asked with particular urgency since Trump's election. The president has been banging on democratic guardrails since he first floated the conspiracy theory that his predecessor wasn't a real American. His norm-breaking has steadily increased in volume and frequency ever since. 
Of course, Trump's "bark to bite" ratio is high, as Axios's Jonathan Swan put it recently. And he has always styled himself an outlaw, regularly flouting laws and norms in business, writes Tim O'Brien. But the stakes are much higher now, and we risk becoming so inured that we don't notice our norms dying.
Cambridge professor David Runciman, author of a new book, "How Democracy Ends," thinks American democracy still has some life in it. He tells Francis Wilkinson the death will be slow and the result won't be anything we've seen before -- he calls this more of "a midlife crisis for democracy." If you think of Trump as a Corvette and hair plugs for the nation, then it makes sense.
Let's Don't Make a Deal
Trump – who has a book in his name titled "The Art of the Deal" and won the presidency promising he would make so many beautiful deals for America – has so far shown an inability to, how do you say, make deals. The latest example is his administration's retreat on trade with China, in which Team Trump gave a master class in how not to negotiate. It's possible he could eventually strike a more-favorable bargain with China, but it's hard to believe he really has the skill set at this point.
Meanwhile, two groups enjoying Trump's China surrender are wealthy Chinese people and German carmakers, points out Chris Bryant. That may not be what voters had in mind when they pulled the lever for Trump in 2016. 
Chart Attack
Seems everybody's worried about emerging markets these days, but their stocks actually look like bargains, writes Nir Kaissar.

Department stores are doing a decent job bailing water out of their swamped boats, but they're still not rowing forward, writes Sarah Halzack.

Mayochup or M&A? Kraft Heinz Co. must pick its poison, says Tara Lachapelle.

Speed Round
DNA in genealogy databases can be a great tool for solving crimes – if we can overcome our worries about privacy. – Faye Flam
The Supreme Court just gave us a glimpse of the near future, when it will be even more conservative. – Noah Feldman
House Republicans would be nuts to oust Paul Ryan before the election. – Jonathan Bernstein
Mark Zuckerberg probably just failed to convince European regulators to go easy on Facebook. – Alex Webb
The Kicker
Every Star Wars movie, ranked (this criminally underrates "Rogue One," but food for thought).
Note: Please send midichlorians, suggestions and kicker ideas to Mark Gongloff at mgongloff1@bloomberg.net.
***
Like Bloomberg Opinion Today? Subscribe to Bloomberg All Access and get much, much more. You'll receive our unmatched global news coverage and two in-depth daily newsletters, The Bloomberg Open and The Bloomberg Close.
To contact the editor responsible for this story:
Timothy L. O'Brien at tobrien46@bloomberg.net
Before it's here, it's on the Bloomberg Terminal.
LEARN MORE