Politics & Policy
Australia Can't Stand Dual Nationals. But Still: God Save the Queen!
With a royal wedding and a xenophobic campaign against members of Parliament, hypocrisy Down Under reaches a new low.
by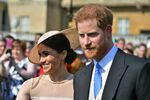 Australia's war on people with more than one nationality entered a new phase just in time for Harry-and-Meghan mania. Both spectacles reflect poorly on politics Down Under.   
The obsession with outing and disqualifying legislators who are dual nationals, some of whom may not have even realized it, is a travesty itself. This flaw in the constitution should have been resolved decades ago. Instead, Australia still won't let dual nationals serve in Parliament — but keeps the monarch of a faraway land as its head of state. Yes. It's exactly as ridiculous as it sounds.
The idea that Australia should become a republic has waxed and waned since the antipodean colonies became a federation in 1901. Defenders of the status quo, in which Queen Elizabeth II exercises mostly ceremonial power through a governor general, say the system has served Australia well. A referendum in 1999 to alter the constitution and create an Australian president failed.
This is a nation that proudly pursues trade and political links in Asia-Pacific. That trumpets its multiculturalism. That for its national security umbrella largely relies on not Britain but the U.S. And yet it's hard to see anything like a convincing majority of Australians ready to break with Britain.
Republicans nursing their wounds at the 1999 rebuff always looked forward to Prince Charles ascending the throne, assuming that the personal popularity of the queen wouldn't transfer to her heir. That was to be the window. But look out! Those photogenic Windsor kids — first William and Kate and now Harry and Meghan — call that hope into question. They are hugely popular. Australian networks battled to outdo each other in their live coverage of the royal nuptials last week.
The Australian Republican Movement, which campaigns for a change, says not to lose heart. A survey of 1,000 people by ResearchNow in February said 52 percent favored a republic and about two-thirds said Harry and Meghan — then engaged — made no difference to their views on the issue. Then again, only a third of Australians can identify the queen as head of state, according to the Guardian. The ambivalence and ignorance are a challenge for a referendum on changing the constitution. Not only must a majority of Australians vote for it, but also it must secure separate majorities in a majority of states.
In any case, Australia's politicians are busy working on higher priorities — specifically booting the latest crop of MPs found to be in breach of Section 44 of the constitution, which bars dual nationals from serving.
I wrote last year when the issue flared the first time that, while laws must be complied with, it was ultimately a self-defeating exercise for Australia. Dual nationals have lots to contribute to public life, especially in a country that fancies itself as so globally integrated.
Perhaps Section 44 ought to be subject to a referendum. It's not imminent, even though a parliamentary committee found that Section 44 doesn't reflect the face of modern Australia.
But the monarchy somehow does? Talk about priorities.
To contact the editor responsible for this story:
Philip Gray at philipgray@bloomberg.net
Before it's here, it's on the Bloomberg Terminal.
LEARN MORE