Technology & Ideas
Give Trade Peace a Chance
Easing U.S.-China tensions would have wide-ranging benefits.
by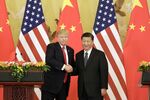 Welcome to Bloomberg Opinion Today, an afternoon roundup of our opinions on business, politics, markets, technology and more. New subscribers can sign up here. 
ICYMI
Stocks meandered. Gaza burned. Melania Trump had kidney surgery.
Trade Peace Breaks Out
Trade wars are bad, and not so easy to win.
President Donald Trump once espoused the completely opposite belief. But he may be coming around. In a stunning reversal to years of tough China rhetoric, Trump this weekend fretted about the troubles of ZTE Corp., a Chinese telecom-equipment maker his administration had punished for flouting sanctions against Iran and North Korea. Americans who joined Team Trump because they liked his "America First" credo may be nonplussed by his newfound interest in saving Chinese jobs.
What gives? For one thing, Trump wants a lasting peace agreement with North Korea, notes Tim Culpan. To get that, he needs help from North Korea's sponsor state, China. Making life miserable for one of China's biggest tech companies doesn't help this effort.
And China responded by offering its own lifeline to American chipmaker Qualcomm Inc., a ZTE supplier: It will crank up its regulatory approval process for Qualcomm's bid to buy Dutch company NXP Semiconductors NV. Qualcomm really needs that deal to happen, writes Alex Webb.
For the moment, at least, trade peace seems more beneficial than trade war. Looking far ahead into a rosy future where everybody keeps playing nice, North Korea could become the next Vietnam – a formerly cloistered country opening up to global trade – writes Shuli Ren. In fact, South Korea's Samsung might find North Korean manufacturing cheaper than Vietnam's, making the latter nation a derivative casualty in the trade peace between the U.S. and China.
So free trade has its downsides. But it's still better than the alternative.  
The Bloomberg View
Mike Bloomberg's graduation address to Rice University warns America is suffering from "an epidemic of dishonesty." This quote sums up the speech, and our politics: "The greatest threat to American democracy isn't communism, jihadism, or any other external force or foreign power. It's our own willingness to tolerate dishonesty in service of party, and in pursuit of power."
The world has an obesity problem, and taxing sugary drinks can help solve it, write Bloomberg's editors.
Republicans want to punish companies trying to put some distance between themselves and gun makers. The party "needs to refresh its memory on the proper role and limits of government power," Bloomberg's editors write.
Big Gamble
The Supreme Court today ruled Congress can't stop states from legalizing sports betting. This opens up a potential $150 billion industry, according to one estimate, and the share prices of casino operators and suppliers boomed accordingly.
The ruling also opens up a big can of worms. Will sports leagues – including the NCAA, which opposed the ruling – get a cut of future winnings? What does that mean for the compensation of pro athletes? College athletes? What will illegal bookies do with all their free time?
One clear winner here is the states. This could give them a new revenue stream (along with, maybe a public-health crisis of gambling addiction). One worry here is that state lotteries are already "a regressive tax on the poor," writes Stephen Carter in a piece about privatizing those games. Will sports betting and sports lotteries have the same problem?
Anyway, the Supreme Court ruling is a major victory for states' rights, according to Noah Feldman. It could be a harbinger of what's to come from a more-conservative court.
Scouts Vs. Mormons
The Mormons are breaking up with the Boy Scouts, ending a long and mutually beneficial relationship; the Scouts helped the Mormons assimilate into American society, while the Mormons comprised a big part of Scout membership. The Mormons can't abide by the steps the Scouts – soon to be known as Scouts BSA – are taking to be more inclusive. This divorce is a bad sign for the church, and for America, writes Noah Feldman.
Chart Attack
Retail's secret to surviving Amazon.com Inc. might be teaming up with Amazon, writes Sarah Halzack.

California's solar-panel mandate is going to make some companies a lot of money – but maybe not the ones you think, writes Liam Denning.

Speed Round
Shari Redstone and Les Moonves are going to bicker CBS Corp. and Viacom Inc. right out of existence, if they're not careful. – Tara Lachapelle
Carl Icahn just got a win at Xerox Corp. But what happens next? – Brooke Sutherland
Germans are getting sick of Americans. – Leonid Bershidsky
Global banks wanting to do business in China are rushing into a black box. – Nisha Gopalan and Anjani Trivedi
I have met the high-drug-price enemy, and it is us. – Max Nisen
Kicker
You can bet on basically anything in the Meghan Markle-Prince Harry wedding, including the color of the hat Queen Elizabeth will wear.
Note: Please send fancy hats, suggestions and kicker ideas to Mark Gongloff at mgongloff1@bloomberg.net.
To contact the editor responsible for this story:
Timothy L. O'Brien at tobrien46@bloomberg.net
Before it's here, it's on the Bloomberg Terminal.
LEARN MORE