Technology & Ideas
Imagine There's Less Facebook
Regulators blew their chance to tame the social-media giant, but all is not lost.
by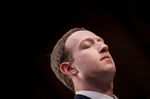 Welcome to Bloomberg Opinion Today, a new newsletter from the new Bloomberg Opinion. Key words here are "new" and "opinions," which you'll get every afternoon in your inbox, sprinkled with charts, analysis and other garnish. Former subscribers to Share the View, Fly Charts and the Daily Prophet will hopefully feel at home. New subscribers can sign up here. 
ICYMI
Rudy Giuliani would like to clarify his remarks. As would Elon Musk. The job market is healthy, and the stock market feels better.

How Do You Solve a Problem Like the Facebook?
Everybody's mad at Facebook Inc. these days. Sell a little private data, influence an election or two, and folks get all huffy.
And yet most of those folks stick with it. I might or might not, for example, enthusiastically cheer the #DeleteFacebook movement, without actually deleting Facebook. 
One problem is there's really nothing else quite like Facebook. Twitter is a toxic nightmare (THAT I LOVE), and it's just not the same user experience. Same with Snapchat. Instagram and WhatsApp come close. Of course, they are owned by Facebook. 
It didn't have to be this way, Joe Nocera writes. Antitrust regulators rubber-stamped Facebook's purchases of Instagram and WhatsApp quicker than H.I. McDunnough's parole board because they didn't grasp the full potential of these would-be rivals. Facebook CEO Mark Zuckerberg did, and now he has a monopoly on the kind of social media that lets you stalk old flames while also dunking on your friends with photos of your vacation, brunch, dog or baby – or, if you're truly monstrous, your dog and baby eating brunch on vacation.
Nocera's solution, which he backs up convincingly, is to break up Facebook – #BreakUpFacebook – a movement I also enthusiastically support. It also seems unlikely to happen during the Trump administration.
There are less dramatic possibilities for Facebook, like letting users sell their own data, as Kara Alaimo suggests in today's column. This would involve Facebook sharing revenue with customers, while letting others opt to keep data truly private. It's a reasonable proposal that – nonetheless -- is growing less likely by the day: Facebook's stock price is climbing back toward its all-time high:
Hashtags like #DeleteFacebook and #SellFacebookStock sound like war, but don't seem to mean it. So why should Facebook do anything dramatically different?
The Bloomberg View
Imagine if the chart below, by Elaine He, tracked something else – say, exploding-microwave deaths:

This would rightly be a national exploding-microwave emergency, leading to lots of research into why American microwaves explode so much.
Instead, we ignore gun violence, even refusing doing much research into how to stop it, Bloomberg's editors write. That needs to change.
Building a Mystery
Has the industrial earnings cycle peaked? Depends on whom you ask, Brooke Sutherland writes. Interestingly, industrial companies with shorter business cycles are decelerating, suggesting "we're closer to the end of this industrial growth cycle than the beginning."
Expect That Trickling Down Any Day Now
One message of the April jobs report is we're still waiting on tax cuts to boost wages, writes Mark Whitehouse. In fact, industries getting the biggest tax breaks have so far doled out the smallest wage increases:

One piece of good news in the report is that the black unemployment rate is at an all-time low. But Justin Fox puts this in perspective by looking at the black employment rate:

Still a ways to go.
The Cold Trade War
China and the U.S. are no closer to avoiding a trade war after two days of talks that Treasury Secretary Steve Mnuchin at one point called "very good." A clue could be found in soybean prices, rising on fears China is unofficially boycotting U.S. beans, points out David Fickling. He and Christopher Balding debated the wisdom of Trump confronting China. 
Michael McDonough says the U.S. is playing with fire targeting big Chinese companies such as ZTE Corp. "Inconsequential tariffs don't cause trade wars," he writes; "the U.S. bankrupting China's technology companies just might."
Chart Attack
Crypto is in limbo, whether Goldman Sachs trades it or not, says Lionel Laurent:

Speed Round
Take the incompetence and greed of regulators and taxi-cab owners, stew for several decades, and ta-da! you get Uber – Barry Ritholtz 
We are flirting with a (really) Cold War in the Arctic – James Stavridis
"Soft" economic surveys are increasingly garbage – Jim Bianco and Ben Breitholtz
The Kicker
It's May 4, when we celebrate nostalgia and crass consumption – er, Star Wars.  In honor of that, the AV Club asks: What was the first pop culture you collected as a kid?
Note: This newsletter is a work in progress, so please send hate mail, suggestions and kicker ideas to me at mgongloff1@bloomberg.net.
To contact the editor responsible for this story:
Mike Nizza at mnizza3@bloomberg.net
Before it's here, it's on the Bloomberg Terminal.
LEARN MORE