Politics & Policy
Rudy Giuliani and Elon Musk Walk Into a Bear Trap
It's almost enough to make you appreciate decent spin.
by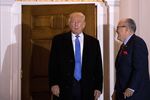 Congratulations – you're reading Bloomberg Opinion Today, a new newsletter from the new Bloomberg Opinion. Key words here are "new" and "opinions," which you'll get every afternoon in your inbox, sprinkled with charts, analysis and other garnish. Former subscribers to Share the View, Fly Charts and the Daily Prophet will hopefully feel at home. New subscribers are welcome and can sign up here. 
ICYMI
Stocks had kind of a wild day. Jay-Z is in hot water with the SEC. And Bloomberg has a snazzy new website, complete with a new paywall.

Words Fail
Talking is hard, even if you do it for a living.
Rudy Giuliani, recently hired to lawyer for President Donald Trump, appeared on Sean Hannity's Old-Timey Propaganda Hour last night and promptly talked his client into a fresh morass of legal and political jeopardy.
On the plus side, he generated billable hours for his fellow lawyers, who crafted CYA tweets for Trump this morning. But even those tweets raise troubling legal questions, warns Noah Feldman. He digs into the theories they and Giuliani espouse and finds "All this makes no sense, in law or in economic logic."
Hours before Giuliani's bombshell, Tesla Inc. CEO Elon Musk did some freestyling of his own. On a conference call about his company's quarterly results, he grew weary of Wall Street analysts' "boring, bonehead" questions about such trivia as "cash flow" and "why can't you make enough Teslas." He cut them off, at one point suggesting you shouldn't even buy Tesla stock if you worry about such foolishness. This promptly drove the electric-car maker into a fresh morass of financial jeopardy; its stock price dropped and its borrowing costs jumped.

Both men had one job – use words to make life easier for their client/company – and both failed. It's almost enough to make you appreciate good spin. 
Giuliani's words were arguably more impactful, at best dinging the president's already shaky credibility.
As for Tesla, it's burning cash and will need to ask investors for more, Liam Denning argues. Musk made that harder, or at least more expensive. Musk, though, seems increasingly convinced that all those people calling him the real-world Tony Stark are onto something. You almost can't blame him; as Liam  notes in a follow-up, Tesla calls typically are useless celebrations of Musk's genius. 
But to paraphrase another guy who used words to spin his way through stuff like invading Iraq: No matter how big you are, even in the Donald Trump era, it still helps to be careful what you say.
The Bloomberg View
The Fed stood pat yesterday but needs to watch out for signs of nascent inflation, Bloomberg's editors say.
Money Quote: "Next month, as well as delivering the expected rise in interest rates, the Fed should acknowledge more plainly that conditions are changing." 
How Do You Do, Fellow Kids?
Kanye West's fashion sense helped make Adidas relevant. But now that West seems to be losing his common sense, if not his fashion sense (I mean, have you seen his dad style?), Adidas doesn't need him to be cool anymore, Andrea Felsted writes.
Love Vs. Money at Facebook
Facebook's new focus on people and connections and butterflies and whatnot sounds great, until you realize it has nothing to do with how Facebook actually, you know, makes money, points out Shira Ovide. (From the Bloomberg Technology newsletter; sign up here.)
The Squid and the Blockchain
Goldman Sachs is getting into Bitcoin trading. It's the kind of bonkers thing that could make banking at Goldman fun again, writes former employee Matt Levine. (Matt has his own newsletter, Money Stuff; sign up here.)
Cracks in Credit 
Credit markets seem mostly fine and certainly are nowhere near as bananas as in the financial crisis. But there are early signs of trouble brewing, points out Robert Burgess.
Chart Attack
Blue Apron Holdings Inc. had a good quarter, but is it sustainable? Sarah Halzack is just asking.

Express Scripts Holding Co. is trying to play the good guy on drug prices. Max Nisen isn't buying it.

Speed Round
Kicker
Meet the guy who used an algorithm to make nearly $1 billion betting on horses. 
Note: This newsletter is a work in progress, so please send hate mail, suggestions and kicker ideas to me at mgongloff1@bloomberg.net.
To contact the editor responsible for this story:
Brooke Sample at bsample1@bloomberg.net
Before it's here, it's on the Bloomberg Terminal.
LEARN MORE