Early Returns
The White House Is Overworked and Undermanaged
The botched response to Puerto Rico's recovery is just one example. Plus, your daily links.
by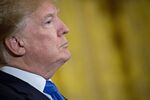 The new must-read is an in-depth piece from Politico's Danny Vinik about how the administration, and the president, botched Puerto Rico. 
This stuff is very complicated, and Vinik does a brilliant job of setting up the context. Yes, hurricanes on islands present real difficulties. Yes, part of the story is that without statehood Puerto Rico and the U.S. Virgin Islands had seriously reduced clout in the federal bureaucracy. Yes, local government wasn't always very capable. Yes, a lot of FEMA people did good jobs.
And yet, overall, the job just didn't get done. And while it was perfectly obvious at the time that Trump was failing to do the public part of the job, Vinik establishes that has was doing no better in private. If anything, he was even worse. His main concern seemed to have been getting officials to go on TV to brag about what a great job they were doing. Rather than, well, making sure they were getting the job done. 
Indeed, Vinik makes the case that Trump's responsibility was especially high given that no one else was likely to push for effective recovery for the American citizens affected. 
All the nonsense spewing out of the administration is easy to dismiss as irrelevant. But there's no denying it had real costs to the Americans living in Puerto Rico. How hard is it to imagine that the nonsense does even more damage than that?
There are plenty of very capable and hard-working civil servants in the federal government, but a lot of things fall through the cracks without presidential direction and White House coordination. Take, for example, the Department of Veterans Affairs, where Trump has left Secretary David Shulkin in limbo: not hired, not fired. As Maggie Haberman and Nicholas Fandos report, that's "left rudderless a vast federal bureaucracy of about 370,000 employees that serves more than 20 million veterans." 
And of course it's not just veterans affairs. Ben Carson is similarly thought to be on his way out at Housing and Urban Development. The State Department finally ended months of melodrama and is now awaiting the confirmation of the new secretary, who in turn is leaving the CIA without a confirmed director until -- and if -- Trump's nominee is approved by the Senate. Philip Bump has the brutal numbers showing the record turnover for a newly elected president's cabinet. Not to mention all the White House turnover, what with a third national security advisor and 47th communications director (okay that last one might be an exaggeration, but there have been several). 
All of this is on top of whatever Twitter feuds the president is engaged in at any particular time. And the time he's spent on various scandals; just attempting to hire a legal team is apparently consuming a fair amount of Trump's time these days, and we know from examples from Richard Nixon to Bill Clinton that serious presidential scandals tend to eat up the chief executive's time and energy. 
Presidential time is a scarce resource. There's never enough of it. Right now, Trump needs to be focused on Russia and North Korea and his various trade initiatives. It's far more than anyone possibly could handle even in a well-organized, well-run White House. This ain't that. One of the challenges for any president is knowing when to step back from the day-to-day overstuffed schedule and knowing when to put pressure on the bureaucracy. From everything we've learned, Trump isn't anywhere close to mastering that part of the job. Puerto Ricans are feeling the consequences; who knows which other Americans might be too, either now or soon.
1. Sarah Binder and Mark Spindel at the Monkey Cage on demographic diversity at the Fed.
2. Phillip Wallach on congressional reform.
3. Stan Collander on what Trump wants on budgeting -- absolute control. That's not wrong, I suspect, but it's also true that Trump hasn't put very much effort at all into actually trying to win budget battles. 
4. My View colleague Noah Feldman argues even those who support stronger gun safety laws should oppose repealing the Second Amendment.
5. And Alan Greenblatt on bad sheriffs. 
To contact the editor responsible for this story:
Mike Nizza at mnizza3@bloomberg.net
Before it's here, it's on the Bloomberg Terminal.
LEARN MORE