Early Returns
The Paradox of Trump's Televised Rallies
Presidents don't get the prime-time access they used to, but does it have to be this way? Plus, Jonathan Bernstein's morning links.
by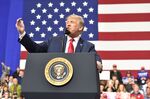 There's been a debate this week about whether the cable news networks should carry President Donald Trump's rallies. There's an obvious middle ground here: Of course media outlets should cover them, at least to the extent that they are newsworthy, but "coverage" isn't necessarily the same thing as carrying him uninterrupted for these events, which often stretch for more than an hour.
But while it's easy to criticize CNN in particular for stacking the deck in favor of Trump early in the battle for the 2016 Republican nomination, it's a bit harder to make the same case now that he's president. 
There's still really never been anything like the frequent infomercials Trump produces for himself and that CNN, MSNBC and Fox News take live. Other presidents just didn't do these campaign-style events throughout their tenures. With exceptions, they would only do campaign rallies during the fall. During presidential re-election campaigns, the out-party candidate would get equal time, leaving only the final weeks of fall midterm campaigns for the president to really get this treatment. Trump has done it since Day One.
But previous presidents got considerable live coverage of events that promoted their policy agendas. Most of them went out on the road, for example, to support their State of the Union proposals, and cable news was often happy to take those staged events live. But the real difference is that the broadcast networks no longer offer presidents their own valuable real estate for prime-time news conferences and Oval Office statements whenever they want it; Trump's rallies on cable news reach far smaller audiences than these. Who knows with this president, but I'm sure most presidents would prefer the old arrangement. 
To the extent that standards of "neutral" journalism matter, Margaret Sullivan is correct that taking Trump's rallies live is a failure of judgment. I do have some sympathy for the cable networks, however. They certainly could wait until the events were over and produce careful stories highlighting whatever news Trump made, only airing whatever dubious claims he made along with fact-checking rather than allowing Trump to set the story unchallenged until he's done, after which most viewers have probably moved on. But if CNN and the others exercised that restraint, someone else would live-stream the president, and crazy stuff he said would be all over Twitter long before the networks reported on it. 
The bottom line is that very few people are watching these rallies live on the cable networks anyway, and almost all of them are solid partisans whose votes aren't up for grabs. That doesn't excuse the decision; it's just not the most important flaw in how cable news networks do their jobs these days. 
1. Dave Hopkins on the Pennsylvania special election. 
2. John Sides at the Monkey Cage on the Pennsylvania special.
3. Greg Sargent's takeaways from Pennsylvania. The big one here is the second one: that Republicans have a policy agenda right now that just isn't very popular. It's not that voters carefully compare party platforms and vote for the one that they like the best; we know voters almost never do that. But what we really don't know much about is what happens when one party campaigns on unpopular policies, whether it's the tax cuts they passed or repealing Obamacare. We've certainly never seen a president elected with such a small share of the vote combine it with so little to offer to the majority of the nation that opposed him. Maybe it doesn't matter. There's no precedent here to rely on.
4. See also Matt Yglesias on the Republican policy agenda.
5. Heather Hurlburt on economic policy and national security.
6. My Bloomberg View colleague Timothy L. O'Brien on Trump and Rex Tillerson.
Get Early Returns every morning in your inbox. Click here to subscribe.
To contact the editor responsible for this story:
Brooke Sample at bsample1@bloomberg.net
Before it's here, it's on the Bloomberg Terminal.
LEARN MORE