view
Are Tax Cuts Driving Raises? It's Hard to See
The latest jobs data suggest wage gains aren't any bigger than they otherwise would be.
by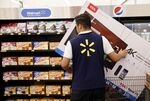 Are U.S. workers getting bigger raises as a result of President Donald Trump's tax cuts? If so, it's hard to see in the official employment data so far.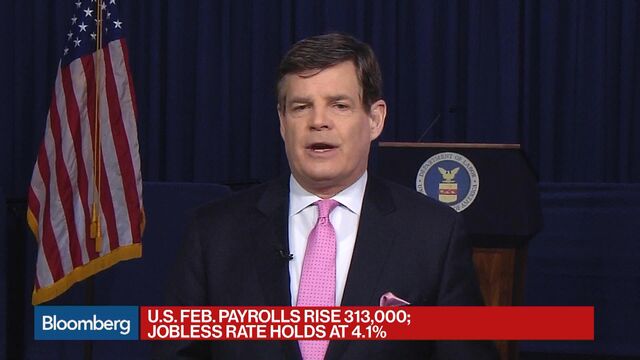 Ever since he signed the Tax Cuts and Jobs Act in December, Trump has touted its benefits for regular Americans -- particularly its effect on wages. And companies have given him plenty of anecdotal evidence to support his case: Various employers, including Walmart and MetLife, have announced pay raises and cited the tax savings as a motivation.
But how can one know that the tax reform has caused employers to do something they wouldn't be doing anyway? After all, they have plenty of other reasons to give raises. With the unemployment rate at an extremely low 4.1 percent, workers are harder to find and crucial to keep. And in almost any environment, wages should at least keep pace with the prices of goods and services.
One quick test: See if wage gains accelerated after the tax bill became law in December. Last month's jobs report suggested that they had, but revisions erased those gains in the latest report. The Labor Department now estimates that hourly earnings increased at an average annualized pace of 2.5 percent in January and February, slightly lower than in 2017. Here's how that looks:
Another way to check: See whether the size of tax cuts is correlated with wage gains across sectors. The tax reform affects different industries differently: Total expected savings over the next 10 years range from 44 percent in miscellaneous services to a 19 percent tax increase in utilities, according to the Penn Wharton Budget Model. If tax cuts are driving pay, then the biggest beneficiaries should be giving the biggest raises.
Are they? Here's a table showing expected 10-year tax savings for eight industries, alongside annualized gains in average hourly earnings from December through February: 1
Not much correlation there (actually, it's slightly negative). Then again, maybe what matters isn't overall pay gains, but how much companies increased wages above and beyond what they had been doing before. So here's a table showing how much pay increases accelerated in December through February, compared with the pace of the previous year:
Again, no correlation.
To be sure, this is far from conclusive. The wage data are still subject to revision, and the effects of tax cuts will take more than two months to emerge. Beyond that, the real test of the tax reform should be its longer-term impact on economic growth.
That said, for now at least, it's hard to see how the tax cuts have made American workers better off.
To contact the editor responsible for this story:
James Greiff at jgreiff@bloomberg.net
Before it's here, it's on the Bloomberg Terminal.
LEARN MORE