Prophets
The Fed's New Focus Is Changing Market Relationships
It is critical to be able to recognize longer-term regime shifts as they occur.
by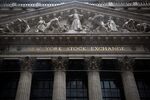 Since the financial crisis, the Federal Reserve has been consistent in its message that monetary policy is data-dependent. The problem is policy makers have never been too specific in defining which metrics matter most. Although this gives them flexibility, policy often seemed to be more influenced by financial stability than by the dual mandate of high employment and low inflation, as outlined by former Fed Chairman Ben S. Bernanke here and here. Any sudden plunge in markets would be met with assurances from Fed officials.
Lately, however, the focus seems to have shifted to inflation, which is changing several relationships in markets. The chart below shows a scatter graph of the three-month change in interest-rate increases expectations (y-axis) and the three-month change in 10-year Treasury Inflation-Protected Securities breakeven rates (x-axis). Each year is a different color.
Note the yearly regression lines. From 2010 to 2014, these regressions were either flat or negative. In other words, higher inflation expectations did not lead to an expectation of rate hikes. The lines then got sequentially steeper, but it was not until 2017, and especially 2018, that higher inflation expectations began to coincide with expectations for further rate hikes. Now, every 25 basis-point increase in inflation expectations brings with it the expectation for another rate hike. In sum, inflation expectations went from not mattering from 2010 to 2014 to mattering a great deal in 2017 and 2018.

This increased focus on inflation has altered the relationship between stocks and bonds. The next chart looks similar to the one above but shows the 20-day change in the total returns of the S&P 500 Index (y-axis) and the 10-year Treasury note (x-axis). The takeaway is that when inflation was not a primary focus of Fed policy, the relationship between stocks and bonds was downward-sloping. In other words, stock and bond prices moved in opposition to each other. This occurs when markets have a deflationary mindset.

The two exceptions above were 2013 (green), which only had a slight upward slope, and 2018 (blue), which has a strong upward slope. An upward slope means stock and bond prices are moving in tandem. This occurs when the markets have an inflationary mindset. There's a common theme that makes 2013 and 2018 different from other post-crisis years. In 2013, the markets feared the end of central bank stimulus during the taper tantrum. Those fears returned in 2018 due to higher inflation expectations.
The days of stock prices driving Fed policy are gone. Today it is all about inflation expectations. And now that inflation forecasts are on the rise, markets fear the era of easy central bank money is over. This, in turn, has led stock and bond prices to move in unison.
This has major implications for trading themes that have existed in the post-crisis period. For one, the risk-on/risk-off trade no longer exists with stock and bond prices moving in unison. In a similar vein, a common portfolio made up of 60 percent stocks and 40 percent bonds will no longer reduce volatility during turbulent times. Furthermore, any risk parity strategy 1 that is based on the relationship between asset classes in the post-crisis period will suffer.
Markets are not stationary. Relationships change. It is critical to be able to recognize longer-term regime shifts as they occur.
To contact the editor responsible for this story:
Robert Burgess at bburgess@bloomberg.net
Before it's here, it's on the Bloomberg Terminal.
LEARN MORE