Prophets
Investor Patience Will Be Rewarded in the Euro Zone
The weekend developments in the largest and third-largest euro-zone countries increase the likelihood of European economic policy unification.
by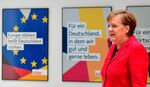 This past weekend was not only an important date for two large European countries, but also for markets. In Germany, the Social Democratic Party said its members decided to join a coalition government led by Chancellor Angela Merkel of the Christian Democratic Union, enabling Merkel to form a new pro-Europe government. In Italy, voters decided not to give any political party a majority to form the next government, meaning that no separatist group will be able to hold a referendum to leave the euro zone.
For investors, weekend developments in the largest and third-largest euro-zone countries increase the likelihood of European economic policy unification that I discussed recently in a Bloomberg Prophets column, eventually boosting prospects for regional equities, fixed-income assets and alternative investments. Although coordination of fiscal measures across the region may just inch ahead, patient investors will be rewarded. The Italian equity and bond markets have taken the election results in stride, and the euro edged higher Monday.

German results were first out of the gate on Sunday, showing 66 percent of Social Democratic Party members supported the formation of a coalition government. That was greater than the 60 percent support that polls had anticipated. Merkel will be re-inaugurated as chancellor later this month, and is expected to stay in that position until the next elections in 2021.
An important byproduct of the German poll result is that Olaf Scholz, mayor of Hamburg and acting chairman of the pro-European Social Democratic Party, will become the new finance minister. With Merkel's backing, Scholz will be able to respond to French President Emmanuel Macron's overtures to work toward a unified European economic policy. Peter Altmaier, Merkel's chief of staff, reflected the prevailing optimism best with his tweet immediately after the Social Democrats' decision was announced: "Lets get to work: Germany and Europe!"
Italian voters rejected the ruling Democratic Party, which has been blamed for corruption and slow economic growth. Italy's real gross domestic product has yet to regain its pre-2008 level, and one-third of its youth are without jobs. Still, neither of the non-establishment parties that performed well -- the populist Five Star Movement and the anti-immigrant Northern League -- was able to win a majority of parliamentary seats. The two leading parties have enough differences in their overall approach that they are not expected to govern together.
Investors' sanguine reception of the rise of Five Star and the Northern League was reflected in Italian sovereign bonds. Ten-year Italian government notes yielded 2 percent at the end of trading Monday, which was lower than a week earlier. The spread between Italian and Germany's 10-year notes -- a measure of relative Italian sovereign risk -- stood at 1.36 percentage points on March 5, unchanged from Feb. 26 (chart below).

This does not mean all is well in Italy's relations with the rest of Europe. European Union authorities are widely blamed by Italians for infringing on the country's sovereignty by setting limits on fiscal deficits and the government's ability to bail out failing banks. The persistently high unemployment rate is traced to restrictions on authorities' ability to provide fiscal stimulus to create jobs. Reaching a better balance between policy prescriptions from Brussels and domestic priorities in Rome will be a major challenge for both sides after a new government is formed.
The political change signified by European developments on Sunday is good news for another reason as well. The gradual move toward pro-market policies in the euro zone will enable the region to better deal with the fallout from the expected departure of the U.K. from the European Union next March. As financial market dominance shifts from London following Brexit, expect Frankfurt, Paris and Milan to be better positioned to gain from the moves of some corporate headquarters and high-priced jobs. That, too, would provide an attractive opportunity for global investors.
The new coalition government in Germany is an unalloyed positive for European markets. The Italian political gridlock may be just a speed bump in the European integration process. Investors who focus on the forest rather than the trees will be rewarded.
To contact the editor responsible for this story:
Robert Burgess at bburgess@bloomberg.net
Before it's here, it's on the Bloomberg Terminal.
LEARN MORE