view
Welcome to Primary Season! You're Up, Texas
Jonathan Bernstein's morning links.
by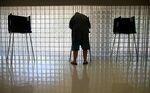 The first 2018 midterm primaries are here in Texas on Tuesday. NBC's First Read has a good rundown of some of the important races to watch. The big news so far is a surge of voters asking for the Democratic ballot during early voting; Texas has no party registration, so voters are free to choose whichever primary they want to vote in.
Be careful about interpreting those numbers, however. Democrats do have a big statewide contest -- choosing a candidate to take on Republican Governor Greg Abbott -- although as far as I can tell here in San Antonio, both of the major hopefuls have run invisible campaigns. Still, that has to be more of a draw than renominating Abbott or Senator Ted Cruz. It's also quite possible that the Democratic surge is mainly about regular voters shifting from Election Day to early voting.
The main questions I'm looking at? On the Republican side, I'm watching what happens to the three incumbents in the state Legislature who are being targeted by Abbott. He says they're RINOs; they say that he's upset because they've pushed ethics legislation. It's a good test of the future of business-friendly conservatives within the Republican Party, as well as a good test of Abbott's political instincts. 
On the Democratic side, the big question is whether the party can sort out the avalanche of candidates in various races. The rules help: Unless a candidate gets over half the vote, the top two advance to a runoff. I'll be looking for whether unfunded candidates who haven't run serious campaigns and are unlikely to do so for November knock out any of the recruits with seemingly better prospects. I'll be looking for any hints that Democrats are turning to demagogues. And I'll be watching the ideological balance to see whether Democrats harm their chances in tough, Republican-leaning districts by nominating the most liberal candidates. 
The other thing I'll be watching for is whether the strong participation by women over the last 14 months will translate into stronger results for female candidates in the Democratic primaries. That starts with the governor contest, where former Dallas sheriff Lupe Valdez takes on Andrew White, whose father was a Democratic governor. But I'm really interested in what happens elsewhere. Take for example the 21st District, where I live and where Lamar Smith is retiring. A mob of 18 Republican candidates are competing to replace him, while the Democrats have four of their own. Normally, this would be an easy district for Republicans to retain, but it's also one of the types of districts -- with plenty of suburban women -- that Democrats are targeting. Only one of the four Democrats is a woman, and she's raised the least amount of money by far. If she does well, it's almost certainly because Democrats are looking for women to vote for, not because of her or her campaign. 
There are issues that have attracted national attention, too. The Democratic Congressional Campaign Committee targeted a candidate in the 7th District, another of the districts where Democrats have high hopes. Chuck Schumer endorsed a candidate in the 29th, a safe open Democratic seat, who isn't favored against an opponent endorsed by Emily's List. And incumbent Land Commissioner George P. Bush has drawn a primary challenge. These are good stories, too, but I'm not sure how much they'll tell us. 
The 2018 cycle is now in full swing. And the Democrats have a major coordination challenge this year. Texas, followed by Illinois in two weeks, will give us our first hints of how well they're going to handle it.
1. Henry Farrell at the Monkey Cage on trade wars. 
2. Hans Noel at Mischiefs of Faction on what the U.S. can learn from the Italian election (written before the election, but the lessons still apply). 
3. Also at Mischiefs: Julia Azari thinks about the 1912 and 2020 Republican presidential nominations.
4. Nils Gilman on "racial liberalism."
5. Vox's Jane Coaston on new research into identity politics among Democrats and Republicans.
6. My Bloomberg View colleague Ramesh Ponnuru on why Donald Trump's tariffs are very different from similar moves by other recent presidents. 
7. And Mike Allen at Axios makes a very good point about news coverage of the Mueller investigation.
Get Early Returns every morning in your inbox. Click here to subscribe.
To contact the editor responsible for this story:
Brooke Sample at bsample1@bloomberg.net
Before it's here, it's on the Bloomberg Terminal.
LEARN MORE