Editorial Board
May's Brexit Speech Was Good and Changed Nothing
The U.K. is still on a path to disaster.
by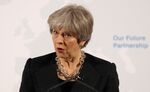 U.K. Prime Minister Theresa May's long-awaited speech on Brexit last week was admirably frank, impressively argued -- and about 18 months too late. As it is, the country's choices remain now just as they were before her address to the nation: Britain either stops this process in its tracks, or must prepare itself for dire consequences.
May was right to acknowledge that when the U.K. leaves the EU's single market and customs union (which she continues to say it will), there'll be an economic cost. "Life is going to be different," she said. "In certain ways, our access to each other's markets will be less than it is now." Obvious as this might seem, it needed to be said.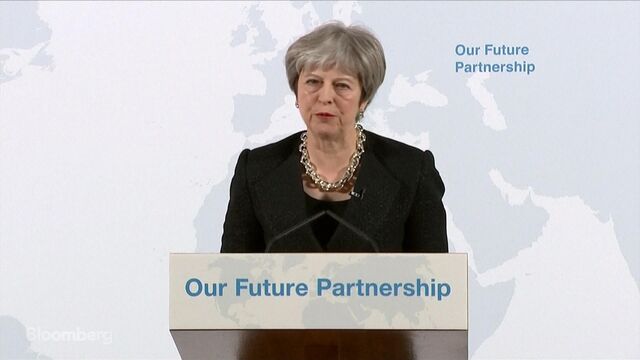 At the same time, May also challenged the EU's position that any effort to negotiate a tailored U.K.-EU arrangement after Brexit was "cherry-picking." Again, she is right. Every trade agreement is tailored. The EU's insistence that Britain must accept an off-the-shelf agreement -- as though a future U.K.-EU relationship won't present unique challenges -- makes no sense. Rights and obligations have to be fairly balanced, as May said, but the proper mix will vary from case to case.
Good point, but so what? Europe can drive a hard bargain, because a "hard Brexit" with no supporting agreements would hurt the U.K. far more than the EU. Europe also has no interest in helping Britain make a success of Brexit, because it wants to discourage other defectors. These are the facts, the really hard facts, that U.K. voters need to understand. May did not mention them.
The effective deadline for agreeing the terms of exit is now just months away, and core issues in those talks, such as the future of the border between Ireland and Northern Ireland, are unresolved. A short-term transitional agreement, to make a bridge between Brexit next March and an eventual U.K.-EU trade deal, is not yet in sight. The distance between the U.K and EU on that longer-term agreement is huge, and the outcome is anybody's guess.
At best, years of complex negotiations lie ahead. The hard Brexit that May says she wants to avoid might be the worst possible result -- but an endless process of separation, and the protracted uncertainty this would cause, would be almost as bad. Softer Brexits of various kinds, including the (tailored) customs union now proposed by Labour's Jeremy Corbyn, present complications of their own and are plainly inferior to simply remaining a member of the EU.
The Conservative Party is split; the Labour Party is split. With these momentous decisions before the country, the U.K. is close to ungovernable, and constitutionally programmed for paralysis.
Enough. The only way out, improbable as it might be, is for members of parliament, most of whom favor remaining in the European Union, to assert themselves. Before it's too late, they should break ranks and demand a second referendum so Brexit can be stopped.
--Editors: Clive Crook, Michael Newman
To contact the senior editor responsible for Bloomberg View's editorials: David Shipley at davidshipley@bloomberg.net .
Before it's here, it's on the Bloomberg Terminal.
LEARN MORE