Regulation
A Welcome Move by the Justice Department
"Guidance documents" can no longer be used as regulatory cudgels.
by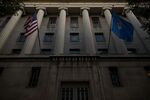 Amid all the current political clamor, the Justice Department recently did something that is both technical and important -- and that simultaneously promotes freedom and the rule of law. It deserves bipartisan approval for its announcement that it will no longer rely on "guidance documents" to try to bind the private sector.  
Under the Administrative Procedure Act, enacted in 1946, federal agencies are allowed to issue "interpretative rules" and "general policy statements," some of which qualify as guidance documents. Many of these advise members of the public -- companies, hospitals, labor unions, charities, immigrants -- about what the government considers to be their legal responsibilities.
Guidance documents take many forms, including circulars to the public and answers to "frequently asked questions." Every administration relies on them; they are enormous in number. Naturally, the private sector pays close attention to them.
The secretary of Labor might announce, for example, that in his view, the Occupational Safety and Health Act requires employers to take certain steps to reduce the risk of workplace injuries. Or the secretary of Transportation might issue guidance governing automated vehicles -- or announce that to reduce the risk of terrorism, airports and airplanes should take specified steps in the next year.
There's nothing wrong with guidance documents. On the contrary, they're an important way for agencies to inform the public of their views; they are an instrument of transparency. They can be exceedingly helpful. But under the law, agencies are allowed to issue them without obtaining public comment, meaning that they might be insufficiently considered.
Even more important, courts have made clear that they cannot be legally binding. The Environmental Protection Agency, for example, is not allowed to issue a guidance document specifying that certain conduct is a violation of the Clean Air Act and then rely on that document in an enforcement proceeding.
Even though that's clear, litigation can be messy, and the Justice Department has sometimes invoked guidance documents when it brings actions against those who might have violated federal law. People in the private sector are aware of that -- which is one reason that a guidance document can make their blood curdle.
With its recent announcement, the Justice Department did the right thing. It declared that in civil enforcement proceedings, the department "may not use its enforcement authority to effectively convert agency guidance documents into binding legal rules." In a nutshell, that means that the department will no longer much rely on guidance documents in court -- or point to a failure to comply with guidance documents as a way of proving a violation of applicable law.
This announcement -- itself a guidance document -- has produced some strong negative reactions, but they're misguided. Mere guidance documents aren't law, and government lawyers cannot and should not treat them that way.
It's important to emphasize that the Justice Department's announcement is, in an important sense, an impressive form of self-abnegation -- and against the interest of the Trump administration. If the Department of Homeland Security or the EPA issues a guidance document tomorrow or next week, reflecting the views and commitments of the president, the executive branch can longer rely on that document in court.
There is a lot more thinking to do about guidance documents. If they are important enough, they should go through the review process run by the Office of Information and Regulatory Affairs. In an important memorandum, this point was clarified by the Barack Obama administration in 2009. 1 But some agencies try to avoid the review process anyway. The Trump administration should take steps to prevent that from happening.
Then there's the matter of obtaining public comments. Some guidance documents are simple efforts to correct public misunderstandings -- to inform people of what the agency thinks. Time might be of the essence. If the issue is technical and straightforward, there might be no need for a public comment period.
But other guidance documents raise big issues -- about food safety, about health insurance, about immigration policy. Even if they are not legally binding, and even though the Justice Department will no longer rely on them, they affect people in the private sector, who will often try to abide by the agency's views about law and policy.
Whenever guidance documents purport to resolve large issues, or might be controversial, it's usually a good idea to allow the public to have its say -- and thus to correct possible errors on the government's part. Indeed, several courts have said that whenever a guidance document sounds fixed and firm (announcing, for example, that agencies will not undertake enforcement actions against certain violators), it must be subject to public comment, even if it is not binding as a matter of law.
There's a lot more to think through on how to deal with the promise and the risks of guidance documents. But even if the Justice Department's announcement is only a first step, it's a good one -- and in a politically troubled time, it deserves a round of applause.
To contact the editor responsible for this story:
Katy Roberts at kroberts29@bloomberg.net
Before it's here, it's on the Bloomberg Terminal.
LEARN MORE