Editorial Board
Zuma's Resignation Marks South Africa's Moment
If his successor can rise to the challenge, he'll advance the hopes of a continent.
by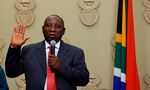 President Jacob Zuma's resignation is good news not just for South Africa, but also for its neighbors and the world. It offers the chance to reclaim one of history's most momentous opportunities -- the post-apartheid pursuit of equality, justice and prosperity, with oppressed and one-time oppressors joined in common cause.
If South Africa succeeds, it can transform the prospects for the rest of the continent. If it fails, the rest of Africa will be set back. The country's new leaders have the fate of South Africa's citizens in their hands -- and that of hundreds of millions beyond its borders.
President Cyril Ramaphosa deserves great credit for engineering Zuma's departure after winning leadership of the ruling African National Congress. Just how much of a struggle that was, on the other hand, is sobering. It points to the scale of challenges to come.
Zuma's reign of scandal and error should never have lasted so long. In 2009, he took office under the shadow of corruption charges linked to a multi-billion-dollar arms deal. Numerous allegations and controversies followed: The nation's ombudsman reported, for instance, that Zuma had wrongly benefited from expensive state upgrades to his private home, and alleged that Zuma had let cronies influence cabinet appointments and loot state companies.
Meanwhile, South Africa's economy -- the continent's most developed, with unbounded potential -- faltered under Zuma's management. He replaced top economic officials with more pliable stand-ins. In due course, output per head stagnated; public debt tripled; unemployment kept rising, to more than 25 percent; schools and colleges failed to equip tomorrow's workers with the skills they needed; income inequality remains among the world's most extreme.
These dismal results cost the ANC political control over key municipalities in 2016. Fear of more losses in next year's elections spurred Ramaphosa to defeat Zuma's ex-wife in the contest to lead the party, and then to push Zuma out before his term ended.
The new acting president is one of the country's leading businessmen, and a skilled negotiator and ANC activist who helped broker the end of apartheid. He has the experience and credibility to win the confidence of the public and foreign investors. But he has also been a leading member of the party that lost the trust of both. At the outset, he needs to signal a decisive change of direction.
Government authorities have moved to detain several of those caught up in Zuma's corruption scandals. To restore public confidence, Ramaphosa needs new leaders for the justice system, beginning at the National Prosecuting Authority (whose head, chosen by Zuma, was removed by the South African High Court). At least a half-dozen ministers in the current cabinet have also been tainted by mismanagement or allegations of questionable dealings.
Reviving economic growth, projected at only 1.4 percent this year, should be a top priority. A budget is due on Feb. 21. It should affirm the new government's commitment to fiscal discipline, otherwise another costly downgrade of South Africa's credit rating will follow. Economic policy needs to be more steady and consistent. State companies need better management and closer oversight -- and, with those in place, more investment. Repairing the education system will take much longer, but cannot be shirked if the country is to thrive as it should.
Above all, the ANC needs to reinvent itself as a modern political party -- rather than a national liberation movement without real purpose except to vent grievance and entitlement. The same test presents itself in Angola and Zimbabwe, where new leaders are also in place. If South Africa can lead the way in this next political revolution, Zuma's exit will be a moment of global significance.
--Editors: James Gibney, Clive Crook.
To contact the senior editor responsible for Bloomberg View's editorials: David Shipley at davidshipley@bloomberg.net .
Before it's here, it's on the Bloomberg Terminal.
LEARN MORE