view
What Devin Nunes Gets in Exchange for His Memo Mess
Reminder: The incentives for congressional Republicans are insane.
by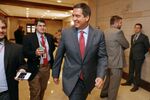 What was Devin Nunes up to with his memo? A lot of people are certain that he was in cahoots with President Donald Trump to derail the Mueller investigation into Russia and the 2016 campaign. And that may well end up being the case. But it's also a great example of just how insane the incentives are for Republicans in Congress right now.
This brings me to my favorite paragraph from the Sunday New York Times. It's an article on a totally different subject, the possible underregulation of assisted living facilities:
The government report was requested by Senator Susan Collins of Maine, a Republican who is the chairwoman of the Special Committee on Aging; Senator Orrin G. Hatch of Utah, a Republican who is the chairman of the Finance Committee; and two Democratic senators, Claire McCaskill of Missouri and Elizabeth Warren of Massachusetts.
What's interesting about that is that it was the 17th paragraph in a story that ran on page 21 of my (Texas) paper edition of the Times. Perhaps it received a bit more coverage in Maine, Utah, Missouri, and Massachusetts. But basically: These Senators presumably did a fair amount of work on a topic which I suspect everyone would agree is important, and it got them ... page 21. 
Now think about how much publicity Devin Nunes has created for himself. Not for doing the hard work of oversight, but for a shoddy memo that every expert I can find has ripped to shreds -- a document with only one remotely serious assertion which Nunes himself has had to back away from.  
Granted, Nunes also generated a lot of negative publicity for himself, at least if anyone wants to look beyond Fox News and other Republican-oriented outlets. But why should Nunes even care about his image outside the conservative information loop? For relatively obscure Republican members of the House, there's a lot more upside than downside in becoming a fringe conservative folk hero.
About those insane incentives: If Nunes wants to stay in the House, he's probably most worried about Republicans to his right challenging him in the primary. Even in the current climate, which tilts strongly towards Democrats, he looks reasonably safe from a Democratic challenge in the general election. With the #ReleaseTheMemo campaign, he's built a sturdy firewall against conservatives claiming he's a Republican In Name Only -- something that even a perfect voting record can't dependably blunt. 1  And if his ambitions don't include a long House career, he's increased his value in the conservative marketplace of public speaking, book publishing and television commentating. Jason Chaffetz, who generated more than his share of media coverage as chairman of the House Oversight and Government Reform Committee, began a gig at Fox News a day after leaving Congress last year.
No wonder Nunes is apparently planning to keep rolling out these memos. Whatever the effect of his first effort on the Justice Department, the FBI, the question of Russian interference in U.S. elections, or anything else, it was a clear winner for him personally.
Members of Congress respond, at least in part, to the incentives they face. If politicians can help themselves by passing legislation to solve the nation's problems, they'll tend to try to do that. If developing a reputation as a fraud or a demagogue is risky for them, they'll try to stick to the truth and avoid irresponsible statements and actions. 
Those same politicians, and the environment they work in, also create incentives for their legislative staff. Staff look for wins for their bosses. To be sure, those aren't necessarily evaluated only in TV coverage; for some members of Congress, policy gains for their own sake are at least as important as publicity. But few politicians don't appreciate more news coverage -- and for staffers, it's one of the easiest ways to demonstrate that what they do has real impact. 
The bottom line is that as long as there's demand from Republican-aligned media for partisan nonsense, Republican politicians will scramble to supply it -- and as long as Fox News and the others don't care about quality control, at least some Republican politicians will be happy to supply garbage. 
To contact the editor responsible for this story:
Mike Nizza at mnizza3@bloomberg.net
Before it's here, it's on the Bloomberg Terminal.
LEARN MORE