Taxes
Maybe Democrats and Republicans Aren't So Far Apart
A proposal to "repeal and replace" the GOP tax overhaul is much less radical than advertised. Sound familiar?
by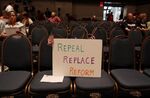 For years after Obamacare was enacted in 2010, Republicans ran campaigns viciously attacking the law and famously promising to repeal and replace it. Yet in 2017, when they finally captured all three lawmaking arms of the federal government, they failed three times to repeal the Affordable Care Act. Thus far, they've managed to eliminate only one piece of the law — the tax penalty for people who don't buy medical insurance, a measure of debatable significance — as a way to help finance their big tax cut.
Now Democrats are promising to repeal and replace the Republican tax overhaul that eliminated that health-care measure. By the look it, their efforts may be nearly as modest.
Jason Furman, a key economic adviser to President Barack Obama, lays out what he calls a "radical" repeal of President Donald Trump's tax cut in a Wall Street Journal op-ed.
Its signature features are an increase in the corporate tax rate from 21 percent to about 25 percent; a move toward refundability of the child tax credit even for families with incomes too low to owe taxes; elimination of a "pass-through" tax benefit for partnerships, limited-liability companies and sole proprietorships; and the creation of a tax on carbon emissions.
In truth, none of this is especially radical. Of Furman's proposals, only the carbon tax is outside of Republican orthodoxy.
The Trump tax overhaul lowered the corporate rate from 35 percent to 21 percent. It did not include a proposal by the GOP Senators Marco Rubio and Mike Lee to raise that to 22 percent in exchange for the refundable child tax credit. Lee is among the most conservative senators; his votes have earned him a 100 percent rating from Heritage Action. Yet just three percentage points separates Lee's corporate tax-rate proposal from Furman's supposedly radical replacement plan.
Elimination of the pass-through provision would be a major change from current law. However, it would bring the law into line with the original draft of the Senate's tax-cut language. The pass-through loophole was introduced largely to win the crucial vote of Senator Ron Johnson of Wisconsin, who complained bitterly that he could not support a bill that didn't have tax cuts targeted at businesses that wouldn't qualify for the corporate tax cut, including most law firms, hedge funds and real-estate development firms.
In other words, if Rubio and Lee had been as petulant as Johnson, and the Senate had accepted their proposal instead of Johnson's demands, what we are now calling the Trump tax cuts would have wound up quite similar to Furman's proposal on three of its four major elements.
The fourth element, the carbon tax, would have gone nowhere in the Republican Senate. That's unfortunate because it's not only an excellent revenue raiser, but it enjoys strong support among conservative economists for its efficiency in reducing pollution. Sadly, the issue of climate change and interventions such as a carbon tax have become strong partisan symbols. That makes it difficult for any Republican to come out in favor of one, even if their economic advisers are suggesting that it would be a good idea.
This highlights a broader point about the tax bill. Republican and Democratic politicians, policy advisers, and commentators have to pretend that their differences are greater than they really are.
During the debate over the tax bill, New York Times columnist Paul Krugman was brutal in his condemnation of the proposal. Yet as the bill's passage entered its final stages, he confessed that the macroeconomic effects were limited. Indeed he said in a separate interview with the journalist Ezra Klein before alterations like those made to accommodate Johnson, the bill was something that a lot of Democratic economists could have favored -- at least in private.
On one level, this is a shame. Had centrist Democrats been involved in the process from the beginning, fringe Republicans would have had less leverage and the final tax reform could have been cleaner. Eliminating complex special-interest compromises could have produced a more pro-growth bill while at the same time securing protections for the less fortunate.
Yet all in all, I still see this in a mostly positive light. Despite the intense partisanship of the moment, policy makers on both sides are still hewing fairly closely to consensus opinion, even while loudly condemning one another on cable TV. That means there's a basis for continuing to improve the tax system, even if doing so requires tacking to the right and then tacking back to left when Democratic majorities are ready to listen to advisers like Furman.
To contact the editor responsible for this story:
Jonathan Landman at jlandman4@bloomberg.net
Before it's here, it's on the Bloomberg Terminal.
LEARN MORE