U.S. Economy
What the U.S. Economy Is Still Missing
An increase in business investment will be the test of Trump's tax policy.
by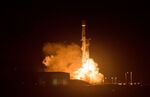 The latest data on the U.S. economy underscore one of the greatest challenges facing the administration of President Donald Trump: getting businesses to invest like they used to. For all the progress that's been made, there's still a long way to go.
Last week's report on U.S. gross domestic product suggested that the economy ended 2017 with good momentum. Although the overall annualized, inflation-adjusted growth rate was a slower-than-expected 2.6 percent in the three months through December, the details were encouraging. In particular, businesses boosted investment in the equipment, buildings and know-how needed to support future growth. Nonresidential fixed investment increased sharply for the fourth quarter in a row, putting it up 6.3 percent from a year earlier. Here's how that looks:
Growth rates alone, though, don't tell the whole story. Equipment deteriorates and technologies become obsolete. So it's also important to understand whether the level of investment is enough to both offset this depreciation and expand the capital base. Here, for example, is a chart showing gross private business investment and depreciation separately, both as a percentage of GDP:
It's not the prettiest picture. In the last quarter of 2017, net private business investment was $492 billion, or 2.5 percent of GDP. That's a big improvement from the darkest days of the last recession, when it went negative for the first time on record, but still not much more than it was at the low points of several earlier recessions. Here's a chart showing net investment alone:
To be sure, not all investment is equal. The level doesn't necessarily matter if companies can get more bang for their buck. In the age of the internet, vast businesses such as Alphabet Inc. (Google) and Facebook Inc. can be built with less capital than used to be needed for, say, an automobile factory. As companies such as SpaceX have demonstrated, even getting a satellite into orbit is cheaper than it was in the days of the Saturn V.
That said, if companies are finding brilliant new ways to deploy capital, it should show up in productivity. So far, that hasn't happened: During the past several years, U.S. workers' hourly output has grown at an average annual rate of less than 1 percent, well short of the pace that prevailed in the late 1990s and early 2000s. Meager productivity gains, in turn, limit the economy's capacity to grow.
So what can Trump do about it? Actually, he has already done something: The corporate tax cuts he signed into law last month are aimed specifically at boosting investment. Indeed, this is the primary indicator by which their success should be judged. In the coming years, we'll see how effective they prove to be.
To contact the editor responsible for this story:
James Greiff at jgreiff@bloomberg.net
Before it's here, it's on the Bloomberg Terminal.
LEARN MORE