Law
Donald McGahn's Job Is to Protect the President
It's highly unlikely the White House counsel would tell reporters about a confidential conversation, or "flip" and cooperate with Mueller's investigation.
by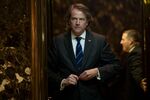 The web is abuzz with the revelation that President Donald Trump tried to fire special counsel Robert Mueller in June but was blocked by White House counsel Donald McGahn. What information can be gleaned from the leak and its circumstances? Let's pull on the deerstalker and try to draw some inferences -- both positive and negative.
Start with the source of the leak. There was plenty of unsubstantiated speculation on Twitter that it might be McGahn, eager to distance himself from the rack that the White House is fast becoming. This is pretty strongly unlikely: McGahn has an obligation of lawyer-client confidentiality to Trump. If he breached that obligation by leaking details of a legal conversation with Trump, he is liable to sanction. He might even lose his license to practice law.
To be sure, the White House counsel is not Trump's private lawyer. That's where private attorneys John Dowd and Jay Sekulow come in. Those lawyers work for private firms and are paid directly by Trump. They represent the president in his personal capacity.
The White House counsel and his team represent the president of the United States in his official capacity. It would be too simple to say that their client is the U.S. government -- that's whom the Department of Justice says it represents. Rather, the counsel's office likes to say that it represents "the White House." Because the building isn't an actual constitutional entity, the formal way to say it is that the White House counsel's client is the president in so far as he is acting as president.
The division of the president's lawyers into two sets, personal and professional, has an almost medieval air about it. In old English constitutional thought, it was said that the king had two bodies, his body politic, which was immortal, and his natural body, which could be born and die. The adage "the king is dead, long live the king" captures the legal fiction that the king's political body never dies, even when the king himself does.
What that means today is that McGahn is acting as the president's lawyer when he advises him about any legal matter connected to his official duties. Firing Mueller would have been an official act with major legal implications. McGahn's advice not to do so would absolutely be protected by attorney-client confidentiality. It's really hard to imagine that an experienced lawyer like McGahn would take the risk of violating that confidentiality by telling reporters about it.
On the other hand, a source who knew about the exchange between Trump and McGahn but was not himself a lawyer -- say, former senior adviser Steve Bannon or any other nonlawyer in the White House -- would not be under a legal duty to respect the confidentiality of the attorney-client exchange. For such a leaker, the only relevant question would be whether the leak might get him or her fired. In the example of Bannon, he has already been fired, so he wouldn't face that risk.
Of course, there is a tiny possibility that Trump himself would have authorized McGahn to leak, maybe in order to convey his seriousness about firing Mueller. If that happened, McGahn wouldn't have been breaching confidentiality -- his client agreed to the leak. But that would be an extraordinarily high risk for Trump. Authorizing the leak could later make him vulnerable to having to testify about the conversation. It would have been a voluntary waiver of his privilege to speak privately with his lawyer, not to mention with nonlawyer senior officials in his administration.
Another issue is whether Mueller is focusing his investigation on McGahn, or whether (again, as some on Twitter have speculated) McGahn is cooperating with the Mueller probe. Both of these are unlikely to the point of being almost impossible.
Of all the people in the White House to investigate or interview, McGahn is probably the last that Mueller would go after. A criminal subpoena could overcome the president's executive privilege to keep secret whatever he may have said to his political advisers, but it's much harder to breach attorney-client confidentiality.
In theory, if a client tells a lawyer before the fact that he specifically plans to commit a criminal act, the communication might not be privileged. But just about any other form of communication between a client and a lawyer is going to be protected from an investigation like Mueller's. McGahn can't say much, so there's little reason for Mueller to focus on him. It would also look bad for Mueller to try to breach attorney-client confidentiality, and it would be highly inconsistent with his team's respect for lawyers and the rule of law.
That's also the reason to conclude with 99 percent certainty that McGahn hasn't been "flipped." There would be no ethical way for a lawyer to continue representing a client while participating in a potentially criminal investigation of that client. That would certainly be true if the target didn't know about the cooperation. But it would very likely still be true if McGahn had told Trump he was talking to Mueller. The conflict of interest is just too deep.
The upshot is that the leak of the story about Trump's ordering Mueller to be fired was probably made without McGahn's knowledge or consent, and it would be a mistake to take it as proof that Mueller is focused on McGahn.
(
Corrects names of Trump's private lawyers in third paragraph.
)
To contact the editor responsible for this story:
Stacey Shick at sshick@bloomberg.net
Before it's here, it's on the Bloomberg Terminal.
LEARN MORE