Early Returns
The Picture Gets a Little Darker for Republicans
It hasn't been a great week for the party. Plus, Jonathan Bernstein's morning links.
by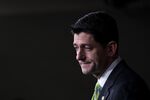 How bad is it for Republicans out there?
There were four special elections in very Republican state legislative districts on Tuesday. Voting shifted an average of 21 percentage points toward the Democrats from their 2016 presidential election numbers, with Democrats winning one of them, a Wisconsin state Senate contest. I doubt that's going to be typical of Democratic gains in November -- 21 percentage points is much higher than the already impressive shifts toward the Democrats in 2017's elections -- but those kinds of gains don't need to happen everywhere to have massive effects.
Republicans had recruited a solid candidate in one Illinois U.S. House race to take on a popular Democratic incumbent. On Wednesday, the candidate in the 17th District up and quit, pretty much guaranteeing Cheri Bustos will be re-elected. That one was a long shot for Republicans even with a good candidate, but now it's entirely out of reach.
Republican strategists are telling reporters they now expect to lose their House majority. I wouldn't put too much stock in what two nameless party operatives have to say (and "strategist" can include people who may be far removed from in-depth knowledge of the playing field). Still, it's not nothing.
That's just from this week. 
The big picture for Republicans ahead of the 2018 elections continues to deteriorate. The Cook Political Report ratings tell the tale. Only a handful of seats held by Democrats appear to be vulnerable right now; dozens of Republican-held seats are vulnerable, with 19 of them toss-ups or worse. Almost all the recent shifts have been in the Democrats' direction, and there's still plenty of time in most states for more retirements, which could put even more Republican seats in jeopardy. 
There's at least some good news for Republicans in that the gap in the "generic" ballot question (which asks people which party they would support in a congressional election) has closed over the last few weeks; now the Democratic advantage is down to around 8 percentage points. Perhaps it will close more. 
The bottom line here is that there are structural things that affect elections that take place months before -- mainly recruitment, but also all sorts of other resource allocations. A lot of that is already baked into the final results, and almost all of it overwhelmingly favors Democrats. The 17th District in Illinois isn't going to turn around now, no matter what happens between now and November. 
Of course, voter opinion closer to the election will matter, too, and it's too early to predict that, beyond saying that Republicans are starting from a deep hole. If they stay in that hole, then the midterms are going to be a massive wipeout, probably similar to what happened to Democrats in 1994 and 2010. If they dig out enough, then they'll only lose some of the large gains they retained from that 2010 landslide and a very strong 2014 election; in fact, they're vulnerable to big losses in part because those previous wins left them with plenty to lose. But if I were preparing to lobby Congress or state legislatures in 2019, I'd be getting ready for at least the possibility of Democratic control in an awful lot of chambers they haven't held for a while, certainly including the U.S. House and perhaps even the Senate. 
1. Kathryn Dunn Tenpas, James A. McCann and Emily J. Charnock at the Monkey Cage on President Donald Trump's unusual travel pattern and how he may be "squandering the president's most valuable asset: time." Very interesting. 
2. Josh Huder on the shutdown showdown and where Republicans have gone wrong on it.
3. Dan Drezner on the Fox News president. I wrote last week about why presidents might be smart to check in on cable news. 
4. My Bloomberg View colleague Francis Wilkinson on the Democrats and immigration.
5. And Julie Ray at Gallup on the sharply deteriorating image of the U.S. in the world since Trump took office. Alas, the best news for the U.S. is public opinion in Africa, which has been relatively mixed compared to sharp downturns elsewhere -- at least before Trump insulted the entire continent the other day. 
Get Early Returns every morning in your inbox. Click here to subscribe.
To contact the editor responsible for this story:
Brooke Sample at bsample1@bloomberg.net
Before it's here, it's on the Bloomberg Terminal.
LEARN MORE