Early Returns
Joe Arpaio Piles On the GOP's Primary Woes
Jonathan Bernstein's morning links.
by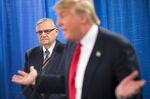 Former sheriff and pardoned criminal Joe Arpaio is back -- this time, as a candidate for the Senate seat that Republican Jeff Flake is vacating in Arizona. He joins a mainstream conservative member of Congress, Martha McSally, and a fringe conservative, Kelli Ward, in the Republican primary. Arpaio is explicitly talking about his campaign as one in support of President Donald Trump, whom McSally has been reluctant to support. 
In other words, the Republican nomination troubles in Senate races, which recently cost them another seat, are continuing.
The potential good news for Republicans is that Ward and Arpaio will split whatever votes are available for radicals among the Grand Canyon State's Republicans, perhaps allowing McSally to survive the primary. (Arizona has no runoff provision.) But there's still time for another mainstream or moderate Republican to enter and potentially split McSally's vote, and it's possible that either Arpaio or Ward will consolidate the rest of the vote.
It's also possible that John McCain will give up his Senate seat and get a temporary replacement, which would also mean two Arizona Senate contests this year and the possibility that all of this will be reshuffled at some point.
Arizona still leans strongly Republican, but perhaps not sufficiently to overcome a Democratic tide if one develops. Hillary Clinton put in a serious effort there, falling short by just 3.5 percentage points. Whether that was a fluke or Arizona is trending Democratic is hard to tell, but it was one state where Trump underperformed. The Cook Report rated the race as a toss-up before Arpaio entered. I think the conventional wisdom is that McSally would be favored over Democrat Kyrsten Sinema, who like McSally is giving up a House seat to run, while Sinema would be solidly favored over either Ward or Arpaio. 
It's not clear as of now whether Trump will take an active role in the primary, and what it would be. 
What is clear is that no party can afford to just toss away elections. Granted, some insurgent candidates (if that's what we want to call them) have been elected, such as Utah Senator Mike Lee or Wisconsin Senator Ron Johnson. And it's not right to say that each of these episodes is identical. In Alabama, for example, Roy Moore had a long history of building support within the state party; he was no fluke nominee. Nor was the scandal that defeated him typical of losing Republican candidates, of course. So it's hard to know how exactly to characterize all of it. But it sure has been costly. 
1. Matt Glassman on what's next in the long-overdue 2018 appropriations process. 
2. Harold Clarke, Marianne Stewart and Paul Whiteley at the Monkey Cage on the "Trump bump" in the stock market.
3. Jeff Zeleny, Kevin Liptak, Dana Bash and Dan Merica at CNN on the continuing exodus of White House staff and the difficulty in finding replacements. 
4. Aaron Blake on Trump's Tuesday meeting with members of Congress.
5. And Jonathan Chait on Trump's meeting. Some reporters (not Blake or Chait) were impressed with Trump's performance. I think it's just a question of expectations. The more exaggerated versions of Trump's behavior were not on display: He wasn't repeating stories multiple times, or incapable of staying on topic. But if the question was if he could demonstrate any kind of mastery of the policy questions involved with immigration, or even adequate knowledge, he pretty much failed. Granted, one can know things but not show it. The problem as I see it with Trump is that he's never demonstrated adequate knowledge, let alone mastery, of any policy area in any of his unscripted appearances. And as Blake and Chait say, he didn't do it this time, either. 
Get Early Returns every morning in your inbox. Click here to subscribe.
To contact the editor responsible for this story:
Brooke Sample at bsample1@bloomberg.net
Before it's here, it's on the Bloomberg Terminal.
LEARN MORE