Congress
Darrell Issa's Strangely Partisan Trip Is Ending
The Republican congressman won headlines as oversight chair, but not much more.
by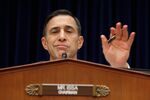 Darrell Issa is the second California Republican to retire from the House of Representatives this week, joining Ed Royce, the chair of the Committee on Foreign Affairs. Democrats are now favored to pick up the seat that Issa had won very narrowly in 2016.
He won't be missed in Congress. One of the wealthiest members of the House, Issa was notable for being unusually partisan without being particularly effective during his tenure as chair of the Committee on Oversight and Government Reform. 
Congressional oversight has always been tinged with partisanship, especially during times of divided government. But Issa was relentless in devoting the panel's time and resources to Fox News favorites such as the Benghazi attack, a failed gun sting known as "Fast and Furious" and alleged wrongdoing at the Internal Revenue Service. He lost his chairmanship in 2015 after losing the faith of many of his fellow Republicans. "Darrell Issa didn't do many reports," said Representative Jason Chaffetz, the Utah Republican who took over Oversight. He "did big press releases."
Issa was likely finished even if he chose to campaign for another term. California, including his Orange County district, continues to trend away from Republicans, and the party doesn't seem capable, or even interested, in doing much about it. The Cook Political Report already lists four Republican seats in that state as toss-ups or better for the Democrats, with another four vulnerable as either likely or lean Republican, leaving only six safe Republican districts out of the 53-seat delegation. 
It is possible that California's awful top-two primary system could save Issa or Royce's seats if they get lucky, because the two candidates who get the most votes in the open June election go on to meet in November, and if the Democratic vote is split between many candidates while the Republican vote is split in two, the math could work out. On the other hand, Republicans have had trouble finding anyone impressive to run in the open governor race and the Senate contest, in which incumbent Dianne Feinstein is facing a real challenge from Kevin de León, a Democratic state senator. That means it's possible that both of those top-of-the-ticket November elections will wind up being between two Democrats, which might keep a lot of Republicans home. 
And it can't help that Trump and Congressional Republicans have been explicitly attacking the Golden State, most recently on tax reform, while attacking California priorities on policies from immigration to offshore drilling to marijuana legalization. 
Congressional landslides happen because of direct effects: Voters turn against one party and towards the other. That's happening right now, with Democrats opening up a big lead in the general ballot polling question. 
Landslides also happen because of indirect effects. As one party believes they will have a good cycle, they recruit better candidates and deploy their resources aggressively; the other party, believing they are in trouble, loses quality candidates to retirement or failed recruitment. It's a self-fulfilling prophecy: Voters choose the strong candidate running a strong campaign over the weak candidate running without resources even if they have no intention of tilting towards the party enjoying the good electoral cycle. 
What appears to be happening right now is that both the direct and indirect effects are at unusually high levels. The direct effect could fade, if Trump's approval numbers improve dramatically during his second year in office (and of course it could get more intense if Trump slumps even further). But the indirect effects are increasingly locked in. Republicans will have no incumbent advantage in the districts represented by Issa and Royce no matter what happens to Trump this year. Nor will the have any incumbent advantage in any of the other 27 seats Republicans are vacating.
It's true, as the Upshot's Nate Cohn wrote earlier this week, that the outlook for Republicans is a bit better if the focus is just on seemingly competitive seats. But retirements also hint at member expectations: It's very likely that Republicans are leaving in such numbers in part because they don't believe they'll be in the majority in the 116th Congress next year. And that, too, can be a self-fulfilling prophecy. One political science model based on GDP growth, the president's approval ratings, and whether it is a midterm election or not predicts Republicans will lose 38 seats in 2018, albeit with a very wide margin of error. It's starting to look as through Democrats are likely to win a House majority in 2018, and perhaps with a comfortable margin.
To contact the editor responsible for this story:
Mike Nizza at mnizza3@bloomberg.net
Before it's here, it's on the Bloomberg Terminal.
LEARN MORE