Companies
An IPO Is Hard, But the Headaches of Being Public Last a Lifetime
If Spotify's direct listing ends up looking like an initial public offering, then perhaps the process isn't broken.
by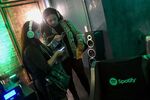 This post originally appeared in Money Stuff.
We have talked a few times about the weirdness of Spotify AB's plan to go public via a direct listing rather than an initial public offering, but Kadhim Shubber at FT Alphaville thinks that I am overreacting:
The portrayal of a direct listing as a lonely process in which there are no interactions with any market actors until the moment the stock goes live is incomplete.

In London, when a company opts for an introduction — the UK's equivalent of a direct listing — it still meets with investors who might want to buy the stock and analysts who could be writing research.

It still has to satisfy the listing requirements for its free float, the advisors on the listing still have a hefty prospectus to prepare, and there is also a shadow book building exercise as they try to line up potential buyers and sellers to help ensure a smooth entry to the market.
That is probably sensible, though we don't yet know what Spotify's plans are for engaging banks or doing a roadshow or building a shadow book. But the more Spotify's non-IPO ends up looking like an IPO -- if they hire bankers and do a roadshow and build a book of demand and essentially do an organized coordinated offering of shares from Spotify insiders to new investors -- then the less it will be evidence that the IPO process is broken and needs to be fixed. If it turns out that the right way to go public without an IPO is to pretend that you're doing an IPO, then that suggests that the IPO process is harder to get rid of than people think.
There has been a rash of interest in non-IPO IPOs recently, basically as large private tech companies have decided that they are too good for the conventional methods of the public stock markets. The Unicorn SPAC -- the special purpose acquisition company set up by Social Capital Hedosophia Holdings Corp. to take one or more unicorns public by reverse merger -- is another example. I wrote about that:
I don't understand the problem this is solving. IPOs are annoying, but then they end, and you have price discovery and an investor base and a relationship with the capital markets. The problem of going public is not so much going public -- writing a prospectus, doing a roadshow -- as it is being public -- filing quarterly financials, dealing with investors, forever. The SPAC doesn't solve that. It's just an interesting technological gimmick to deal with some of the superficial difficulties of the process. 
That is not as fair a criticism of the direct listing -- which probably does save on fees, and which makes more intuitive sense than an IPO if you really don't need to raise money -- but there is still something to it. In general the problems of going public are overstated as compared to the problems of being public. Being public puts a company and its financials and its executives in the public eye; it gives them a minute-by-minute scorecard of how they are doing in the form of their stock price; it invites the attention of short sellers and activists and social critics; it relinquishes control to a shifting and potentially hostile mass of public shareholders. Some startup founders may regret going public, but it's not because of the IPO fees, or because they left money on the table in the IPO pricing. You forget about that stuff in a week. The problems of being public last a lifetime. 
If you'd like to get Money Stuff in handy email form, right in your inbox, please subscribe at this link. Thanks! 
To contact the editor responsible for this story:
James Greiff at jgreiff@bloomberg.net
Before it's here, it's on the Bloomberg Terminal.
LEARN MORE