U.S. Economy
The Biggest Pay Raises Are Going to the Well-Off
Inequality is growing faster than wages.
by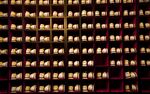 Wages in the U.S. still aren't rising like they used to, but wage inequality is.
In recent years, as robust hiring has brought the economy ever closer to full employment, wages have remained a notable weak spot. In the latest jobs report, the Labor Department estimated that U.S. employers added an ample 148,000 jobs, and the unemployment rate stayed at a very low 4.1 percent. But average hourly earnings in the private sector were up just 2.5 percent from a year earlier -- almost a full percentage point short of the pace that prevailed before the last recession.
Not all workers, however, are suffering the same fate. People in highly paid professions have actually been doing relatively well. As I noted a couple of months ago, the top third of earners have at times experienced almost double the gains of the middle, and significantly more than the bottom.
This time around, to get a better sense of what's going on, I dug a bit deeper into the data. I took almost 300 sectors for which the Bureau of Labor Statistics calculates average hourly wages and split them into groups, so I could compare trends at the top with those at the bottom.
The results suggest that inequality, after taking a brief respite, is rising again. Consider the difference between the top 10 percent, a group that includes such sectors as computer programming and asset management, and the bottom 10 percent, which includes gas stations, bowling centers and limited-service restaurants. As of November, the cutoff to be in the top group was an hourly wage of $39.15, up 2.8 percent from a year earlier. The threshold for the bottom group was $16.85, an increase of just 1.6 percent from a year earlier.
The ratio of the top to the bottom decile stood at 2.32 in November 2017. That's up from 2.11 in November 2006 and very close to the last high, set in June 2016. Here's a chart:
Policy makers and legislators have various tools to address the growing gap. They could expand the earned income tax credit, which provides added cash for low earners. They could try running the economy a bit hot, in the hopes of pushing up wages at the bottom end. What they shouldn't do is undertake a tax overhaul that creates added loopholes for the rich. So far, unfortunately, that's the one thing they've actually done.
To contact the editor responsible for this story:
James Greiff at jgreiff@bloomberg.net
Before it's here, it's on the Bloomberg Terminal.
LEARN MORE