Food
New Year's Resolution: Learn to Shuck Oysters
Simple, achievable, and doesn't require a fancy gym membership that will go to waste by February.
by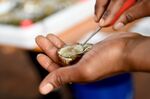 Early one sunny Saturday morning this past November, I visited the waterfront farmers market outside San Francisco's Ferry Building. Fall vegetables and big piles of persimmons were the main things on offer, but there was also the stand where Hog Island Oyster Co., the regional mollusk juggernaut, sells oysters by the dozen. They used to also shuck oysters for people to eat right there but apparently decided that wasn't worth the hassle. On the day I visited, there was still a table with oyster knives and gloves, though, so the guy manning the stand and I figured out a combination of six oysters that added up to an even dollar amount, he threw in a seventh, and I started shucking.

As I blissfully shucked and slurped my second breakfast of the day, I reflected that extracting oysters from their shells is by far the most important new skill I have acquired in the past 15 years. This hasn't exactly opened grand new horizons for me, but it did change my life a little bit for the better that morning. As it did a few days later on Thanksgiving, when I shucked and grilled oysters on the roof of a friend's apartment building, and then on Christmas Eve, when fresh-shucked oysters have become a family staple over the past decade.
Now we are approaching the new year -- on the eve of which I will again shuck a few oysters -- and people are making all sorts of resolutions aiming at changing their lives for the better. Most will fail, mainly because they're too ambitious, too vague or both. Specific and achievable are good, then. What can be more specific and achievable than learning to shuck oysters? So that's my New Year's resolution suggestion for you: Learn how to shuck.

You have to actually like eating oysters for this to make sense, and to live in a place where good oysters are readily available. But with the rise of oyster farming in recent decades, led by Hog Island on the West Coast and Island Creek Oysters on the East, there's really no place in the U.S. where you can't at least get excellent oysters shipped to you. Oysters are also a wonderfully sustainable foodstuff; they clean the waters in which they are grown. Some argue that, because of their lack of a central nervous system, they're effectively plants, and thus downright vegan. They're still not kosher, although apparently consuming ground-up oyster shell as a calcium supplement is.
As for the shucking, it's frustrating at the very beginning, but it really doesn't take long to get the hang of it. After seeing oysters for sale one day at my local farmers market, I bought an oyster knife in the kitchenware section at Zabar's, watched a few videos, hacked up a few oysters and was off. 1 This video tutorial from Rich Vellante of Boston-based Legal Sea Foods seems familiar, although I thought I had started shucking before 2008, when it came out. In any case, it's an excellent, no-nonsense introduction:
There's another method, called the "Chesapeake stab," that seems imprudent for a beginner or even an intermediate. For the equipment, I've found that the no-frills stuff you see people using in restaurants and seafood shacks is better for the job than what's on offer from name-brand kitchenware manufacturers such as Oxo or Zyliss. 2 I use a 3-inch bent-tip "New Haven style" oyster knife from Morty the Knife Man that I bought at a seafood market in Massachusetts. It currently has a manufacturer's suggested retail price of $8.95. (Whatever you do, don't buy a combination clam/oyster knife. These are abominations, not great with oysters and almost entirely useless at opening clams.) I also have a metal mesh glove that I got for Christmas for a few years ago (not nearly as heavy-duty or expensive as this one!), but when it comes time to replace it, I'll probably get one of these rubber ones. Beyond that, all you really need is a dish towel to rest the oyster on while you shuck it, although some people prefer an oyster clamp.
If the oysters you're trying to shuck keep falling apart, it's probably the oysters' problem, not yours. Also, some varieties of oysters are just much easier to open than others. So it's worth experimenting to see what works best. For me right now that's oysters from Duxbury, Massachusetts, sold by New York online grocer Fresh Direct.

If you want to try shucking clams, too, you'll need another knife for that (this one looks good). You'll also need to watch lots and lots of videos; it takes a while to figure out the secret.
Seriously, though, this seems like the perfect New Year's resolution. A real skill that 1) will make life a little bit better and 2) can actually be learned in a few hours at most. Now I just need to find something else like that. Tying knots, maybe?
If you're in New York, there's also this oyster-shucking class in Long Island City this Thursday night. It costs $60, but you get to eat a lot of oysters for that.
To contact the editor responsible for this story:
Brooke Sample at bsample1@bloomberg.net
Before it's here, it's on the Bloomberg Terminal.
LEARN MORE