Markets
A Grand Unified Theory of Markets
Public corporations pay returns to investors who use the money to subsidize customers of private startups.
by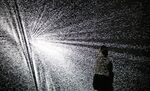 This post originally appeared in Money Stuff.

You know there is this popular narrative that public companies are making all this money and not passing it on to workers or customers but just returning it to investors, who have more money than they need anyway. But there is a sort of balancing transaction in private markets, where SoftBank Group Corp. invests $3.1 billion in WeWork Cos. and WeWork spends it on giving new tenants free rent:
Armed with a $3.1 billion commitment of new cash from SoftBank Group Corp.'s investment fund this summer, WeWork has ratcheted up pressure on an array of competitors, offering their tenants lucrative deals—and sometimes even free food—to convince them to defect.

Co-working companies around the globe, from small operators of a single space such as Wolf Bielas in San Diego to midsize competitors like Bond Collective in New York, say that this fall, WeWork embarked on a marketing blitz to lure large numbers of their tenants with a year of free rent with a two-year contract. 
This is like the popular theory of Uber that it is a high-cost taxi service that is massively subsidized by investor money. You could have a Unified Theory of Money Stuff Worries that goes like:
Public companies extract money out of consumers in the form of monopolistic pricing encouraged by common shareholders.
They give the money to investors in the form of share buybacks.
The investors invest the money in private unicorn companies at wild valuations.
The private companies give the money to consumers in the form of below-market pricing encouraged by indiscriminate investors.
It is not a good theory. It does not seem especially efficient. And yet it has a certain appeal. The public market is a place of ruthless shareholder-value maximization, which is nice for the shareholders but a little grim and boring; the private market is where the shareholders go to be frivolous and blow off steam.
If you'd like to get Money Stuff in handy email form, right in your inbox, please subscribe at this link. Thanks! 
To contact the editor responsible for this story:
James Greiff at jgreiff@bloomberg.net
Before it's here, it's on the Bloomberg Terminal.
LEARN MORE