Finance
Maybe Crypto Will Make Securities Fraud Obsolete
People will fund just about anything with the words "blockchain" or "initial coin offering" in it.
by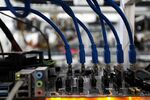 This post originally appeared in Money Stuff.
Here is the story of Longfin Corp., a fin-tech-ish company that was listed on Nasdaq on Wednesday and then announced on Friday that it was acquiring Ziddu.com, "a blockchain-empowered global micro-lending solutions provider," causing its stock to go up by more than 1,200 percent and giving it a market capitalization of some $6.2 billion as of yesterday's close. LongFin's offering circular is a fun read -- it describes its founder and chief executive officer, who also happens to be the controlling shareholder of Ziddu.com, as "a financial wizard" and "a true believer in disruptive technologies" who "believes that every piece of information is worth millions" -- but even better is the press release describing the Ziddu acquisition:
Ziddu Coin is a smart contract that enables SME's, processors, manufacturers, importers and exporters using cryptocurrencies across continents. Ziddu Coins are loosely pegged to Ethereum and Bitcoin. The importers/exporters convert offered Ziddu coins into Ethereum or Bitcoin and use the proceeds for their working capital needs. At the end of the contract, importers/exporters will realize their proceeds and pay back their funds through cryptocurrencies only. Depending upon the risk profile of the counterparty, the interest will vary from 12% to 48%.
Yes but ... in cryptocurrencies? If you had borrowed 100 bitcoins to finance your working capital needs a year ago, you'd have financed about $79,000 worth of working capital. If you had to pay back 112 bitcoins today, that would come to a bit over $2 million, a dollar interest rate of over 2,400 percent. (If you'd borrowed ether you'd be paying over 12,000 percent.) Unless your working capital was bitcoin, you will not be able to pay back that loan. The lesson here is: Probably don't borrow an asset caught in a massive speculative frenzy to fund your working capital needs.
Look, you and I are sophisticated, and we get that "bitcoin's price increase is deflationary and makes it a bad currency" is not a good argument against bitcoin, because "bitcoin is a bad currency" is not a good argument against bitcoin. (People keep making it though.) Bitcoin's value proposition -- much like that of gold -- is that it is an uncorrelated store of value, not that it is useful for buying a sandwich. But at the same time you have to watch out for business models that are based on the casual assumption that bitcoin works just like a currency. "Cryptocurrency-financed warehouse lending" has the word "cryptocurrency" in it, so it's worth billions of dollars, but I'm not sure it works as a business model.
Elsewhere, here is the story of block.one, which "has raised about $700 million and counting" by selling EOS tokens that it says "do not have any rights, uses, purpose, attributes, functionalities or features." Block.one is using the money to build "a new blockchain architecture designed to enable vertical and horizontal scaling of decentralized applications," as its white paper explains, and the white paper also includes a disclaimer in bold capitals:
PLEASE NOTE: CRYPTOGRAPHIC TOKENS REFERRED TO IN THIS WHITE PAPER REFER TO CRYPTOGRAPHIC TOKENS ON A LAUNCHED BLOCKCHAIN THAT ADOPTS THE EOS.IO SOFTWARE. THEY DO NOT REFER TO THE ERC-20 COMPATIBLE TOKENS BEING DISTRIBUTED ON THE ETHEREUM BLOCKCHAIN IN CONNECTION WITH THE EOS TOKEN DISTRIBUTION.
That is: You can (eventually) use the EOS operating system to launch blockchain applications, and those blockchain applications can use tokens, but they won't use the EOS tokens, which -- again -- "do not have any rights, uses, purpose, attributes, functionalities or features." No one believes it though:
Matthew Roszak, one of block.one's early investors, said EOS holders shouldn't worry too much about the warnings the company has given about the tokens. "I don't think it's fair reading into that language too tightly," he said. Given the "regulatory environment is as clear as mud," he said block.one needed to write something to provide the broadest protection possible.
It is hard to believe that anyone commits securities fraud anymore. Right now you can design an electronic token, say in big bold letters that the token is utterly useless, and raise $700 million selling it to people who "don't think it's fair reading into that language too tightly." Why bother to scam anyone?
Still elsewhere, the Commodity Futures Trading Commission, in a footnote, quoted me saying "Just because you mumble the word 'blockchain' doesn't make otherwise illegal things legal," which I hope is now an official CFTC position. And here is Tyler Cowen on bitcoin volatility and Siegel's paradox: "Volatility is a feature of Bitcoin, not a bug, and that is in part for reasons that have nothing to do with speculation or bubbliness, but rather follow from the contours of the utility function." And: "No, a Guy Didn't Scam $1 Million by Selling Chuck E. Cheese Tokens as Bitcoins."
If you'd like to get Money Stuff in handy email form, right in your inbox, please subscribe at this link. Thanks! 
To contact the editor responsible for this story:
James Greiff at jgreiff@bloomberg.net
Before it's here, it's on the Bloomberg Terminal.
LEARN MORE