Sparklines
Investors Double Down on Flight From Coal
As companies feel the pressure to respond to climate change, coal production is falling -- and oil isn't immune.
by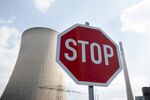 Oil faces some new pressures and coal is on the outs. Those were two clear messages in the many energy investments and emissions strategies announced at the recent One Planet Summit in Paris.
Consider, for example, these announcements:
Few of these coal announcements are surprising. Both AXA and ING are merely enhancing earlier commitments to limit their coal investments -- albeit with significantly greater financial commitments to divest.
And note that these announcements all concern thermal coal used in power generation, not metallurgical coal (used in steelmaking). Metallurgical coal is a relatively small proportion of total coal production -- about a billion metric tons a year out of more than 7 billion metric tons total. While natural gas, renewable energy and greater energy efficiency compete directly with coal-fired power, nothing really competes with coal used in steelmaking.
The coal sector itself is pulling back its future plans. Bloomberg Intelligence's Rob Barnett has a handy chart showing the capital expenditures in BI's Global Coal Producers Competitive Index.
There is one place where thermal coal capital expenditures -- or at least a plan for it -- is still looking up. The massive Carmichael mine in Australia's Queensland, if it is built, would produce 60 million metric tons a year for six decades.
But building out Carmichael would require first financing the project. In the past few years, Australia's major banks have steadily pulled back from financing new thermal coal projects. National Australia Bank's terse announcement on Dec. 14 is just the latest. Four Chinese banks now also have explicitly stated that they will not fund Carmichael. (China Merchant Bank's one-line statement to Australian advocacy group Market Forces makes NAB's announcement positively verbose.) Bankers are today's canary in the coal mine.
This week's reading
Get Sparklines delivered to your inbox every week. Sign up here.
To contact the editor responsible for this story:
Brooke Sample at bsample1@bloomberg.net

Before it's here, it's on the Bloomberg Terminal.
LEARN MORE