Europe
The Window for EU Reform Has Closed for Now
Sorry, Jean-Claude Juncker: Merkel and Macron have other things to do.
by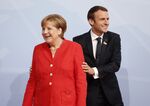 Just a couple of months ago, Europhile Emmanuel Macron was settling in as French president and Angela Merkel was victorious from a German election. It looked like Europe had a rare window of opportunity for closer integration. Now the window appears to have shut, with European Commission President Jean-Claude Juncker mounting a solo effort to crack it back open.
On Wednesday, the commission revealed a detailed plan for a closer economic and monetary union. It is meant to jolt politicians -- primarily French and German ones -- to seize this political and economic moment before it ends. "There's no better time to fix the roof than when the sun is shining," Juncker said.
He put forward four initiatives: a plan to turn the current European Stability Mechanism, set up to bail out nations in crisis, into a European Monetary Fund; new common fiscal rules for the EU; a proposal for some common euro-zone spending; and a document describing the proposed new post of European minister of economy and finance. None of these are particularly ambitious: Juncker is offering a kind of preemptive compromise to make it as easy as possible for France and Germany to take action.
The European Monetary Fund is supposed to fund itself with bonds jointly guaranteed by euro-zone nations, just like the ESM, without putting any new obligations on German taxpayers -- a red line for Germany's center-right politicians. Apart from providing crisis aid to nations, Juncker proposes that it should backstop Europe's bank bailout mechanism. In a nod to French ideas, Juncker wants the EMF to make urgent decisions by an 85 percent majority rather than unanimously.
The common fiscal rules merely complete a process that has been under way for a long time. The EU framework includes a requirement that all member states balance their budgets without a structural deficit and prescribe a corrective mechanism for countries that fail to do so.
Juncker doesn't propose a separate euro-zone budget, something Macron would like to see but most German politicians wouldn't. Instead, he wants to increase support within the EU budget for structural reforms and economic convergence in countries working toward joining the euro.
The economy and finance minister would also serve as vice president of the commission and oversee everything spelled out in the first three proposals.
The timidity of Juncker's initiatives betrays his purpose: The commission president is trying to salvage as much as he can from a moment that has passed.
Any reform in the EU depends on the bloc's two biggest economies, Germany and France, jointly pushing for change.
Macron, for his part, appeared intent on it. In late September, he made a long speech full of bold ideas for a much tighter union. But then Merkel's election victory turned out to be insufficient for her to form a government quickly, and she wasted more than a month on abortive talks with the passionately pro-EU Greens and the euroskeptic liberals of the Free Democratic Party. Now, she's starting formal talks with the Social Democratic Party, her old coalition partner that is generally pro-EU -- but the SPD's nine-point list of demands doesn't include a single one that touches upon European matters. Instead, the domestically-focused SPD wants to boost social spending and increase worker protections.
Bogged down in the inward-looking coalition talks, Merkel has drastically cut down on her EU-related activity, even missing an important social summit in November. No wonder Macron got distracted by dozens of other things, from an unorthodox French budget that, among other things, cuts the wealth tax to increase investment, to matters of gender equality and relations with former African colonies (he was in Algeria on Wednesday). There's no point for the French in working on any detailed proposals without an interested negotiating partner in Berlin. Macron has plenty to do.
Merkel is unlikely to emerge from her negotiations until February at the earliest. Even if she succeeds in forming a government, EU matters won't be first on her agenda. Though it's time for Merkel to think about her legacy and European reforms could be one facet of it, her party will want her to concentrate on winning back conservative support to prevent a disaster at the next election. Spending compromises with the SPD will also make her reluctant to discuss any EU-related ideas that involve the possibility or even the appearance of extra outlay.
Besides, there are no immediate EU economic crises to solve -- as Juncker correctly noted, the sun is shining. Growth is back. According to a fresh Eurobarometer survey, 64 percent of the euro zone's population considers the common currency good for their nations, compared with just 56 percent a year ago. There's no immediate need for national leaders to move forward with projects designed to help in times of calamity. And when these times roll around, more decisive action is likely to be required than Juncker has outlined.
So, despite this year's centrist victories over the anti-EU right wing, the EU is missing a chance to come closer together. Its leaders may regret it in a few years if popular dissatisfaction with the EU's inefficiency and vagueness begins to grow again and nationalist parties move to exploit it. For now, it's wishful thinking on Juncker's part that reform is even on the agenda.
To contact the editor responsible for this story:
Mike Nizza at mnizza3@bloomberg.net
Before it's here, it's on the Bloomberg Terminal.
LEARN MORE