Europe
France's Right Doesn't Want to Talk About the Economy
The party's top leadership candidate is focusing on security instead.
by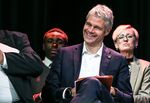 France's largest center-right political force, the Republic Party (or LR), was expected to win the 2017 presidential election. Instead, its candidate was knocked out in the first round of voting and the party suffered heavy losses in the parliamentary elections. The party is hoping now that electing a new leader will make it a formidable (and election-winning) force once again. 
The defeat of last spring could serve as a salutary shock for the right, helping the party overcome the internal divisions and fratricidal wars that have paralyzed it for much of the last decade. Unfortunately, that doesn't seem to be happening. The party is ceding the debate on economic policy to President Emmanuel Macron, and is looking for other ways to differentiate its offering, including by courting some of Marine Le Pen's disaffected National Front voters.
The results of the internal LR election (the first round is Dec. 10) should bring no surprise: 42-year-old Laurent Wauquiez is the only heavyweight among the contenders, and is hugely popular in the grass roots of the party, if not among party officials themselves, who see him as too divisive and ambiguous about the National Front -- mainly because he frequently seems to borrow his themes and rhetoric from Marine Le Pen.
Wauquiez's job is to redefine a party whose main economic policy script has been taken by the current president, who is -- by right-wing voters' own account -- doing a better job with it than Republican leaders ever did. The Republicans and their traditional centrist allies have only 137 members in parliament's lower house, down from 225 between 2012 and 2017. Among them, some have been clearly supportive of President Emmanuel Macron's early reforms. Others split off to create a splinter center-right party called Agir (to act) and others have joined the president's Republique En Marche (Republic on the Move) party. 
Despite these divisions and losses, LR is still the main opposition force in parliament and still runs many cities, departments and regional executives. This is the ground on which the new leader will want to rebuild the party. But finding common policy ground there isn't easy.
The party has been in trouble for a while. Its popularity plummeted in 2012, when it failed to elect a strong and uncontested leader, and to determine a clear strategy. Emmanuel Macron's entry in the presidential race sealed the fate of an already scandal-plagued Republican presidential candidate, Francois Fillon. Macron was clear where Republicans and Socialists were not -- especially on economics, and on Europe. He was new, in a country which had long been tired of its political class. He was pragmatic, and wanted to take the best ideas and people from the right and the left. 
Wauquiez knows that complaining that Macron's liberalism doesn't go far enough is not credible, coming from a party that has failed to undertake radical economic reforms when it could have and after making the same kinds of promises. His strategy, then, is to refuse any alliance with Marine Le Pen's anti-immigrant National Front, but to hunt on Le Pen's ground, and especially not to give an inch of land to Le Pen on questions of security, identity, immigration and integration. 
Moreover, Wauquiez knows his party is divided on how much liberalism it can accept: For the legislative elections, the party chose to dilute 2017 presidential candidate Francois Fillon's radical economic program in order not to spook some of its coalition. Today, the party claims Macron doesn't go far enough in cutting taxes on businesses and the wealthy; and at the same time it opposes cuts in public-sector jobs, as well as a rise in taxes on the wealthiest pensioners. That hardly shows economic coherence.
Although many of its main figures are liberal in economic terms, the FN voters that Wauquiez aims to court are in favor of protectionist policies for French companies and more state intervention in other areas. It is doubtful that they would rally behind a party that promotes even more tax cuts for the rich and public-sector budget cuts on pensions and health than are currently advocated by Macron.
Some in Wauquiez's own camp accuse him of playing a dangerous game. Like former president Nicholas Sarkozy in 2007, he wants to attract disillusioned FN voters. Marine Le Pen was weakened by her poor campaign and debate performance. Increasingly, her supporters doubt that she could win a presidential election one day. Some might therefore prefer a right that could one day win the presidency to a party that seems forever stuck on the fringes. 
If disillusionment with Macron sets in, Wauquiez's gamble could potentially be as successful as Sarkozy's in 2007. That doesn't mean the party has a coherent program on which to oppose the government, much less govern itself. For that, it will need to confront its own past failures, convince its voters that it is determined to do what it has failed to do in the past, and decide what kind of economic policies it would offer voters.
The consultation of LR supporters, conducted by the party over the last few months, could be the first step toward formulating a new economic platform for the right. However, so far the party seems mostly focused on identity and security issues. As long as Emmanuel Macron sticks to a liberal economic platform, and as long as voters judge that it is to early to evaluate the government's economic results, LR will probably try to exploit flaws where it can identify them -- for example, when Macron raises taxes for pensioners, a measure that is deeply unpopular. Otherwise, LR will look to avoid debate on the economy and rebuild its base on firmer ground.  
To contact the editor responsible for this story:
Therese Raphael at traphael4@bloomberg.net
Before it's here, it's on the Bloomberg Terminal.
LEARN MORE