view
Central Banks Aren't the Only Ones Goosing Growth
Tax cuts are seen or expected in Europe and the U.S., and China's growth roars on. That's likely to shape 2018, alongside moves on stimulus and interest rates.
by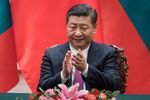 The case of the missing inflation is unresolved, but the fiscal file may have been solved.
Good news: The victim is still alive and might start kicking as well. Fiscal policy is shaping up for a good 2018. The impetus mostly takes the form of tax cuts, and is coming from Asia, Europe and the U.S.
We have grown so accustomed to the narrative that everything has fallen on the shoulders of central banks that this upswing in the world fiscal scene has gone relatively unremarked. The really big point, as Erin Browne of UBS notes, is that it's occurring as jobless rates in major economies plunge to levels historically associated with full or near-full employment.
There's a potentially powerful cocktail here: central banks withdrawing stimulus, but still relatively accommodative eight years into an economic expansion, and fiscal policy getting some groove. This at a time when everyone is abuzz with the geographically synchronized growth upswing. It's like an extra shot with your coffee.
What could possibly go wrong? We may even just find inflation and a significant pickup in wages that people say they can actually feel. Better late than never. It may test the widespread view that technological changes and a global market for labor have benched prices and pay.  
Browne wrote last month: "2018 could be the year for a great economic experiment -- will fiscal policy provide the last necessary boost to finally kick the Philips Curve into gear and push inflation higher?" She thinks the answer is yes, and wages will start to rise to reflect the low unemployment, even if the boost isn't turbocharged. I concur.
Let's start with the U.S. I'm not saying I am a fan of how the separate tax packages passed by the House and Senate are constructed, nor am I endorsing the lack of proper deliberation. But the change in fiscal stance is undeniable. Something resembling the Senate package is likely to become law soon.
China's expansion has its detractors, 1 but it's hard to imagine the global expansion being this solid, broad or resilient without a big contribution from China.
What hasn't attracted much attention is prospects for a fiscal loosening in Germany. During the euro debt crisis a few years ago, Germany was caricatured as a kind of tight-money fortress. But as wrangling to form a new coalition government continues, several things may emerge that the Social Democratic Party wants. The SPD platform seeks reduced taxes on lower and middle incomes, the end of the "solidarity surcharge" that helped finance the former East Germany for a generation as well as standard center-left wish-list items like more money for schools, highways and research.
In some ways the details of all this matter less than the fact they are happening or may happen. Perhaps we finally dispense with the view that legislatures and administrations don't do anything, so central banks have to do everything. That's welcome.
To contact the editor responsible for this story:
Philip Gray at philipgray@bloomberg.net
Before it's here, it's on the Bloomberg Terminal.
LEARN MORE