Prophets
Nafta Renewal Would Benefit Investors
Canceling the trade pact could be followed by retaliatory action that hurts American exports.
by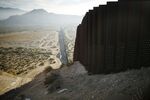 The fifth round of negotiations to revise the North American Free Trade Agreement ended in acrimony in Mexico City on Nov. 21. Rather than just posturing to reach a better deal, negotiators from the U.S., Canada and Mexico appear to be hopelessly apart in their demands.
Whether the three-way agreement is renewed and leads to continued growth in trade flows, or whether the talks collapse leading governments to impose new tariffs, would matter to markets. Simply put, trade expansion would be positive; a contraction would be a big negative.
A major point of contention is the U.S.'s insistence that the North American content in automobiles be increased from the current 62.5 percent to 85 percent to qualify for favorable tariffs under Nafta, and the introduction of a new requirement that at least 50 percent of inputs in automobiles be U.S.-sourced. Significant differences also characterize the negotiators' stance on trade in farm products, and in setting a "sunset clause" for the agreement.
Disagreements in revising the tripartite agreement seem to be so stark that the negotiators could just walk away from the 24-year-old accord in the first quarter of 2018. After then, Mexican politics will be consumed by campaigning for presidential elections in July, and the U.S. faces crucial midterm elections in November. Neither side can be seen as making major concessions too close to their polls.
Talks to make changes in Nafta, rather than simply extend the treaty, were sparked by President Donald Trump's demand, both during the campaign and during his administration, that the U.S. trade deficit be reduced sharply, especially with respect to Mexico. Of the $502 billion trade deficit that the U.S. ran with the rest of the world in 2016, $64 billion was with Mexico alone.
Trump has argued that large U.S. deficits are a sign the country is being taken advantage of by its trade partners, and that restrictions on imports into the U.S. -- through quotas and tariffs -- are necessary to reduce the shortfall and return jobs to America.
While such a solution appears to be clean and simple, there is an inherent problem with this approach. Forty-three percent of the revenues of S&P 500 corporations come from abroad, and any retaliation by foreign countries restricting imports of U.S. products would hurt American jobs as well as the companies' share prices.
A second reason for staying away from additional import tariffs is that trading partners can hit back at U.S. companies through non-tariff barriers. In the Nafta negotiations, one of the U.S. proposals was to limit the extent of government contracts that Canadian and Mexican companies can win to the size of those much smaller economies. Although this may seem like a way to provide more opportunities for U.S. companies, and for directing more jobs to the U.S., adverse reaction by other countries could nullify any positive impact.
For example, in what may be the first tit-for-tat response in the talks, Mexican negotiators proposed a ceiling on government contracts that U.S. firms could win at the figure that Mexican firms get in the U.S. Since Mexican firms are not as competitive as U.S. ones in competing for global contracts, the ceiling that Mexico has proposed, if implemented, would amount to a significant loss of revenue and shareholder value for U.S. multinational companies.
All of this takes us to an important global reality. Large infrastructure companies such as Caterpillar and Fluor are dependent not only on U.S. opportunities but also on contracts that they can win abroad. Similarly, all forms of merchandise exports -- from Nebraska beef to Apple computers -- are dependent on free trade to expand markets and revenues in foreign countries.
This suggests an efficient solution to the U.S. balance of payments problem. Furthering market expansion, rather than setting limits, may be the answer. In particular, the monthly surplus on the services balance (which includes non-merchandise items such as banking, insurance, consulting and incomes earned by Americans working abroad) has more than doubled from $10.8 billion in September 2009 to $21.9 billion in September 2017 (chart below). The annual surplus on the services balance of $248 billion in 2016 was a major offset to the $502 billion trade deficit.

Canceling Nafta could be followed by retaliatory action that not only restricts U.S. exports of goods, but also lowers the surplus on the services balance. The latter could take place, for example, through a reduced ability of U.S. companies to bid for foreign contracts, reducing future dividend inflows and limiting the upside on the companies' share prices.
Investors should care that an improvement in the U.S. external position that the Trump administration seeks occurs through trade augmentation rather than by the imposition of new restrictions.
To contact the editor responsible for this story:
Max Berley at mberley@bloomberg.net
Before it's here, it's on the Bloomberg Terminal.
LEARN MORE