Elections
Wait, You Mean Voting Can Violate the Voting Rights Act?
A school board case in a town divided has national implications.
by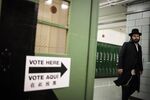 This month's local and state elections brought the usual dismal news about voter turnout: Fewer than 1 in 4 New Yorkers went to the polls. In New Jersey, less than 40 percent did. Virginia had its highest turnout in 20 years and still didn't clear 50 percent. Even in presidential elections, 4 in 10 voters stay home.
Low turnout rates are partly a reflection of human nature: Voting requires us to suspend logic, since one ballot rarely decides an election, and believe in the power of collective action. That belief is being tested by an increasingly individualistic society, where we are more isolated from our neighbors and less connected to civic organizations. But it's now also being tested by a most unlikely foe: voting-rights advocates.
Last week, the New York Civil Liberties Union filed a federal lawsuit alleging that school board elections in my hometown of Ramapo, 25 miles north of Manhattan, violate the Voting Rights Act. The East Ramapo school district's black and Hispanic residents, many of them poor, account for nearly 40 percent of its voting-age citizens but hold only one of nine seats on the school board, which is elected at-large (where voters cast ballots for all seats). The suit seeks to replace the at-large board with one elected from wards in order to increase minority representation.
This would seem to be exactly the type of voting-rights challenge that has been waged successfully around the country. But it's not -- and as the U.S. becomes more diverse, it may be a harbinger of things to come.
In East Ramapo, the whites who control the school board are themselves a minority group, and a poor one, too: Orthodox Jews. Moreover, nearly 3 of every 4 of the district's school-age children are Orthodox -- and nearly all attend private yeshivas. When the district would not allocate special-education funding to yeshivas (state law requires public schools to provide such services), the Orthodox began going to the polls en masse and voting as a bloc.
The community won control of the school board, diverted resources to yeshivas, and made drastic programming cuts -- devastating a once-successful district. An exodus of middle-class whites accelerated, resulting in a district that is now 65 percent white with a student body that is 96 percent nonwhite. The state eventually appointed monitors to try to keep the district in check, but the problems persist.
The board's actions have done a terrible disservice to public-school students. But elected officials catering to their base is hardly a new phenomenon. The question is: Does the at-large system that produced the board violate the rights of black and Hispanic voters?
Before answering that, the court should consider the Ramapo Town Board. The Orthodox community controls a majority of those seats, too, even though it makes up only about 20 percent of the town's voters. In the 2013 election, turnout in Orthodox districts was about 50 percent higher than in the rest of the town, clearing 80 percent in one district -- with 99.7 percent of the votes going to Orthodox-preferred candidates. The old party machines never did it better.
As with the school board, the Town Board's decisions have infuriated many non-Orthodox residents, leading them in 2014 to push a referendum on whether to switch from an at-large to a district system. Its unstated but unmistakable goal: Increase representation of the majority non-Orthodox community.
At the time, Agudath Israel of America cited the Voting Rights Act in arguing against the district system: "This is classic minority vote dilution, only this time the victims are Orthodox Jews. A minority is intentionally being shoved into a small district to limit its ability to affect the outcome of elections in the community at large." The referendum narrowly failed, but had it passed, that legal claim may well have carried the day.
The Orthodox are a minority of registered voters both in the town and school district. How can it be that shoehorning them into wards might violate their voting rights in one case but not the other? More broadly: If the Orthodox voted at rates comparable to the rest of Ramapo -- or if everyone else voted at rates comparable to the Orthodox -- they would probably not control either board, and there would be no basis for the  lawsuit.  
The question, then, is: Should the Voting Rights Act be used to punish a minority community for vigorously exercising its rights in order to protect other minority communities that do not exercise theirs as vigorously? Put another way: Should a law that protects voters tip the scale in favor of nonvoters?
In East Ramapo, the answer is complicated by the fact that the school district contains a substantial number of black and Hispanic noncitizens. Because they are effectively powerless to improve the condition of their children's schools, the best outcome may be for the state Legislature to hand control of the district to the county executive; children's futures should not be sacrificed on the altar of local school board elections. But if elections remain, the courts should be careful not to punish communities -- of any race or religion -- for voting at sky-high rates.
Whatever happens, Ramapo reflects an emerging reality of multicultural America: Protecting the collective voting power of minority communities is not as straightforward as it once was. White voters in Dallas have filed a lawsuit alleging that the county commission packed whites into a district to minimize their voting strength. Black communities have long fought this tactic in the courts. This is the first time that white voters have brought such a complaint, but it's not likely to be the last.
Voting-rights protections should cover all voters equally, in all regions of the country -- something the Voting Rights Act has never done. But if we hope to have higher election turnout, the rewards for voting -- and the consequences of not voting -- must not be tossed aside.
(
Corrects number of Orthodox school-age children in fifth paragraph of article published Nov. 21.
)
To contact the editor responsible for this story:
Brooke Sample at bsample1@bloomberg.net
Before it's here, it's on the Bloomberg Terminal.
LEARN MORE