U.S. Economy
A Key Indicator Points to a Strong 2018. That's the Risk.
At some point the Fed may have cause to tap the brakes.
by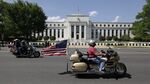 If this year's economy has been kind to you, signs are good for your 2018 as well.
This isn't just some goldilocks view of the world. And I know it doesn't match the doom and gloom generally associated with economics the past decade. (Don't forget that a year ago it was still en vogue to mouth generalities about a disappointing recovery, mediocre growth and associated ills -- a view that was wrong.)
This more optimistic picture is painted by the U.S. government bond yield curve – which is not so curvy these days. The curve refers to the difference between yields of short-term securities sold by the Treasury and those of longer-dated maturities. Typically, yields on longer-term bonds are higher than those of shorter maturity, reflecting an over-the-horizon outlook for inflation and reflecting that the Federal Reserve, when it acts, has the most direct influence at the short end.
Lately, the gap between the two has been narrowing. In market parlance, the curve has been flattening. Whenever this happens, it's generally accompanied by predictions of a slowdown. But this time, there's a backdrop of synchronized global growth, low unemployment and some capital spending by businesses. 
In some ways, the flattening is nothing more than what you would expect when the Fed is raising rates, even if this cycle of increases isn't particularly aggressive. As Roberto Perli of Cornerstone Macro points out, the curve has flattened in five of the six Fed tightening cycles since 1984. So far, so good. No cause for alarm that anything unprecedented is afoot. 
The Fed raised rates twice this year and will probably do so again next month, basically what it said it would do. Three more are penciled in for 2018, according to central bank projections. And as we know, inflation has been missing in action – despite very solid economic growth in the U.S., Europe and Asia. The Fed is still taking things carefully. So the yield curve is behaving as it should.
Another year like 2017 wouldn't be too shabby, especially given the pessimism that has surrounded the economy for most of the period since 2009, when it began emerging from recession.
It's even worth considering whether next year could be an even stronger year. And that's, just conceivably, the potential bad news in the yield curve. 
The unemployment rate could well push even lower. Gross domestic product has waxed and waned the past few years, but the downward drive in unemployment has been remarkably consistent. It started the year at 4.8 percent in the U.S. and fell to 4.1 percent in October. That's already the level it's supposed to be at the end of 2018, according to forecasts by economists surveyed by Bloomberg News. At this rate, the jobless level could easily grind below 4 percent early next year.
Once that starts happening, it's not such a huge leap to imagine that inflation and wages start to show their faces. It's true that hasn't really happened to date, but as labor gets scarcer and scarcer, price and wage pressures may well start to build. If that happens, you could make the case that the Fed needs to be more aggressive and shift from removing accommodation to actually restricting activity. That's where you could ultimately get your economic slowdown. 
Goldman Sachs Group Inc. raised its forecasts for U.S. growth late last week. The firm's unemployment forecast is now 3.7 percent at the end of next year and 3.5 percent by the end of 2019. Reflecting this tighter labor market, Goldman anticipates four rate increases by the Fed next year, more than both the Fed itself and market projections. Goldman doesn't see a huge risk of a recession, but does concede the strength of the economy is becoming "too much of a good thing."
As I and others have noted, the current U.S. expansion is the third-longest and is likely to become the longest ever during the term of Jerome Powell, nominated by Donald Trump to be the next Fed chair. At some point it will end. We have always known that. The flattening yield curve doesn't seem to be suggesting an imminent end. The most likely scenario is another strong year like this one.
If there is a risk apparent now, it's that the Fed may need to tap the brakes – a good problem to have.
To contact the editor responsible for this story:
Philip Gray at philipgray@bloomberg.net
Before it's here, it's on the Bloomberg Terminal.
LEARN MORE