Social Media
Twitter Has a Chance to Solve Two Problems at Once
by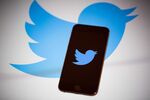 Twitter's existential problem with fake anonymous accounts would seem like an especially difficult one to solve. But a separate controversy holds the key to a holistic solution. It's a rare chance for a company to solve two major challenges in one fell swoop -- if only Twitter can summon the courage.
After weeding out 2,752 accounts linked to a Russian troll farm known as the Internet Research Agency, a bigger problem has emerged in the U.K. Research by Sasha Talavera and Tho Pham at Swansea University and Yuriy Gorodnichenko at University of California, Berkeley, claims to have discovered 156,000 accounts that mainly spewed pro-Russian and anti-Ukraine propaganda, then switched to the subject of Brexit days before last year's U.K. referendum. Another study, by Marco Bastos and Dan Mercea of London's City University, claims to have discovered 13,493 accounts that tweeted about Brexit only to disappear after the vote. Though the output of these bot accounts only constituted a tiny share of all the millions of Brexit tweets out there, it was seen hundreds of millions of times.
As Twitter did after U.S. legislators got involved, it will likely remove some of the accounts. But the overall problem remains. Twitter is awash in anonymous accounts with no end in sight. 
Separately, Twitter has facing criticism for bestowing its blue verification checkmark on too many people, albeit real, named ones. For example, white nationalists Jason Kessler and Richard Spencer were, until Thursday, verified users.
Here, Twitter chose to act -- even though it didn't have to. It changed its verification policy after users pointed that out, acknowledging that "verification was meant to authenticate identity & voice but it is interpreted as an endorsement or an indicator of importance." The new policy warns users that if they want the blue badge, they need to behave "on and off Twitter," refraining from "promoting hate and/or violence" and withholding support from organizations that, in Twitter's opinion, do that. Kessler and Spencer promptly lost their badges.
The logic of Twitter's policy on account attribution is that it's fine with anonymous accounts and even bots as long as they don't tweet the exact same messages, calls for violence or porn. It's not fine with people who voice certain views under their real names.
This is totally backwards.
Anonymous accounts spewing disinformation, including the hateful kind, are used in organized campaigns whose masterminds hide behind the anonymity. These can be foreign states, political parties and candidates (in violation of election financing laws), or terrorist and other radical groups. Even if these accounts' posts are legal and in line with Twitter's rather loose content policy, their goals may and will often be illegitimate. Identifying these goals is difficult because it takes research to discover entire botnets and find out what they're trying to do. Even then, the attribution can be iffy (for example, a security guard in Glasgow was recently misidentified as a Russian troll because his English appeared strained). Shady actors use this difficulty to avoid taking responsibility for their efforts.
A proud white supremacist tweeting under his real name, however, is a person willing to take responsibility for the tweets. That includes being prepared for public condemnation and, in some countries, legal consequences, up to imprisonment. That, ideally, is how society wants adults -- including those who hold unpopular views -- to behave: Speaking openly is the responsible thing to do, especially when you have a potential audience of tens of millions. 
Twitter's approach to named and unnamed users -- restrict the former, let the latter romp more or less freely -- may make business sense. Internet users like status-signaling baubles, so why not give them away to the most useful tweeters, such as celebrities and journalists, and why not take them away from people who cause publicity problems?
Investors, for their part, like higher user numbers better than lower ones. Twitter admitted recently that it had overstated them by a few million or two for the last three years, but a mass bot purge would probably result in much more significant restatements, something the money-losing company doesn't need. 
Business reasons like these, however, can only be tweeted out anonymously. They're not the stuff of mission statements.
I have a better idea for Twitter CEO Jack Dorsey.
I can understand that Twitter doesn't want to abandon anonymity because anonymous voices can also be valuable. But it can encourage responsibility by extending its verification service to everyone who wishes to be identified. That would be the correct response to critics who wanted to de-verify white nationalists on the grounds that the blue badge is a medal, not an identity certificate. 
Once verification is available to all takers, Twitter could openly divide its service into two strata: Verified and unverified. The former would be the responsible feed, and the default one. The latter would remain a free-for-all playground, where users would be warned to expect anything at all -- Russian election interference, fake news, impersonation, the lot. Twitter could even share revenue with verified users according to their traffic, providing an incentive to get verified. Users, of course, would still be able to combine their favorite accounts from both strata in a personalized feed, but at least they'd be formally apprised of the risks.

I don't think Twitter (or Facebook, for that matter) is really interested in responsible user behavior, just as these companies aren't interested in admitting they're really in the media business. They probably won't start thinking of meaningful solutions until regulatory pressure intensifies. That's wrong. For their own long-term survival, these companies should think more about what purposes they serve in society and how they could better serve them.
View parent company Bloomberg L.P. is developing a global breaking news network for the Twitter service.
To contact the editor responsible for this story:
Mike Nizza at mnizza3@bloomberg.net
Before it's here, it's on the Bloomberg Terminal.
LEARN MORE