Middle East
Saudi Arabia's Expropriations Should Scare Investors
It follows the path laid out by countries such as Russia and Georgia.
by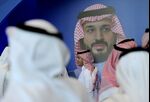 The government of Saudi Arabia is reportedly offering to exchange the wealth of allegedly corrupt royals and officials for their freedom. This is a tactic that has been used by post-Soviet regimes, most widely in Georgia under President Mikheil Saakashvili, but also in President Vladimir Putin's Russia. While it can be effective in supplementing government coffers, it's not great for a country's institutions and business climate.
Saudi Arabia ended up with a budget deficit of $96.5 billion in 2015 (at the current exchange rate) and $83 billion last year as it fought for oil market share with the U.S. shale industry and maintained low crude prices. Crown Prince Mohammed bin Salman was instrumental in changing that policy to a regime of hyped-up production cuts; now, he appears intent on plugging the deficit with infusions of what King Salman and the prince deem to be ill-gotten wealth to the tune of at least $100 billion. According to reports from Riyadh, people imprisoned in the capital city's Ritz-Carlton hotel -- a group including some of the country's wealthiest people -- are being told to cough up most of their assets, up to 70 percent in at least one case, in exchange for immunity. 
Saakashvili, who took over a largely bankrupt nation in 2004, fought corruption by similar methods. Since he wasn't a king with absolute powers, he pushed through changes to the country's criminal code allowing deals with justice that could replace any kind of punishment with a negotiated fine. By 2011, the year before Saakashvili's party lost a parliamentary election and he lost most of his power, 80 percent of criminal cases were resolved in this way, according to a Council of Europe report by Swedish diplomat Thomas Hammarberg. Responding to the report, the Georgian government disclosed a rare statistic: In 2010, it received 112.7 million lari ($63 million at that year's average exchange rate) from the plea agreements and court-imposed fines. That covered some 2 percent of government spending for the year.
International observers generally praised Saakashvili's revolutionary move at the time. Hammarberg described it as "a successful tool in combating corruption and organized crime" that also "offers the important benefit of speedy adjudication of criminal cases, alleviating the workload of courts, prosecutors and lawyers." But, by its nature, it was a non-transparent, ad-hoc process. Kakha Bendukidze, the ideologue behind Saakashvili's liberal reforms, recalled in a book of interviews with Ukrainian journalist Vladimir Fedorin how the principal of an agricultural college, who had sold off the college's vast land holdings for nominal prices and large kickbacks, managed to convince prosecutors that he hadn't amassed much wealth and got off with a small payoff to the government. A few days later one of the prosecutors saw him in a store picking out a $3,000 coat, but it was too late to go after him again.
Unsurprisingly, the system was abused. Saakashvili's opponents claimed that assets were expropriated in favor of his associates and non-transparent slush funds. Essentially, according to them, the system legalized payoffs: Official payments under plea bargain agreements were allegedly accompanied by unofficial gifts to officials and slush funds. In 2013, Hammarberg -- who had warned about the plea bargain system's potential for abuse -- visited Georgia again. His new report noted that "after the October 2012 elections and the formation of a new government, thousands of citizens applied to the prosecutor's office, claiming that they had been subject to pressure, forced to plea-bargain." The UN's Working Group on Arbitrary Detention and the U.S. State Department also remarked on the Georgian plea-bargaining system's ominous aspects.
Saakashvili's drive to ensure a revenue stream for the government from people who had plundered the country was essentially a variation on what Putin did in Russia during his first term in power, in the early 2000s. While publicly refusing to revisit the corrupt privatization of the 1990s, he clawed back valuable oil and gas assets for the Russian state, jailing oil oligarch Mikhail Khodorkovsky and seizing the media empire of Vladimir Gusinsky, built with government loans Gusinsky couldn't repay. Less public figures, executives and entrepreneurs went to jail for some time while their assets were channeled back to the state. Putin used existing laws creatively and selectively to apply pressure, grab de facto hostages and reclaim property.
The assets, brought back under state supervision, ended up being milked by Putin cronies and funding extra-budgetary projects. Kirill Shamalov, the husband of one of Putin's two daughters, now owns a stake in one of the reclaimed assets, the petrochemical giant Sibur, having acquired it with a large loan from a bank controlled by people close to the president.
Like Saakashvili's plea bargain revolution and Putin's early efforts to return plundered wealth to the state, the Saudi asset-recovery campaign will initially get some positive reviews. Saudi Arabia has been thoroughly corrupt for decades, and most of the people who accumulated wealth there can probably be accused of some flavor of wrongdoing. But extra-judicial methods of fighting corruption, wherever they are used, usually end up fueling more graft. Ultimately, they serve to redistribute rent from political losers to winners. Since these fortunes can be reversed, the winners set themselves up for another round of expropriation. Investors should heed this: Such purges and asset recovery campaigns bode ill for them, too -- they signal a weak institutional environment with few guarantees beyond political connections that may not endure.
There should be no illusions about Prince Mohammed bin Salman's ostensible attempts to reform his country. It's a power play in the tradition of other countries with rule of law problems and a symptom of Saudi Arabia's fundamental disease, not a sign of convalescence. Fair, transparent, competitive trials in specific corruption cases would have been a more hopeful signal to the world.
To contact the editor responsible for this story:
Therese Raphael at traphael4@bloomberg.net
Before it's here, it's on the Bloomberg Terminal.
LEARN MORE