National
Trump-the-Builder's Puerto Rico Challenge
A visitor finds the island remains a hurricane-ravaged mess. Where's the contractor-in-chief?
by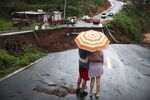 Hurricane Maria and her 175-mile-per-hour winds roared across Puerto Rico nearly two months ago, and much of the island is still without power.
In the evening, darkness shrouds long blocks of what once would have been some of the busiest streets in old San Juan. Traffic lights are out, street lamps are dim or dead, apartments, homes, shops and restaurants are boarded up and blank, few people are walking about, and the only light in some areas comes from tall pairs of floodlights that sit like birthday candles atop whirring, whining generators.
And San Juan, the locals say, has it better than the rest of the island. So on Monday, Puerto Rico's governor, Ricardo Rossello, asked the Trump administration for $94 billion to help residents of the U.S. territory resurrect its electrical grid, build new housing and reboot its health-care system, among other needs. Rossello is scheduled to testify before Congress on Tuesday on the status of recovery efforts and why, exactly, he needs $94 billion.
That's a lot of money, of course. Around $18 billion of it could land in the hands of the Puerto Rico Electric Power Authority, or Prepa, the much-maligned government utility that filed for bankruptcy protection in July. (Bankruptcy hangs in the air here like the humidity – the entire island, mired in a long economic recession and fiscal mismanagement, filed the largest municipal debt market bankruptcy in U.S. history several months ago after defaulting on $74 billion in debt.)
But the mathematics of Puerto Rico's problems only go so far in describing the challenges it faces in the wake of its recent history and the destruction wrought by Hurricane Maria. The island is also swamped in a humanitarian crisis, with running water still unavailable in some areas, roadways in disrepair, thousands of people living in shelters and about 100,000 people estimated to have fled since the hurricane hit on Sept. 20. That recent exodus accelerated an outflow that had already been long in the making. More than 400,000 residents left the island to relocate on the U.S. mainland between 2006 and 2015, winnowing the local population to 3.4 million.
"This is a transformative moment in the history of Puerto Rico," Rossello wrote in a letter to President Donald Trump on Monday. "Your leadership, along with that of leaders from both parties, will be essential to our recovery, and the future economic and fiscal health of the island."
Rossello, the scion of a politically powerful family, is 38 years old and holds undergraduate and graduate degrees in biomedical engineering from the Massachusetts Institute of Technology and the University of Michigan. He has repeatedly warned that the economic and demographic hurdles confronting Puerto Rico could cause businesses to abandon the island and lead to a flood of migration to the U.S. mainland.
"You're not going to get hundreds of thousands of Puerto Ricans moving to the states – you're going to get millions," he said in a press conference in October. "You're going to get millions, creating a devastating demographic shift for us here in Puerto Rico, a brain drain."
Rossello is about the same age Trump was when he completed his signature New York skyscraper, Trump Tower. In 1986, when he was 40, Trump presided over the renovation of Wollman Rink, a Manhattan ice skating venue that he took over from City Hall and which he routinely cites as evidence that the private sector is more efficient and effective than government. He campaigned for president on the idea that he was a master builder who would bring his can-do sensibility and skills to Washington and the world. Now, as president, Trump has a big rebuilding project sitting right in his lap: Puerto Rico.
Trump, who communicates most directly with the public via Twitter and uses the platform to stir up support for things he says he believes in, hasn't tweeted about Puerto Rico and its catastrophe since Oct. 19. Trump hosted Rossello in the White House that day and assured the governor via Twitter, "We are with you!"
The meeting followed weeks of criticism that Trump had been slow to respond to the crisis – having been consumed by a media battle with professional athletes — after staying on top of the federal response to similar catastrophes in Texas and Florida. During a press briefing at the White House on Oct. 19, Trump was asked how he would rate his performance in Puerto Rico on a scale of 1 to 10. Trump gave himself a 10, even though polls indicated that most Americans had found his performance more than wanting.
Trump then turned to Rossello and put him on the spot.
"Did the United States, did our government, when we came in, did we do a great job?" Trump asked him in front of reporters. "Military? First responders? FEMA? Did we do a great job?"
Rossello kept his game face on throughout this bit of performance art, and reassured the president, "You responded immediately, sir." But he also noted, "We need to do a lot more."
The president has a busy schedule, and he's just returning home on Tuesday from a tour through Asia, so perhaps he has his reasons for not focusing publicly on the crisis in Puerto Rico. But as Rossello has warned, Puerto Rico's problems won't remain just Puerto Rico's problems for long, and it might be useful for the president and his White House team to be listening to the governor's testimony in Congress.
To contact the editor responsible for this story:
Jonathan Landman at jlandman4@bloomberg.net
Before it's here, it's on the Bloomberg Terminal.
LEARN MORE