Prophets
The One Yield Curve That Should Concern Powell
Overnight index swaps suggest the economy will be weak  enough a year from now to warrant rate cuts.
by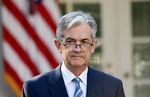 Since U.S. President Donald Trump nominated Jerome Powell to be the next Chair of the Federal Reserve, the debate among economists has mainly centered on whether he will continue the central bank's plan to raise interest rates at a gradual pace. Maybe they should take a close look at the bond market, which is signaling that Powell may need to take monetary policy in a direction almost no economist expects.
By just about any measure, the U.S. economy is humming. Gross domestic product expanded at a 3 percent or better rate in each of the past two quarters, the first time that has happened since 2014. At 4.1 percent, the unemployment rate is the lowest since 2000. Corporate earnings are rising at healthy clip and consumer confidence is soaring. Against that backdrop, it's not too surprising that bond traders boosted the probability of a Fed rate hike in December and March by about 10 percentage points since Powell's nomination.

Probability of Fed Rate Hike in 2017, 2018 and 2019


Source: Bloomberg
What is surprising is what the bond market is thinking about what might happen later next year. In fact, market pricing suggests that traders believe the Fed is almost done boosting rates and could even move to a neutral stance by the end of 2018 -- and then start cutting rates. Although many market participants are currently fixated on the shrinking Treasury yield curve, which is the narrowest in 10 years and is usually a signal that economic growth and inflation are poised to slow, parts of the money markets are sending a more dire message.

Take, for example, what's happening with overnight index swaps, which are simple interest-rate swaps involving an overnight rate such as the federal funds rate being exchanged for a fixed interest rate. The OIS market is a good indicator of expectations for Fed policy and it has a yield curve just like Treasuries. What is remarkable is that one part of the OIS yield curve is close to inverting, which happens when longer-term yields fall below shorter-term yields. The OIS curve is approaching levels that in the past have accompanied a more dovish Fed, such as in 2011 and 2012. Those were good times for bonds.
Overnight Index Swap Forward Curve


 Source: Bloomberg

The market for inflation-linked bonds is sending similar signals as the OIS market. When Powell, who is a Fed Governor, takes over as Fed Chair -- assuming Congress ratifies his nomination -- he will be confronted with inflation that has remained below the central bank's target of 2 percent for more than five years now. In fact, yields on inflation-linked bonds suggest traders don't expect inflation to rise above the Fed's target anytime in the next 30 years. Judging by the almost horizontal inflation-linked yield curve, the Fed may only need to boost rates a few more times.

Inflation Linked Yield Curve


Source: Bloomberg
The bond market is clearly signaling that it expects the Fed's current tightening cycle will end in 2018. If that is the case, the target federal funds rate would end up around 1.75 percent, compared with the current target range of 1 percent to 1.25 percent. Even at a historically low level of 1.75 percent, there's a chance that the fed funds rate exceeds the neutral rate, or a level that represents neither tight nor loose policy. History shows that when the fed funds rate rises above the neutral rate, financial conditions can tighten and the economy slows. The four rate hikes since 2015 are already pushing the fed funds rate above the neutral rate.
Fed Funds Rate vs, Short-Term Neutral Interest Rate


Source: Bloomberg. Nominal neutral rate = real neutral rate + core PCE y/y%
To contact the editor responsible for this story:
Robert Burgess at bburgess@bloomberg.net
Before it's here, it's on the Bloomberg Terminal.
LEARN MORE